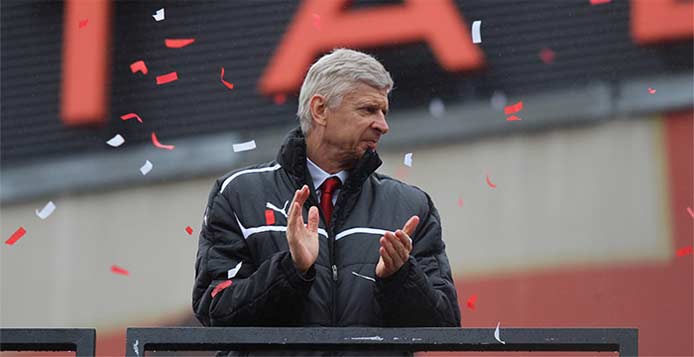 As the season began and the shock of Arsene Wenger's new contract abated, Gunners fans were anything but optimistic about the season ahead. They'd been here before. A summer of transfer market frustration, platitudes from the manager about overspending, and then a pointless Cup as a justification of the board's faith. In fairness, it's great fun to watch Arsenal fan TV, but it must be tough being a Gooner.
However, there is one significant difference between this and other seasons under Wenger: The Europa League.
Arsenal fans everywhere groaned at the prospect of Thursday night football, but the truth is that this could be the savior of Wenger's legacy with the club. He wins the Europa League and he could leave the club with much of his shattered reputation restored, because let's face it, they're not winning the league.
A loss to Stoke and that match at Anfield simply drove the point home that this was going to be another one of those years in the Premier League. Many use the term flatter to deceive when describing frustrating players, but it seems that the phrase was coined with a Wenger team in mind. Even the recent upturn in results and performances can't hide the fact that Arsenal fans will pull their hair out just as much as they will jump in celebration at league matches this season.
But Thursday nights could be an entirely different story. BetStars has the Gunners as 11/2 favorites to win the competition outright and to be fair, that's probably about right. Even when you take into account the eight Champions League teams that will join the knockout phase, there doesn't seem to be too much competition for Wenger's side.
A.C. Milan, Marseille, and Lazio seem (at least on paper) to be Arsenal's strongest competition in the Europa League. But the fading giant that is Milan looks to be the main challenger and let's face it, like Arsenal, they're wonderfully inconsistent. The Champions League teams, on the other hand, are unknown and it's possible that we could see some strong teams join in the knockout phase, but again, not many will push Arsenal.
But this isn't about the competition; this is about Wenger's failings in recent years. The fact that so many of the once loyal fan base is turning against him speaks volumes. Even those that like the guy are asking him to step down quietly. It's a situation that is both infuriating and frustrating in equal measure. Many of the fans love their manager and all he did for them, but his attitude and sense of entitlement is seriously damaging his legacy.
It's sad that a man who brought the club so much success and stability should have his reputation tarnished so. Yes, he's an unbelievably frustrating man to listen to, especially when it comes to talking transfers. But does he deserve the vitriol increasingly aimed in his direction week by week? For his past record (the invincibles spring to mind) we'd have to say no. But this is a club that expects big things from their manager and team. And unfortunately, FA Cups don't quite hold so much weight anymore.
There was a strong feeling that if Arsenal lifted the FA Cup last season that Wenger would have quit on a high, but it seems that the Frenchman also believes that the FA Cup isn't enough. A Premier League title is probably beyond their reach, but a European trophy? Even one as belittled as the Europa League? Now that would bring a much-needed shot of happiness to the fan base. Yes, if Wenger wants to save his legacy, then nothing less than a European trophy will do.