FIFA 20 Career Mode allows you to shape the future of your club to your vision. Let's find out what is new this year.
The New Features of the FIFA 20 Career Mode
FIFA 20 Career Mode mode includes the following new features. Let's see which ones.
Press Conferences & Player Conversations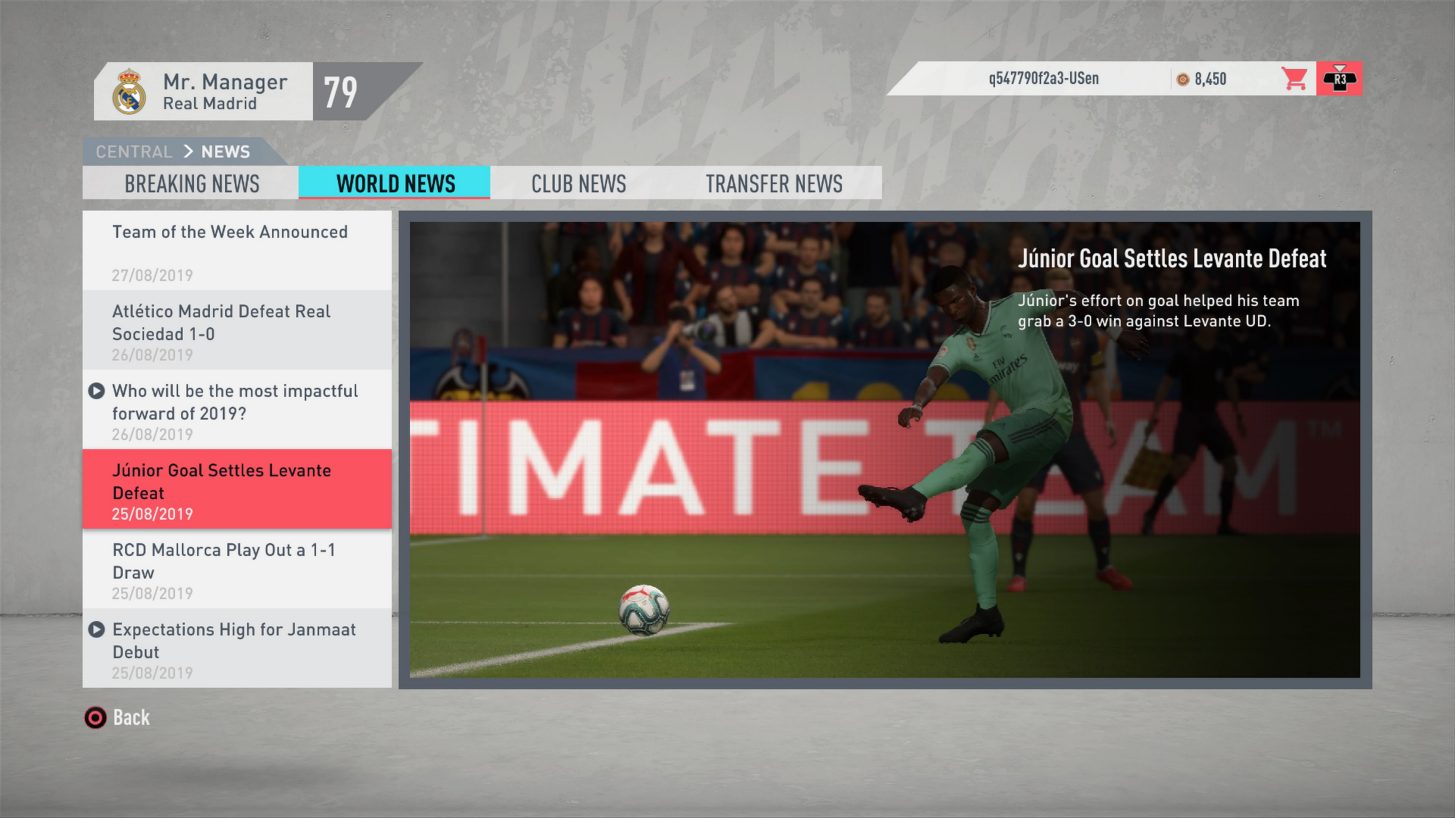 This year, the new feature lineup is represented by Press Conferences, Player Conversations and all of the intricate tools and logic sitting behind these features.
The vision was to breathe new life into the Manager Career experience by leveraging the huge amounts of data that playing this mode generates, and build a variation of ever-changing stories that would surface to the players through Pre and Post-Match Press Conferences and Player Conversations. These are not just general storylines that are putting together to mimic authenticity. These are stories built based on player progress which each player will be able to interact with and influence the morale of the team and their standing as the team's manager.
The new tools developed in-house by the Career Mode team enabled the producers and designers to leverage this large amount of data and create an enormous variations of story-lines that are deeply rooted in the player's experience and your way of playing. This means that the experience of each match will be treated differently by the 'journalists' and will always feel authentic and dynamic, depending highly on the outcome, goals scored, opponent, time of season or stage of competition, and more.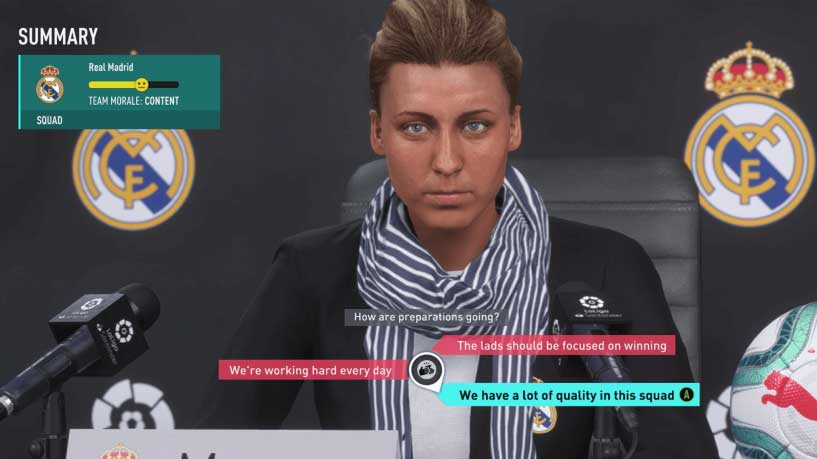 The tools EA envisioned and built, as well as the amount of logic behind the stories, is brand new territory for Career Mode. Press Conferences will represent the main venue where the manager will take questions and answer them, both before important matches but also immediately after. Both the Pre and Post Match Press Conferences will leverage newly-built scenes specifically designed to be part of the Manager Career experience. Player Conversations will mainly serve as the 1-on-1 interaction between the manager and players within the team through a messaging app-like interface. Within both, you will be able to choose the way in which you tackle a large variety of situations, and, based on your methods, either positively or negatively influence player morale as well as your rating as a manager.
In the same way as with Press Conferences, the newly added conversations enjoy the same level of complexity. The manager will have to deal with a variety of requests from players as well as happy or disgruntled players that are trying to get their thoughts across. The manager will have to find ways, either through direct actions or by communicating his/her stance in order to mitigate and solve these situations.
Player Morale System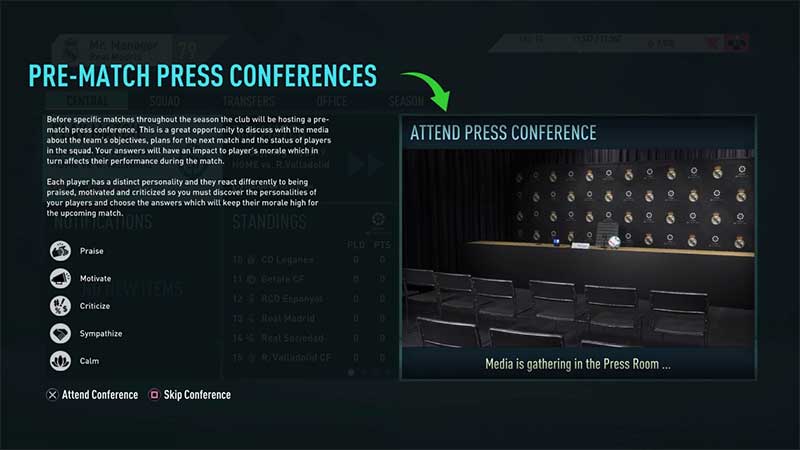 Morale will be influenced by a multitude of different factors, ranging from play time and wage expectations to a player's performance on the pitch and how well the team is doing. Secondly, answers in Press Conferences and replies to players in 1-on-1 conversations impact players' morale as well. Having a high morale will be highly desired as a player's morale will influence their attributes in upcoming matches.
Manager Customization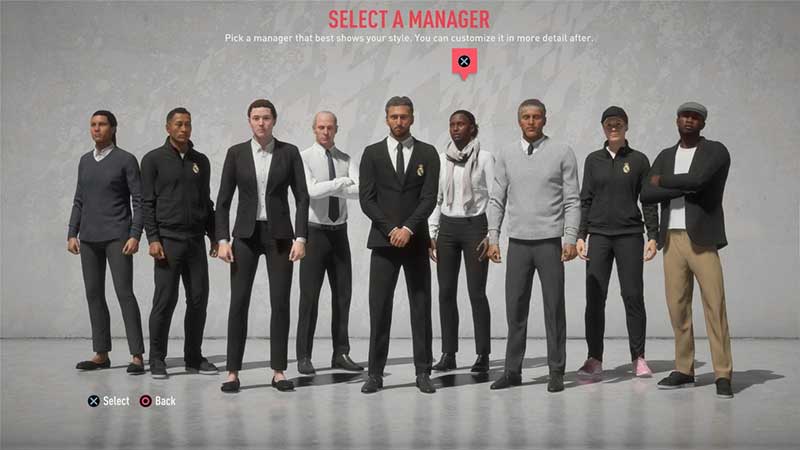 The new Manager Career experience will provide the freedom to create an avatar that reflects your own style and see it reflected in the game. Moreover, you will now be able to change your manager's outfit at any moment during the season.
Another very important item to mention here is the ability to create both male and female avatars, this being another 'first' for Career Mode. In terms of customization and accessories, the game features a wide variety of clothing items and accessories at launch, that will ensure a deep customization experience. These will range from the usual formal clothing pieces and shoes to more casual and smart-casual options.
Live News Screenshots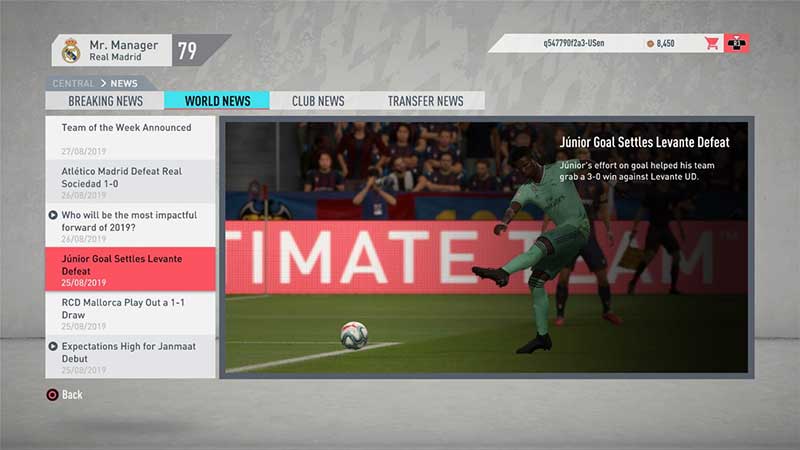 In FIFA 20, the game uses gameplay screenshots showing key moments of any given match and creating relevant pieces of news from this content. In this way, we have now have the means to highlight memorable moments during your Career Mode experience and allow you to build and surface your own stories.
League UI Themes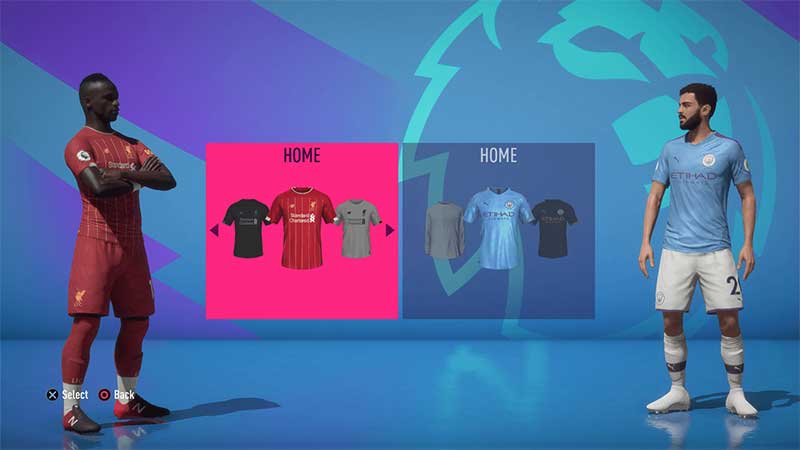 Going even further into the realm of authenticity and creating experiences that are relevant for our users, the game comes up with a visual take that is unique for some of the most played leagues within Career Mode. The result is 5 unique Central Menu UI treatments that heavily reflect the authentic branding of the Premier League, Bundesliga, Ligue 1, LaLiga Santander and MLS. Besides these, players will still enjoy the UEFA Champions League and UEFA Europa League branded UI accompanying these competitions' fixtures.
Dynamic Player Potential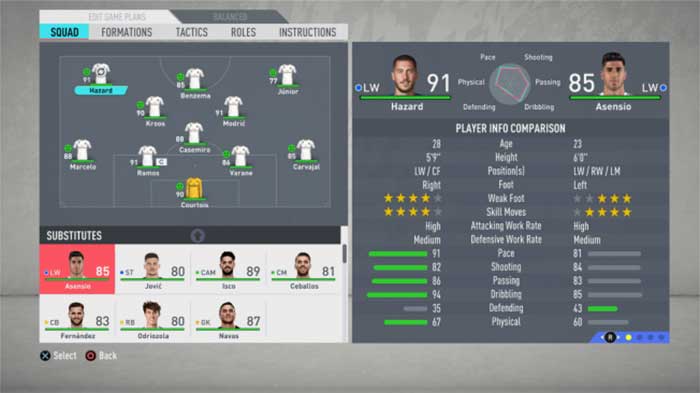 Potential for players within your own squad will evolve over time based on the players' performance in the previous season. Scored a lot of goals with a young prospect in his breakthrough season? His potential will be even higher in the upcoming season. Kept a run of good performances going with an older player close to retirement? His potential will be higher in the upcoming season which means that the decrease of his attributes will stall for a longer period of time. Potential will decrease if a player hasn't been performing well in the previous season or he hasn't received enough playtime so you must ensure high promising starlets put in the work to achieve their potential.
General Improvements/Additions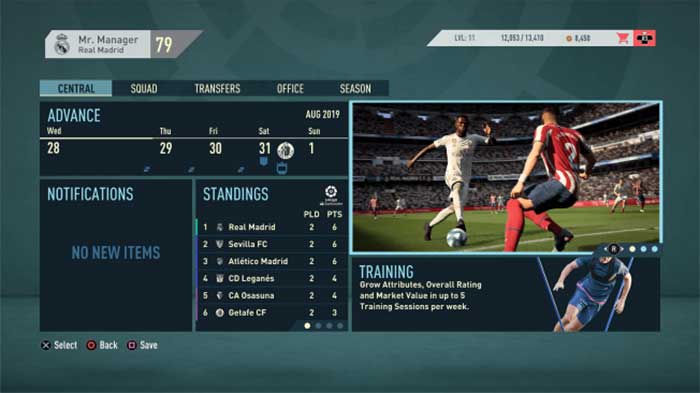 Here are a few other improvements and additions:
✔️ Rooftop Lounge and Restaurant that are now part of our line-up of scenes used for player negotiations;
✔️ Added an option in the Player Actions pop-up to add a player to the shortlist and immediately go to the Transfer Hub with the respective player;
✔️ Redesigned Team Management layout to allow for easier player attribute comparison;
✔️ Added an option to disable International Management job offers at the start of a new career;
✔️ Increased the initial Composure attribute values for generated youth players and redistributed weights for player growth between physical, mental and skill attributes to allow for more physical growth;
✔️ Improved distribution of ethnicity within a country when generating youth players;
✔️ Significantly increased the initial amounts for wage budget allocation;
✔️ Increased the player value of defensive players based on the latest transfer market activity;
✔️ Fixed multiple issues with leagues that split into play-offs after the end of the regular season. League objectives are now correctly tracking the play-off instead of the regular season standings;
✔️ Re-adjusted the number of saves to 8, inside Career Mode;
✔️ Conflict situations between Championship rounds and European football nights aren't possible;
✔️ Added the new format and schedule of the Spanish Supercup;
✔️ Added support to round down the points in leagues that split into play-offs and halve the points such as the Austrian Bundesliga.
✔️ Updated usage of the 4th substitute in extra time to all competitions that support this new law of the game.