As a key part of the most successful football video game ever, it's small wonder that FIFA Ultimate Team (FUT) is such a hit with players.
FUT 23 has gone down a storm this year, too, as we all try to build that all-conquering squad that we can boast to our friends about, and possibly even sign players who make the team of the year.
But this is easier said than done. Just how do we get hold of fantastic players without breaking the bank? This guide to the FUT 23 hidden gems should make it easier for you. Read on the find out more.
FIFA Ultimate Team: The Basics
Before we dig into those hidden gems that are going to give you the best possible start to your FUT season, let's cover the basics that you should know.
First off, FUT may give the impression that it's a game of chance with its random squad allocation, but this is no online slots game where you must rely on luck to win. Instead, you need to use your instincts and knowledge of the game to make that squad as successful as possible.
Also, before you start, a wise thing to do is to set out a strategy. Will you stick with regular players, or enhance them with in form (IF) players? Is there a particular trophy, such as the Division Elite, you'd like to win, or are you just going to play for fun? Do you want to spend what you have on the best players possible, or do you want to enjoy the profit you make on unknown gems?
Knowing the answers to these questions will influence how you play. If the answer to the final question was the second option, then check out the five players below who could give you a great return.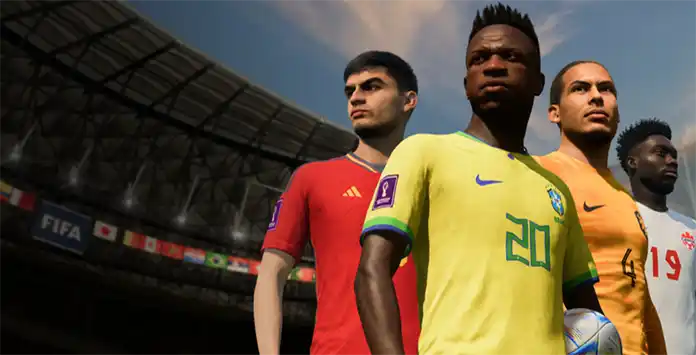 Lois Openda
Lois Openda has the stats to match his supreme talent, with a fierce shot, rapid pace, and huge strength.
His status as a hidden gem is something of a surprise: he recently made the full Belgian squad and has already bagged several Ligue Un goals for new club RC Lens.
Should you be a mid-to-top-ranking European team, you shouldn't have too much difficulty snapping him up, though. Then, with the right backing, watch his value soar.
Cristian Riquelme
When looking for quality young fullbacks, the Chilean top flight may not be the first place you look, yet it's home to one of the game's hottest young talents.
Cristian Riquelme has said he models his game on Liverpool star Andy Robertson. While he lacks the polished finish of his hero, he comes with the attributes to make him a very good attacking WB, with 74 sprint speed and 77 balance.
Available at just £750k at the start of the game, his 83 potential rating means that he can become a top player with the right training and game time. At the tender age of 18, time is very much on his side.
Mathys Tel
If you've already heard of Mathys Tel, then it may be because the youngster recently made headlines by becoming Bayern Munich's youngest-ever scorer in a competitive match at the age of 17 years and 126 days.
His talent shines through on FUT, too. With a pace of 77, he makes a dangerous winger who also has the physicality to play up top. You may have to pay out a fair amount for him, but a loan deal could work out best for both parties to begin with.
Starting out at 64, Tel can quickly reach the low 80s if you coach him right. Then, in a couple of years, you could have one of the game's hottest players on your hands who won't have even hit his 20s.
Nelson Weiper
Nelson Weiper recently earned a call-up to the Mainz full squad after blitzing his way through the U19 league with a flurry of goals.
The six-feet-two striker is a classic centre forward who uses his height and strength well. Starting off rated at 60, these are attributes that can help him rise to a potential 81. Should you sign him, it's a good idea to give him as much game time as possible: his physical attributes will see him settle in quickly, then it's just a case of helping him find the back of the net.
Douglas Luiz
So far in this article, we've looked at hot prospects; but sometimes it's just good to have some experience thrown in there.
Brazilian international Douglas Luiz certainly provides that, plus many more useful characteristics. Your classic all-rounder, Luiz is just as capable of starting attacks as stopping them. He's one of Aston Villa's most important players, so getting him won't be easy – probably impossible if you aren't a huge club.
Sign him up, though, and he's still young enough at 24 to improve dramatically.