Abdulaziz Alshehri is the FIFA Interactive World Cup 2015 winner. He defeated France's Julien Dassonville 3-0 in the final. August Rosenmeier was third.


Info
FIFA Game News is an official media partner
of the FIFA Interactive World Cup 2016.
We will publish everything about this competition
and we will broadcasting the most important matches.
Stay tuned to our website.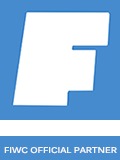 The venue of FIWC 2015
Munich's Volkstheater, a municipal theatre, was opened in 1983 at Stiglmaierplatz, a plaza to the west of the city centre. It is normally home to a variety of dramatic productions, but it also has a close link to football with the headquarters of the Bavarian Football Association located next door. Today it provided the stage for the Final Showdown of the FIWC 2015 Grand Final where a new champion emerged at the biggest gaming tournament on the planet.
Big surprise
Both Rosenmeier (2012, 2013, 2014 and 2015) and Dassonville (2010, 2012, 2014 and 2015) were taking part in the Grand Final for a fourth time, while it was Alshehri's third appearance (2012, 2013 and 2015), leaving FIWC debutant Ould-Ramoul as the underdog for the final four. Rosenmeier had qualified for the competition as defending champion while the three other semi-finalists all booked their places in Munich by winning an on line season.
To the surprise of all the participants the coveted trophy was presented – and later handed to the winner – by Austria international and Bayern Munich regular David Alaba. The 22-year-old is a keen gamer himself and has already graced the cover of the Austrian edition of the game on three occasions. "I really enjoyed being here," told Alaba. "The event and the skills of the players have been totally amazing."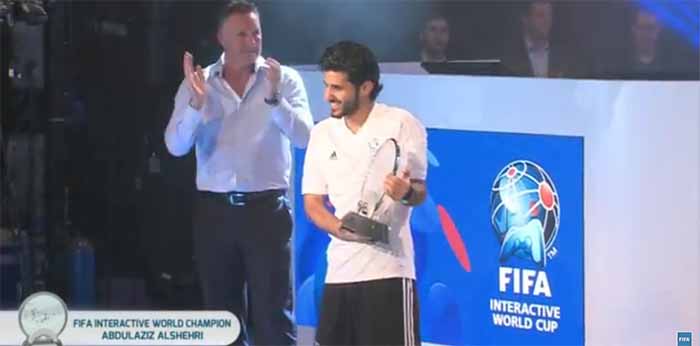 The highlights
The match between Alshehri and Ould-Ramoul soon developed into a gripping affair, with chances at both ends. Just before half-time Alshehri went 1-0 up thanks to a goal from Cristiano Ronaldo, and the Saudi Arabian, who reached the last four in 2013, held on in the second period to book his place in the final for the first time. The second semi-final was a real nail-biter with both Rosenmeier and Dassonville marshalling their defences superbly and thus denying their each other goalscoring opportunities. After 120 goalless minutes the match went to a penalty shoot-out, which the Frenchman won.
A musical interlude prior to the match for third place and the highly anticipated Final allowed the four participants the chance to relax while enjoying Kwabs' second performance of the day. After performing his songs "Perfect Ruin" and "Wrong or Right" live on stage earlier in the day, Kwabs heated up the excited crowd that had gathered for the final showdown with his chartbreaker "Walk".
In the bronze-medal match Rosenmeier, the 2014 champion, opted to play as Germany, and his decision paid off as he dominated his opponent almost from start to finish to secure victory.
The Final – Abdulaziz Alshehri Victory
In the title decider Alshehri chose Portugal and Dassonville Argentina. The decisive player was once again Ronaldo, who is the reason most gamers pick Portugal in the first place. Using him, Alshehri, who entered the Grand Final as number four on the FIWC world ranking, cut into the middle, dribbled past three opponents and scored. Dassonville, the second-highest ranked player going into Munich 2015, struggled to get into the game and had difficulty carving out any chances. Shortly before half-time Alshehri crossed into the box, where Ronaldo headed his side 2-0 up. The third goal was almost a carbon copy of that effort and effectively killed the game off, handing Alshehri the FIWC title for the first time. "You should never give up," the delighted champion said afterwards. "I've come close a few times and finally I've been rewarded."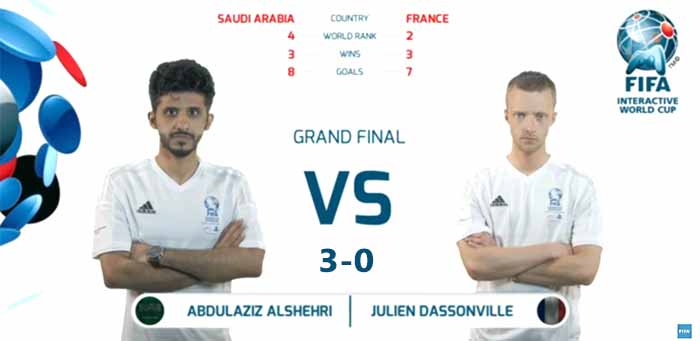 FIWC15 Results
Semi-final
Abdulaziz Alshehri (KSA) 1-0 Lyes Ould-Ramoul (CAN)
August Rosenmeier (DEN) 3-4 (PSO, 0-0 aet) Julien Dassonville (FRA)
Play-off for third place
Lyes Ould-Ramoul (CAN) 1-2 August Rosenmeier (DEN)
Final
Abdulaziz Alshehri (KSA) 3-0 Julien Dassonville (FRA)