If you are new to FUT 14, you have probbaly a lot of questions. Start by reading this beginners guide to FIFA 14 Ultimate Team.
Players Items
Items in FIFA Ultimate Team include players, coaches, stadiums, jerseys, and type of ball. Consumable items will affect a player's contract, fitness, position, training, or health.
A player item with a high overall rating will be rarer than a player item with a lower overall rating. The higher the rating, the better value offered in the Transfer Market.
Each Player Item contains a number of different attributes, including position, country of origin and Chemistry Style. Player Items also include attribute ratings such as Pace, Shooting and Heading. Keepers have attributes specific to their position including Handling, Positioning and Diving.
All Player Item attributes reflect normal playing ability when FIFA 14 launches. When players perform well in the real world of football, this will be reflected with In-Form items in FIFA 14Ultimate Team. These In-Forms are special Player items that have boosted attributes to reflect their recent form in the real world of football.
In-Form items are rare. The Black Player Items are issued for Team of the Week Players. These are available for a limited time, which makes them even rarer and allows them to fetch higher prices in the Transfer Market.
Chemistry
In FIFA Ultimate Team, building the best possible side requires strong Chemistry. It's mainly about the relationships between players. Both players and teams perform at their best when their Chemistry is high, and you'll see the results on the pitch in the form of stunning passes and epic goals.
Chemistry can be built in a number of ways. Putting players in their preferred positions and linking them with fellow players from the same Club or League will produce Chemistry. You can also build Chemistry by pairing players who have the same nationality or enlisting a manager with the same nationality as players on the roster.
Players who have been loyal to a club will obtain a Chemistry boost. Whereas a player signed via the Transfer Market will need to play ten matches before becoming loyal, all players obtained through Packs or who were initially on a squad will automatically have this boost applied.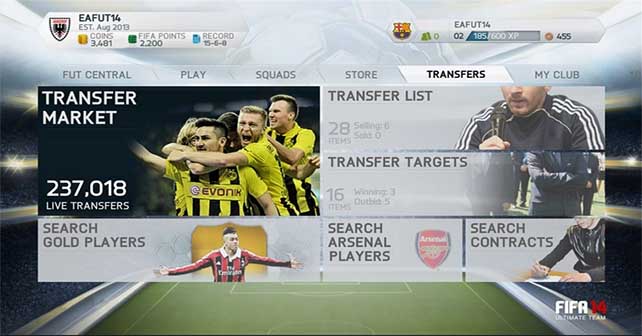 Transfer Market
Every day, there are over 17 million players transfers made in FIFA Ultimate Team. Players, kits, contracts and more can be traded in the Transfer Market, formerly known as the Auction Market.
Learn how to successfully buy and sell items to maximize value and discover how to find deals on items that will help improve your team.
Improve Your Team
As you improve your squad in FIFA Ultimate Team, the challenge will get more intense.
Coins are the main currency of FIFA 14 Ultimate Team, and they will allow you to purchase players and other items in the Transfer Market to keep pace with the competition.
Earn coins by playing any match in FIFA 14 Ultimate Team, including Online and Offline Seasons, Tournaments, and Special Tournaments, which may offer very large coin rewards for winning.
Coins can also be earned by selling players, coaches or other items in the Transfer Market. Purchase FIFA 14 Ultimate Team Packs with FIFA Points. Grab larger quantities for bigger discounts.
Compete
With great online and offline experiences, there's always a challenge ready for you.
FUT Seasons
Take your team to the top division by competing either online or offline and winning matches. As you progress from the bottom and make your way to the top, you'll encounter tougher challenges which will require you to improve your squad. Winning tournaments will earn you coins, items or even Packs. In FIFA 14 Ultimate Team, FUT Seasons has been extended to ten seasons, and now features historical Season stats. A deep single-player offline Seasons experience is exclusively available in FUT.
Team of the Week
Each and every week, we assemble the best players from international and club competitions around the world. See if your club is good enough to challenge the Team of the Week.
Online and Offline Tournaments
Enter online and offline tournaments to compete with other FIFA 14 Ultimate Teams and improve your squad.
Play a Friend's Squad
Want to see how your Ultimate Team Squad fares against one of your friends, even when they are offline? Now you can.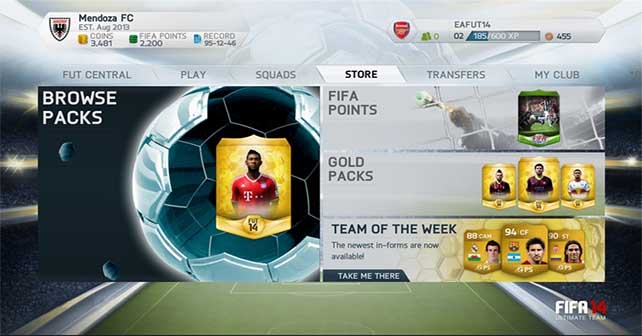 Store
The FUT Store in FIFA Ultimate Team houses a variety of Packs which contain player items. In-Form player items will appear in the FUT Store first.
Accelerate your team's development by purchasing Packs. There are three types of Packs available, each offering something different to help build your FIFA Ultimate Team.
Stay Connected
In FIFA 14 Ultimate Team, you're never far from the action. Manage your team away from your console either via the web or through the EA Sports FIFA Football Club App. Adjust your roster, take part in auctions or open Packs.
Redeeming Tokens
Have a FUT Token code? Congratulations, you've received a free promotional FUT 14 pack! These can be redeemed in the Store menu of FIFA 14 Ultimate Team. The code can only be redeemed on Xbox 360.