Who are the best FIFA 13 Penalty Takers ? Find it here.
How to choose the Best FIFA 13 Penalty Takers
How many times do you choose the right man to take a penalty kick ? Probably you don't know who are the best penalty takers of your team. We will help you with that.
Imagine that you are on a tournament final with a huge prize. The match ends in a draw and the decision goes to the penalties. If you are one of those that don't change the pre-set penalty takers, you are going on the wrong way. You should know who in your squad have the higher Penalties attribute and choose them. It may make the difference between winning or losing.
Who are the Best FIFA 13 Penalty Takers
Zlatan Ibrahimovic. He is one of the best players of his generation and one of the favourites of FIFA gamers. If you want someone to take a penalty, choose him. Nobody is better than him. Only Robin Van Persie, the new Manchester United star, is almost as good as him.
In Spain, David Villa is the better one and in Italy no one is better than Totti. Lampard, another high experienced player, is also one of the best FIFA 13 Penalty takers. With the new upgrade card, Juninho becomes as good as the English footballer.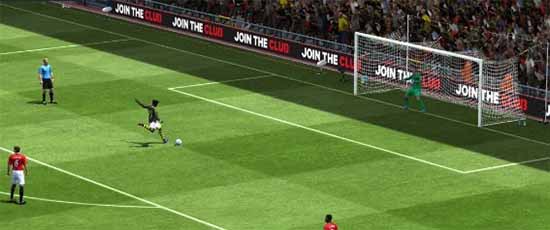 Here are the lists of the best FIFA 13 Penalty Takers (only regular players):

[accordion]
[accordion_item title ="TOP 100″]

| | | | | | | |
| --- | --- | --- | --- | --- | --- | --- |
| ORDER | NAME | PENALTY | RATING | POSITION | COUNTRY | CLUB |
| | | | | | | |
| #1 | Zlatan Ibrahimovic | 93 | 88 | ST | Sweden | Paris Saint-Germain |
| #2 | Robin van Persie | 92 | 88 | ST | Netherlands | Manchester United |
| #3 | David Villa | 91 | 85 | LW | Spain | FC Barcelona |
| #4 | Frank Lampard | 91 | 83 | CAM | England | Chelsea |
| #5 | Juninho | 90 | 80 | CM | Brazil | New York Red Bulls |
| #6 | Francesco Totti | 90 | 79 | CF | Italy | Roma |
| #7 | Lee Dong Gook | 90 | 76 | ST | Korea Republic | Jeonbuk Hyundai Motors |
| #8 | Samuel Eto'o | 89 | 85 | ST | Cameroon | Anzhi Makhachkala |
| #9 | Diego Milito | 89 | 84 | ST | Argentina | Inter |
| #10 | Sejad Salihovic | 89 | 78 | CAM | Bosnia Herzegovina | 1899 Hoffenheim |
| #11 | Ricky van Wolfswinkel | 89 | 76 | ST | Netherlands | Sporting CP |
| #12 | Claudemir | 89 | 69 | CDM | Brazil | Nacional |
| #13 | Arturo Vidal | 88 | 84 | CDM | Chile | Juventus |
| #14 | Fabrizio Miccoli | 88 | 82 | ST | Italy | Palermo |
| #15 | Alexander Frei | 88 | 77 | ST | Switzerland | FC Basel |
| #16 | Timmy Simons | 88 | 76 | CDM | Belgium | 1. FC Nürnberg |
| #17 | Lukas Podolski | 87 | 83 | CF | Germany | Arsenal |
| #18 | Rodrigo Palacio | 87 | 83 | RF | Argentina | Inter |
| #19 | Stevan Jovetic | 87 | 83 | ST | Montenegro | Fiorentina |
| #20 | Andreas Ivanschitz | 87 | 75 | CAM | Austria | 1. FSV Mainz 05 |
| #21 | Danny Murphy | 87 | 75 | CM | England | Blackburn Rovers |
| #22 | Filip Daems | 87 | 73 | LB | Belgium | Borussia M'gladbach |
| #23 | José Sand | 87 | 70 | ST | Argentina | Racing Club de Avellaneda |
| #24 | Heidar Helguson | 87 | 68 | ST | Iceland | Cardiff City |
| #25 | Andrea Pirlo | 86 | 87 | CM | Italy | Juventus |
| #26 | Cesc Fàbregas | 86 | 87 | CM | Spain | FC Barcelona |
| #27 | Hernanes | 86 | 83 | CM | Brazil | Lazio |
| #28 | Lisandro López | 86 | 83 | ST | Argentina | Olympique Lyonnais |
| #29 | Giampaolo Pazzini | 86 | 82 | ST | Italy | Milan |
| #30 | Francesco Lodi | 86 | 78 | CM | Italy | Catania |
| #31 | Robbie Keane | 86 | 77 | ST | Republic of Ireland | Los Angeles Galaxy |
| #32 | Mark Noble | 86 | 74 | CM | England | West Ham United |
| #33 | Sergey Kornilenko | 86 | 74 | ST | Belarus | Krylya Sovetov Samara |
| #34 | Cristiano Ronaldo | 85 | 92 | LW | Portugal | Real Madrid |
| #35 | Wayne Rooney | 85 | 89 | CF | England | Manchester United |
| #36 | Eden Hazard | 85 | 87 | LW | Belgium | Chelsea |
| #37 | Luis Suárez | 85 | 86 | CF | Uruguay | Liverpool |
| #38 | Antonio Di Natale | 85 | 85 | ST | Italy | Udinese |
| #39 | Emmanuel Adebayor | 85 | 82 | ST | Togo | Spurs |
| #40 | Óscar Cardozo | 85 | 82 | ST | Paraguay | SL Benfica |
| #41 | Felipe Melo | 85 | 81 | CDM | Brazil | Galatasaray SK |
| #42 | Mikel Arteta | 85 | 81 | CM | Spain | Arsenal |
| #43 | Alan Dzagoev | 85 | 80 | RM | Russia | CSKA Moskva |
| #44 | Sergio Pellissier | 85 | 79 | ST | Italy | Chievo Verona |
| #45 | Mladen Petric | 85 | 78 | ST | Croatia | Fulham |
| #46 | Apoño | 85 | 74 | CM | Spain | Real Zaragoza |
| #47 | Eninho | 85 | 74 | LW | Brazil | Jeonbuk Hyundai Motors |
| #48 | David Dunn | 85 | 73 | CAM | England | Blackburn Rovers |
| #49 | Juan Pablo Rodríguez | 85 | 70 | CM | Mexico | Santos Laguna |
| #50 | Jaime Lozano | 85 | 69 | LM | Mexico | U.N.A.M. |
| #51 | Erik Nevland | 85 | 65 | ST | Norway | Viking FK |
| #52 | Camacho | 85 | 64 | LB | Spain | SD Huesca |
| #53 | Antonio Cassano | 84 | 85 | CF | Italy | Inter |
| #54 | Kaká | 84 | 84 | CAM | Brazil | Real Madrid |
| #55 | Steven Gerrard | 84 | 84 | CAM | England | Liverpool |
| #56 | Matías Fernández | 84 | 82 | CAM | Chile | Fiorentina |
| #57 | Sebastian Giovinco | 84 | 82 | LF | Italy | Juventus |
| #58 | Alberto Gilardino | 84 | 78 | ST | Italy | Bologna |
| #59 | Rasmus Elm | 84 | 78 | CDM | Sweden | CSKA Moskva |
| #60 | Xabi Prieto | 84 | 77 | RW | Spain | Real Sociedad |
| #61 | Craig Bellamy | 84 | 76 | LM | Wales | Cardiff City |
| #62 | David Trezeguet | 84 | 76 | ST | France | River Plate |
| #63 | Abel Hernández | 84 | 75 | ST | Uruguay | Palermo |
| #64 | Grant Holt | 84 | 74 | ST | England | Norwich City |
| #65 | Jonathan Walters | 84 | 74 | ST | Republic of Ireland | Stoke City |
| #66 | Rickie Lambert | 84 | 74 | ST | England | Southampton |
| #67 | Jon Daly | 84 | 73 | ST | Republic of Ireland | Dundee United |
| #68 | Kevin Davies | 84 | 72 | ST | England | Bolton Wanderers |
| #69 | Torsten Frings | 84 | 70 | CM | Germany | Toronto FC |
| #70 | David Healy | 84 | 66 | ST | Northern Ireland | Bury |
| #71 | Paul Parry | 84 | 64 | LM | Wales | Shrewsbury Town |
| #72 | Arjen Robben | 83 | 88 | RM | Netherlands | FC Bayern |
| #73 | Klaas-Jan Huntelaar | 83 | 85 | ST | Netherlands | FC Schalke 04 |
| #74 | Samir Nasri | 83 | 85 | CAM | France | Manchester City |
| #75 | Miroslav Klose | 83 | 83 | ST | Germany | Lazio |
| #76 | Ronaldinho | 83 | 83 | CAM | Brazil | Atlético Mineiro |
| #77 | Cristian Ledesma | 83 | 81 | CM | Italy | Lazio |
| #78 | Simao | 83 | 81 | LM | Portugal | RCD Espanyol |
| #79 | Germán Denis | 83 | 80 | ST | Argentina | Atalanta |
| #80 | Gabi | 83 | 78 | CM | Spain | Atlético de Madrid |
| #81 | Mauricio Pinilla | 83 | 78 | ST | Chile | Cagliari |
| #82 | Kim Källström | 83 | 77 | CM | Sweden | Spartak Moskva |
| #83 | Andrew Johnson | 83 | 75 | ST | England | Queens Park Rangers |
| #84 | Chu Young Park | 83 | 75 | ST | Korea Republic | RC Celta de Vigo |
| #85 | John Guidetti | 83 | 73 | ST | Sweden | Manchester City |
| #86 | Rodrigo Mora | 83 | 71 | ST | Uruguay | River Plate |
| #87 | Steven Whittaker | 83 | 71 | RB | Scotland | Norwich City |
| #88 | Grant McCann | 83 | 68 | CM | Northern Ireland | Peterborough United |
| #89 | Tommy Miller | 83 | 64 | CM | England | Swindon Town |
| #90 | Karim Benzema | 82 | 87 | ST | France | Real Madrid |
| #91 | Xabi Alonso | 82 | 87 | CM | Spain | Real Madrid |
| #92 | Bastian Schweinsteiger | 82 | 86 | CM | Germany | FC Bayern |
| #93 | Edinson Cavani | 82 | 86 | ST | Uruguay | Napoli |
| #94 | Marek Hamšik | 82 | 85 | CAM | Slovakia | Napoli |
| #95 | Mirko Vucinic | 82 | 82 | ST | Montenegro | Juventus |
| #96 | Negredo | 82 | 82 | ST | Spain | Sevilla FC |
| #97 | Alexandr Kerzhakov | 82 | 81 | ST | Russia | Zenit St. Petersburg |
| #98 | Florent Malouda | 82 | 81 | LW | France | Chelsea |
| #99 | Gareth Barry | 82 | 81 | CDM | England | Manchester City |
| #100 | Lucho González | 82 | 81 | CM | Argentina | FC Porto |
[/accordion_item]
[accordion_item title ="TOP 20 BPL FIFA 13 Penalty Takers"]
| | | | | | | |
| --- | --- | --- | --- | --- | --- | --- |
| ORDER | NAME | PENALTY | RATING | POSITION | COUNTRY | CLUB |
| #1 | Robin van Persie | 92 | 88 | ST | Netherlands | Manchester United |
| #2 | Frank Lampard | 91 | 83 | CAM | England | Chelsea |
| #3 | Lukas Podolski | 87 | 83 | CF | Germany | Arsenal |
| #4 | Mark Noble | 86 | 74 | CM | England | West Ham United |
| #5 | Wayne Rooney | 85 | 89 | CF | England | Manchester United |
| #6 | Eden Hazard | 85 | 87 | LW | Belgium | Chelsea |
| #7 | Luis Suárez | 85 | 86 | CF | Uruguay | Liverpool |
| #8 | Emmanuel Adebayor | 85 | 82 | ST | Togo | Spurs |
| #9 | Mikel Arteta | 85 | 81 | CM | Spain | Arsenal |
| #10 | Mladen Petric | 85 | 78 | ST | Croatia | Fulham |
| #11 | Steven Gerrard | 84 | 84 | CAM | England | Liverpool |
| #12 | Grant Holt | 84 | 74 | ST | England | Norwich City |
| #13 | Jonathan Walters | 84 | 74 | ST | Republic of Ireland | Stoke City |
| #14 | Rickie Lambert | 84 | 74 | ST | England | Southampton |
| #15 | Samir Nasri | 83 | 85 | CAM | France | Manchester City |
| #16 | Andrew Johnson | 83 | 75 | ST | England | Queens Park Rangers |
| #17 | John Guidetti | 83 | 73 | ST | Sweden | Manchester City |
| #18 | Steven Whittaker | 83 | 71 | RB | Scotland | Norwich City |
| #19 | Florent Malouda | 82 | 81 | LW | France | Chelsea |
| #20 | Gareth Barry | 82 | 81 | CDM | England | Manchester City |
[/accordion_item]
[accordion_item title ="TOP 10 BBVA FIFA 13 Penalty Takers"]
| | | | | | | |
| --- | --- | --- | --- | --- | --- | --- |
| ORDER | NAME | PENALTY | RATING | POSITION | COUNTRY | CLUB |
| #1 | David Villa | 91 | 85 | LW | Spain | FC Barcelona |
| #2 | Cesc Fàbregas | 86 | 87 | CM | Spain | FC Barcelona |
| #3 | Cristiano Ronaldo | 85 | 92 | LW | Portugal | Real Madrid |
| #4 | Apoño | 85 | 74 | CM | Spain | Real Zaragoza |
| #5 | Kaká | 84 | 84 | CAM | Brazil | Real Madrid |
| #6 | Xabi Prieto | 84 | 77 | RW | Spain | Real Sociedad |
| #7 | Simao | 83 | 81 | LM | Portugal | RCD Espanyol |
| #8 | Gabi | 83 | 78 | CM | Spain | Atlético de Madrid |
| #9 | Chu Young Park | 83 | 75 | ST | Korea Republic | RC Celta de Vigo |
| #10 | Karim Benzema | 82 | 87 | ST | France | Real Madrid |
[/accordion_item]
[accordion_item title ="TOP 10 Serie A FIFA 13 Penalty Takers"]
| | | | | | | |
| --- | --- | --- | --- | --- | --- | --- |
| ORDER | NAME | PENALTY | RATING | POSITION | COUNTRY | CLUB |
| #1 | Francesco Totti | 90 | 79 | CF | Italy | Roma |
| #2 | Diego Milito | 89 | 84 | ST | Argentina | Inter |
| #3 | Arturo Vidal | 88 | 84 | CDM | Chile | Juventus |
| #4 | Fabrizio Miccoli | 88 | 82 | ST | Italy | Palermo |
| #5 | Rodrigo Palacio | 87 | 83 | RF | Argentina | Inter |
| #6 | Stevan Jovetic | 87 | 83 | ST | Montenegro | Fiorentina |
| #7 | Andrea Pirlo | 86 | 87 | CM | Italy | Juventus |
| #8 | Hernanes | 86 | 83 | CM | Brazil | Lazio |
| #9 | Giampaolo Pazzini | 86 | 82 | ST | Italy | Milan |
| #10 | Francesco Lodi | 86 | 78 | CM | Italy | Catania |
[/accordion_item]
[/accordion]