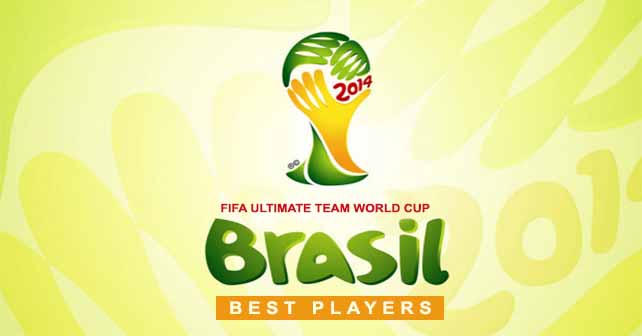 You want to build your FUT World Cup squad but you don't know who are the best players for each position ? Then, you are in the right place.
Best Players for each Position in FUT World Cup
Building a top squad in FUT World Cup is not an easy thing. We will help you to find the best players for your team. You can also check the top players of the same confederation or nationality in order to keep your squad chemistry high.
Best Goalkeepers in FUT World Cup
| | | | |
| --- | --- | --- | --- |
| Manuel Neuer | Germany | UEFA | 86 |
| Casillas | Spain | UEFA | 86 |
| Thibaut Courtois | Belgium | UEFA | 84 |
| Victor Valdés | Spain | UEFA | 84 |
| Joe Hart | England | UEFA | 83 |
| Hugo Lloris | France | UEFA | 83 |
| Salvatore Sirigu | Italy | UEFA | 83 |
| Gianluigi Buffon | Italy | UEFA | 83 |
| Igor Akinfeev | Russia | UEFA | 83 |
| José Reina | Spain | UEFA | 83 |
| Júlio César | Brazil | CONMEBOL | 82 |
| Jefferson | Brazil | CONMEBOL | 82 |
| René Adler | Germany | UEFA | 82 |
| De Gea | Spain | UEFA | 82 |
| Fernando Muslera | Uruguay | CONMEBOL | 82 |
| Simon Mignolet | Belgium | UEFA | 81 |
| Asmir Begovic | Bosnia Herzegovina | UEFA | 81 |
| Claudio Bravo | Chile | CONMEBOL | 81 |
| Roman Weidenfeller | Germany | UEFA | 81 |
| Federico Marchetti | Italy | UEFA | 81 |
| Rui Patrício | Portugal | UEFA | 81 |
| Tim Howard | United States | CONCACAF | 81 |
| Michel Vorm | Netherlands | UEFA | 80 |
| Vincent Enyeama | Nigeria | CAF | 80 |
| Diego Benaglio | Switzerland | UEFA | 80 |
| Diego Cavalieri | Brazil | CONMEBOL | 79 |
| Marc-André ter Stegen | Germany | UEFA | 79 |
| Maarten Stekelenburg | Netherlands | UEFA | 79 |
| Tim Krul | Netherlands | UEFA | 79 |
| Brad Guzan | United States | CONCACAF | 79 |
Best Right Backs in FUT World Cup
| | | | |
| --- | --- | --- | --- |
| Philipp Lahm | Germany | UEFA | 87 |
| Dani Alves | Brazil | CONMEBOL | 85 |
| Pablo Zabaleta | Argentina | CONMEBOL | 82 |
| Stephan Lichtsteiner | Switzerland | UEFA | 82 |
| Darijo Srna | Croatia | UEFA | 80 |
| Maicon | Brazil | CONMEBOL | 79 |
| Mathieu Debuchy | France | UEFA | 79 |
| João Pereira | Portugal | UEFA | 79 |
| Juanfran | Spain | UEFA | 79 |
| Kyle Walker | England | UEFA | 78 |
| Glen Johnson | England | UEFA | 78 |
| Alexandr Anyukov | Russia | UEFA | 78 |
| Azpilicueta | Spain | UEFA | 78 |
| Bacary Sagna | France | UEFA | 77 |
| Emmanuel Eboué | Ivory Coast | CAF | 77 |
| Arbeloa | Spain | UEFA | 77 |
| Anthony Reveillere | France | UEFA | 76 |
| Christophe Jallet | France | UEFA | 76 |
| Christian Maggio | Italy | UEFA | 76 |
| Ignazio Abate | Italy | UEFA | 76 |
| Sílvio | Portugal | UEFA | 76 |
| Maximiliano Pereira | Uruguay | CONMEBOL | 76 |
| Toby Alderweireld | Belgium | UEFA | 75 |
| Mauricio Isla | Chile | CONMEBOL | 75 |
| Rod Fanni | France | UEFA | 75 |
| Vassilis Torosidis | Greece | UEFA | 75 |
| Serge Aurier | Ivory Coast | CAF | 75 |
| Daryl Janmaat | Netherlands | UEFA | 75 |
| Juan Camilo Zúñiga | Colombia | CONMEBOL | 74 |
| Atsuto Uchida | Japan | AFC | 74 |
Best Left backs in FUT World Cup
| | | | |
| --- | --- | --- | --- |
| Marcelo | Brazil | CONMEBOL | 83 |
| Ashley Cole | England | UEFA | 82 |
| Leighton Baines | England | UEFA | 82 |
| Jordi Alba | Spain | UEFA | 82 |
| Jan Vertonghen | Belgium | UEFA | 81 |
| Filipe Luís | Brazil | CONMEBOL | 81 |
| Fábio Coentrão | Portugal | UEFA | 79 |
| Cristian Ansaldi | Argentina | CONMEBOL | 78 |
| Patrice Evra | France | UEFA | 78 |
| Gaël Clichy | France | UEFA | 78 |
| Monreal | Spain | UEFA | 78 |
| Emiliano Insua | Argentina | CONMEBOL | 77 |
| Maxwell | Brazil | CONMEBOL | 77 |
| Kieran Gibbs | England | UEFA | 77 |
| Marcel Schmelzer | Germany | UEFA | 77 |
| Domenico Criscito | Italy | UEFA | 77 |
| Yuto Nagatomo | Japan | AFC | 77 |
| Ricardo Rodriguez | Switzerland | UEFA | 77 |
| Marcell Jansen | Germany | UEFA | 76 |
| Dennis Aogo | Germany | UEFA | 76 |
| Manuel Pasqual | Italy | UEFA | 76 |
| Mattia De Sciglio | Italy | UEFA | 76 |
| Antunes | Portugal | UEFA | 76 |
| Dmitriy Kombarov | Russia | UEFA | 76 |
| Marcos Rojo | Argentina | CONMEBOL | 75 |
| Pablo Armero | Colombia | CONMEBOL | 75 |
| Daley Blind | Netherlands | UEFA | 75 |
| Yuriy Zhirkov | Russia | UEFA | 75 |
| Ryan Bertrand | England | UEFA | 74 |
| Federico Balzaretti | Italy | UEFA | 74 |
| Luca Antonelli | Italy | UEFA | 74 |
| Arthur Boka | Ivory Coast | CAF | 74 |
Best Center backs in FUT World Cup
| | | | |
| --- | --- | --- | --- |
| Thiago Silva | Brazil | CONMEBOL | 87 |
| Vincent Kompany | Belgium | UEFA | 86 |
| Sergio Ramos | Spain | UEFA | 86 |
| Piqué | Spain | UEFA | 86 |
| Giorgio Chiellini | Italy | UEFA | 84 |
| Andrea Barzagli | Italy | UEFA | 84 |
| Dante | Brazil | CONMEBOL | 83 |
| Per Mertesacker | Germany | UEFA | 83 |
| Mats Hummels | Germany | UEFA | 83 |
| Jérôme Boateng | Germany | UEFA | 83 |
| Pepe | Portugal | UEFA | 83 |
| Diego Godín | Uruguay | CONMEBOL | 83 |
| Ezequiel Garay | Argentina | CONMEBOL | 82 |
| David Luiz | Brazil | CONMEBOL | 82 |
| Hugo Campagnaro | Argentina | CONMEBOL | 81 |
| Bruno Alves | Portugal | UEFA | 81 |
| Martín Demichelis | Argentina | CONMEBOL | 80 |
| Fabricio Coloccini | Argentina | CONMEBOL | 80 |
| Nicolas Nkoulou | Cameroon | CAF | 80 |
| Phil Jones | England | UEFA | 80 |
| Phil Jagielka | England | UEFA | 80 |
| Gary Cahill | England | UEFA | 80 |
| Benedikt Höwedes | Germany | UEFA | 80 |
| Holger Badstuber | Germany | UEFA | 80 |
| Sokratis | Greece | UEFA | 80 |
| Kolo Touré | Ivory Coast | CAF | 80 |
| Iñigo Martínez | Spain | UEFA | 80 |
| Raúl Albiol | Spain | UEFA | 80 |
| Nicolás Otamendi | Argentina | CONMEBOL | 79 |
| Thomas Vermaelen | Belgium | UEFA | 79 |
Best Defensive Midfielders in FUT World Cup
| | | | |
| --- | --- | --- | --- |
| Daniele De Rossi | Italy | UEFA | 85 |
| Sergio Busquets | Spain | UEFA | 85 |
| Javier Mascherano | Argentina | CONMEBOL | 84 |
| Sami Khedira | Germany | UEFA | 84 |
| Javi Martinez | Spain | UEFA | 84 |
| Ramires | Brazil | CONMEBOL | 82 |
| Thiago Motta | Italy | UEFA | 82 |
| Luiz Gustavo | Brazil | CONMEBOL | 81 |
| Axel Witsel | Belgium | UEFA | 80 |
| Lucas Leiva | Brazil | CONMEBOL | 80 |
| Michael Carrick | England | UEFA | 80 |
| Blaise Matuidi | France | UEFA | 80 |
| Sven Bender | Germany | UEFA | 80 |
| Michaël Essien | Ghana | CAF | 80 |
| Nigel de Jong | Netherlands | UEFA | 80 |
| Miguel Veloso | Portugal | UEFA | 80 |
| Igor Denisov | Russia | UEFA | 80 |
| Alexandre Song | Cameroon | CAF | 79 |
| Gary Medel | Chile | CONMEBOL | 79 |
| Marco Verratti | Italy | UEFA | 79 |
| John Obi Mikel | Nigeria | CAF | 79 |
| Javi García | Spain | UEFA | 79 |
| Gökhan Inler | Switzerland | UEFA | 79 |
| Fernando Gago | Argentina | CONMEBOL | 78 |
| Maxime Gonalons | France | UEFA | 78 |
| Cheick Tioté | Ivory Coast | CAF | 78 |
| Abel Aguilar | Colombia | CONMEBOL | 77 |
| Ognjen Vukojevic | Croatia | UEFA | 77 |
| Scott Parker | England | UEFA | 77 |
| Etienne Capoue | France | UEFA | 77 |
Best Right Wings in FUT World Cup
| | | | |
| --- | --- | --- | --- |
| Arjen Robben | Netherlands | UEFA | 89 |
| David Silva | Spain | UEFA | 87 |
| Thomas Müller | Germany | UEFA | 86 |
| Pedro | Spain | UEFA | 85 |
| Hulk | Brazil | CONMEBOL | 84 |
| Jesús Navas | Spain | UEFA | 84 |
| Antonio Valencia | Ecuador | CONMEBOL | 83 |
| Nani | Portugal | UEFA | 83 |
| Lucas | Brazil | CONMEBOL | 82 |
| Juan Cuadrado | Colombia | CONMEBOL | 82 |
| Sofiane Feghouli | Algeria | CAF | 81 |
| Erik Lamela | Argentina | CONMEBOL | 81 |
| Kevin De Bruyne | Belgium | UEFA | 81 |
| Theo Walcott | England | UEFA | 80 |
| James Milner | England | UEFA | 80 |
| Sidney Sam | Germany | UEFA | 80 |
| Vieirinha | Portugal | UEFA | 80 |
| Xherdan Shaqiri | Switzerland | UEFA | 80 |
| Kevin Mirallas | Belgium | UEFA | 79 |
| Aaron Lennon | England | UEFA | 79 |
| Juan Fernando Quintero | Colombia | CONMEBOL | 78 |
| Ahmed Musa | Nigeria | CAF | 78 |
| Alexandr Samedov | Russia | UEFA | 78 |
| Adam Johnson | England | UEFA | 77 |
| Nicolai Müller | Germany | UEFA | 77 |
| Patrick Herrmann | Germany | UEFA | 77 |
| Luciano Narsingh | Netherlands | UEFA | 77 |
| Vladimir Bystrov | Russia | UEFA | 77 |
| Augusto Matías Fernández | Argentina | CONMEBOL | 76 |
| Alex Oxlade-Chamberlain | England | UEFA | 76 |
Best Left Wings in FUT World Cup
| | | | |
| --- | --- | --- | --- |
| Cristiano Ronaldo | Portugal | UEFA | 92 |
| Franck Ribéry | France | UEFA | 88 |
| Neymar | Brazil | CONMEBOL | 87 |
| Eden Hazard | Belgium | UEFA | 86 |
| Marco Reus | Germany | UEFA | 85 |
| Juan Mata | Spain | UEFA | 85 |
| Ezequiel Lavezzi | Argentina | CONMEBOL | 83 |
| James Rodríguez | Colombia | CONMEBOL | 83 |
| Danny | Portugal | UEFA | 82 |
| David Villa | Spain | UEFA | 82 |
| André Schürrle | Germany | UEFA | 81 |
| Gervinho | Ivory Coast | CAF | 81 |
| Robinho | Brazil | CONMEBOL | 80 |
| Lukas Podolski | Germany | UEFA | 80 |
| Julian Draxler | Germany | UEFA | 80 |
| André Ayew | Ghana | CAF | 80 |
| Shinji Kagawa | Japan | AFC | 80 |
| Andrés Guardado | Mexico | CONCACAF | 80 |
| Jeremain Lens | Netherlands | UEFA | 80 |
| Dries Mertens | Belgium | UEFA | 79 |
| Senad Lulić | Bosnia Herzegovina | UEFA | 79 |
| Ashley Young | England | UEFA | 79 |
| Samir Nasri | France | UEFA | 79 |
| Kwadwo Asamoah | Ghana | CAF | 79 |
| Alan Dzagoev | Russia | UEFA | 79 |
| Cristian Rodríguez | Uruguay | CONMEBOL | 79 |
| Maximiliano Rodríguez | Argentina | CONMEBOL | 78 |
| Nacer Chadli | Belgium | UEFA | 78 |
| Ibrahim Afellay | Netherlands | UEFA | 78 |
| Varela | Portugal | UEFA | 78 |
Best Center Midfielders in FUT World Cup
| | | | |
| --- | --- | --- | --- |
| Xavi | Spain | UEFA | 88 |
| Bastian Schweinsteiger | Germany | UEFA | 87 |
| Mesut Özil | Germany | UEFA | 87 |
| Arturo Vidal | Chile | CONMEBOL | 86 |
| Yaya Touré | Ivory Coast | CAF | 86 |
| Cesc Fàbregas | Spain | UEFA | 86 |
| Luka Modrić | Croatia | UEFA | 85 |
| Mario Götze | Germany | UEFA | 85 |
| Xabi Alonso | Spain | UEFA | 85 |
| Ángel Di María | Argentina | CONMEBOL | 84 |
| Oscar | Brazil | CONMEBOL | 84 |
| Toni Kroos | Germany | UEFA | 84 |
| Andrea Pirlo | Italy | UEFA | 84 |
| Claudio Marchisio | Italy | UEFA | 84 |
| Wesley Sneijder | Netherlands | UEFA | 84 |
| Santi Cazorla | Spain | UEFA | 84 |
| İlkay Gündoğan | Germany | UEFA | 83 |
| Rafael van der Vaart | Netherlands | UEFA | 83 |
| João Moutinho | Portugal | UEFA | 83 |
| Isco | Spain | UEFA | 83 |
| Hernanes | Brazil | CONMEBOL | 82 |
| Steven Gerrard | England | UEFA | 82 |
| Kevin-Prince Boateng | Ghana | CAF | 82 |
| Riccardo Montolivo | Italy | UEFA | 82 |
| Antonio Candreva | Italy | UEFA | 82 |
| Kevin Strootman | Netherlands | UEFA | 82 |
| Miralem Pjanić | Bosnia Herzegovina | UEFA | 81 |
| Fernandinho | Brazil | CONMEBOL | 81 |
| Paulinho | Brazil | CONMEBOL | 81 |
Best Forwards in FUT World Cup
| | | | | |
| --- | --- | --- | --- | --- |
| Lionel Messi | Argentina | CONMEBOL | 94 | CF |
| Robin van Persie | Netherlands | UEFA | 90 | ST |
| Falcao | Colombia | CONMEBOL | 89 | ST |
| Sergio Agüero | Argentina | CONMEBOL | 88 | ST |
| Luis Suárez | Uruguay | CONMEBOL | 88 | ST |
| Wayne Rooney | England | UEFA | 87 | CF |
| Edinson Cavani | Uruguay | CONMEBOL | 87 | ST |
| Gonzalo Higuaín | Argentina | CONMEBOL | 84 | ST |
| Edin Džeko | Bosnia Herzegovina | UEFA | 84 | ST |
| Miroslav Klose | Germany | UEFA | 84 | ST |
| Mario Gomez | Germany | UEFA | 84 | ST |
| Klaas-Jan Huntelaar | Netherlands | UEFA | 84 | ST |
| Negredo | Spain | UEFA | 84 | ST |
| Mario Mandžukić | Croatia | UEFA | 83 | ST |
| Mario Balotelli | Italy | UEFA | 83 | ST |
| Didier Drogba | Ivory Coast | CAF | 83 | ST |
| Soldado | Spain | UEFA | 83 | ST |
| Diego Costa | Spain | UEFA | 83 | ST |
| Rodrigo Palacio | Argentina | CONMEBOL | 82 | ST |
| Samuel Eto'o | Cameroon | CAF | 82 | ST |
| Alexis Sánchez | Chile | CONMEBOL | 82 | ST |
| Jackson Martínez | Colombia | CONMEBOL | 82 | ST |
| Daniel Sturridge | England | UEFA | 82 | ST |
| Karim Benzema | France | UEFA | 82 | ST |