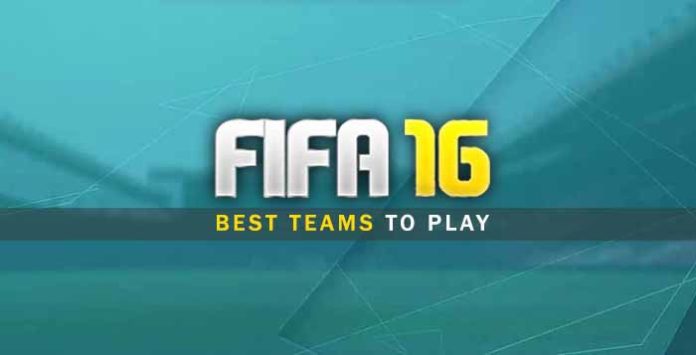 You want to play FIFA 16 but you don't know which club to pick. Do you want the best one? Then, take a look to our top five of the best teams to play in FIFA 16.
Best Teams to Play in FIFA 16
We created this article to help you to choose the right club suitable for your style of playing. We show you the top five best teams to play in FIFA 16, their best line-up, their strengths and their weaknesses. Keep in mind that the best FIFA 16 club doesn't need to be the best team for you.
#5 Paris Saint Germain
Overview
PSG won the Ligue 1 three times in a row, and it is the favourite to win this season again. Currently, there is no one like them in France. In Europe just a few teams are probably better than the French giants. In FIFA 16 they are also one of the best teams to play.
Ibrahimovic is the biggest reference of this team but not the only one. The Brazilian center-back duo Thiago Silva and David Luiz, both better than in FIFA 15, adds great support in the defense.
Starting Line-Up
GK – Salvatore Sirigu (82)
CB – Thiago Silva (88)
CB – David Luiz (83)
RB – Serge Aurier (80)
LB – Layvin Kurzawa (80)
CDM – Blaise Matuidi (84)
CM – Di Maria (85)
CM – Javier Pastore (84)
RW – Lucas (82)
LW – Edinson Cavani (85)
ST – Zlatan Ibrahimovic (89)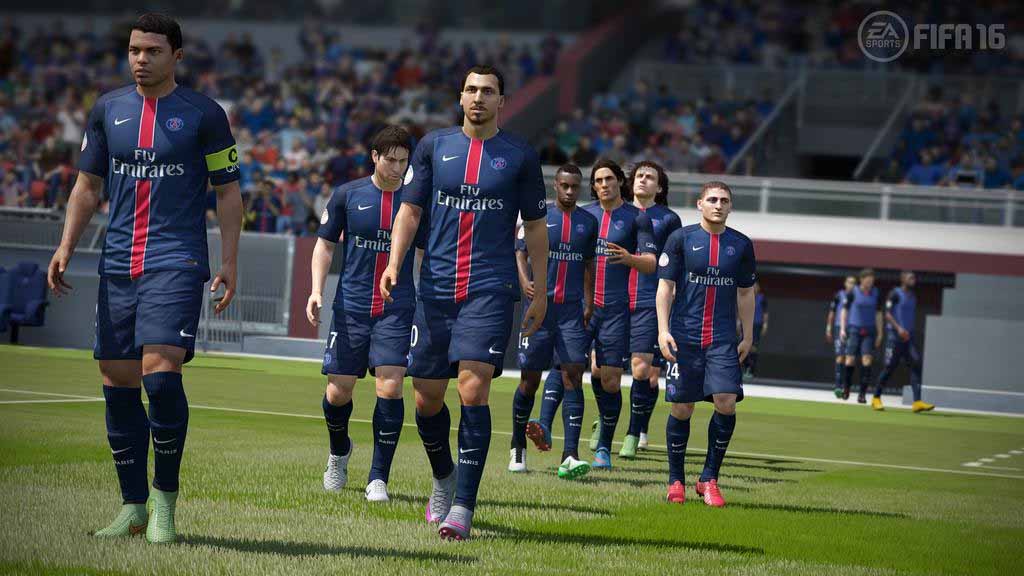 Key Player
Zlatan Ibrahimovic
Advantages
Top-quality striker
Solid center backs and great goalkeeper
Several quality choices in the attack
Di Maria was a great signing to improve the weakest position
Disadvantages
Strikers' lack of pace
Wingers have low passing stats
Cavani can't assists well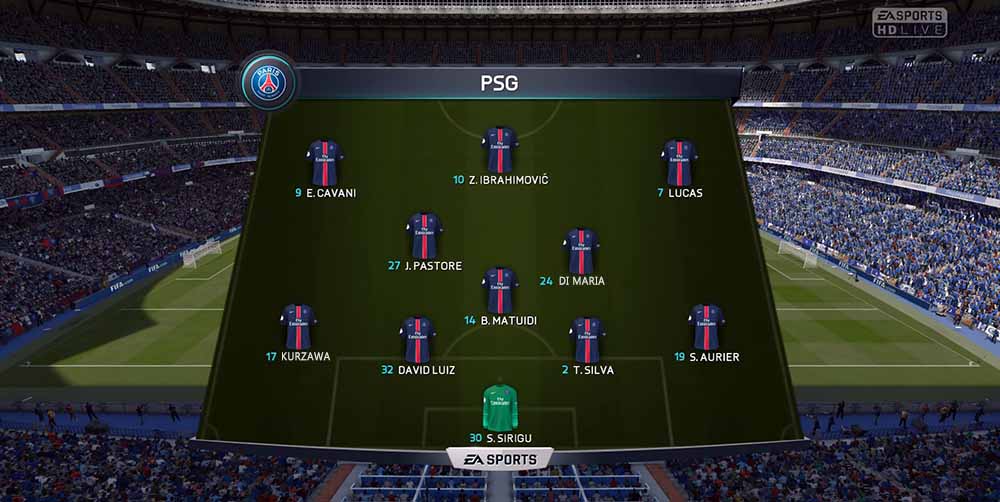 #4 Manchester City
Overview
Chelsea was the BPL champion last season, but Manchester City is still more solid in FIFA 16.
Aguero is the reference in the attack and Kompany in the defense. Between them, Silva and Touré make City one of the most balanced teams of the game.
Starting Line-Up
GK – Joe Hart (83)
CB – Vincent Kompany (85)
CB – Nicolás Otamendi (84)
RB – Pablo Zabaleta (82)
LB – Gaël Clichy (80)
CDM – Yaya Touré (85)
CAM – Kevin De Bruyne (86)
CAM – David Silva (88)
RW – Jesús Navas (81)
LW – Raheem Sterling (82)
ST – Sergio Agüero (87)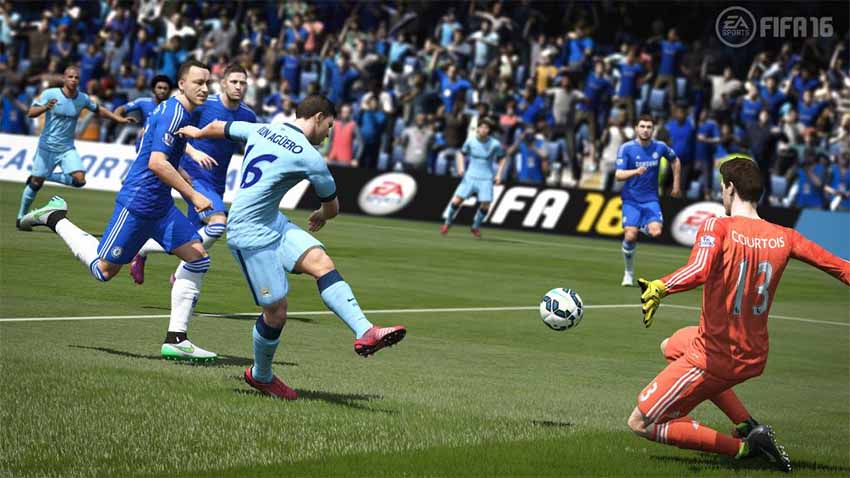 Key Player
David Silva
Advantages
Good players in all positions, very balanced team
Otamendi was a crucial buy to improve the defense
Great passing stats in the midfield
Wingers are very fast
Disadvantages
Kompany's pace downgrade
Touré is not the same player anymore
The forwards are not good at headers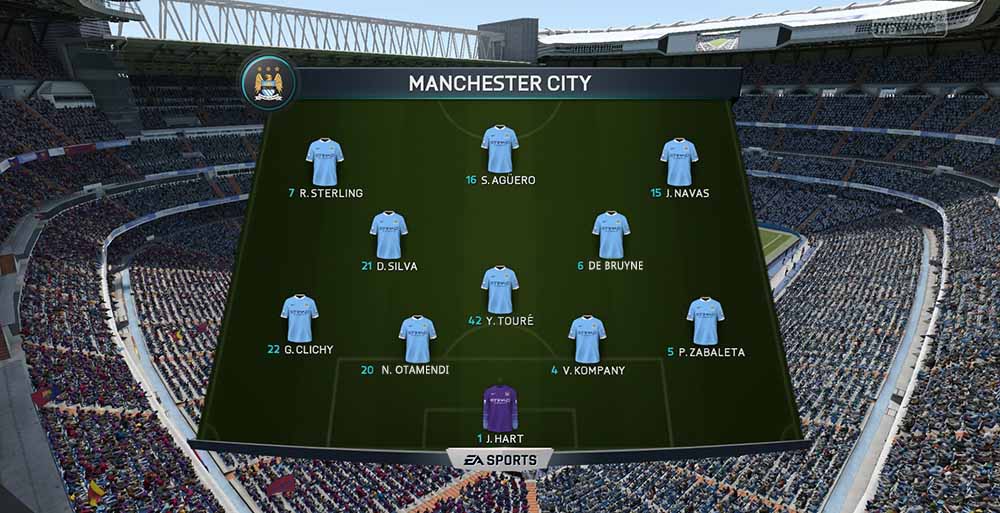 #3 FC Bayern
Overview
Bayern Munich has 9 out of the top 50 highest rated players in FIFA 16. No other club has so many players. The Bundesliga giants are almost unstoppable if you use them right.
It's very difficult to see the weaknesses of a team like this. In the goal, Neuer is the best FIFA 16 goalkeeper. Boateng and Alaba are better than ever. Ribéry and Robben are two of the best players in the world. Amazing team to play.
Starting Line-Up
GK – Manuel Neuer (90)
CB – Mehdi Benatia (84)
CB – Jérôme Boateng (87)
RB – Philipp Lahm (87)
LB – David Alaba (85)
CDM – Xabi Alonso (84)
CDM – Arturo Vidal (86)
RW – Arjen Robben (90)
LW – Franck Ribéry (87)
CF – Thomas Muller (86)
ST – Robert Lewandowski (87)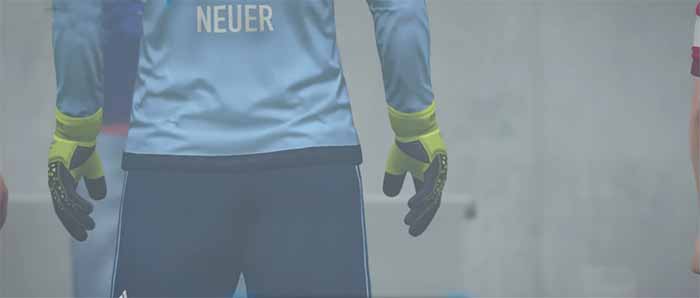 Key Player
Manuel Neuer
Advantages
Best FIFA 16 goalkeeper
Probably the best back four of the game
Pacey midfield
Wide ranges of quality choices
Vidal and Douglas Costa were great additions to the midfield
Disadvantages
Alonso's pace is awful
The only good option to RB is Lahm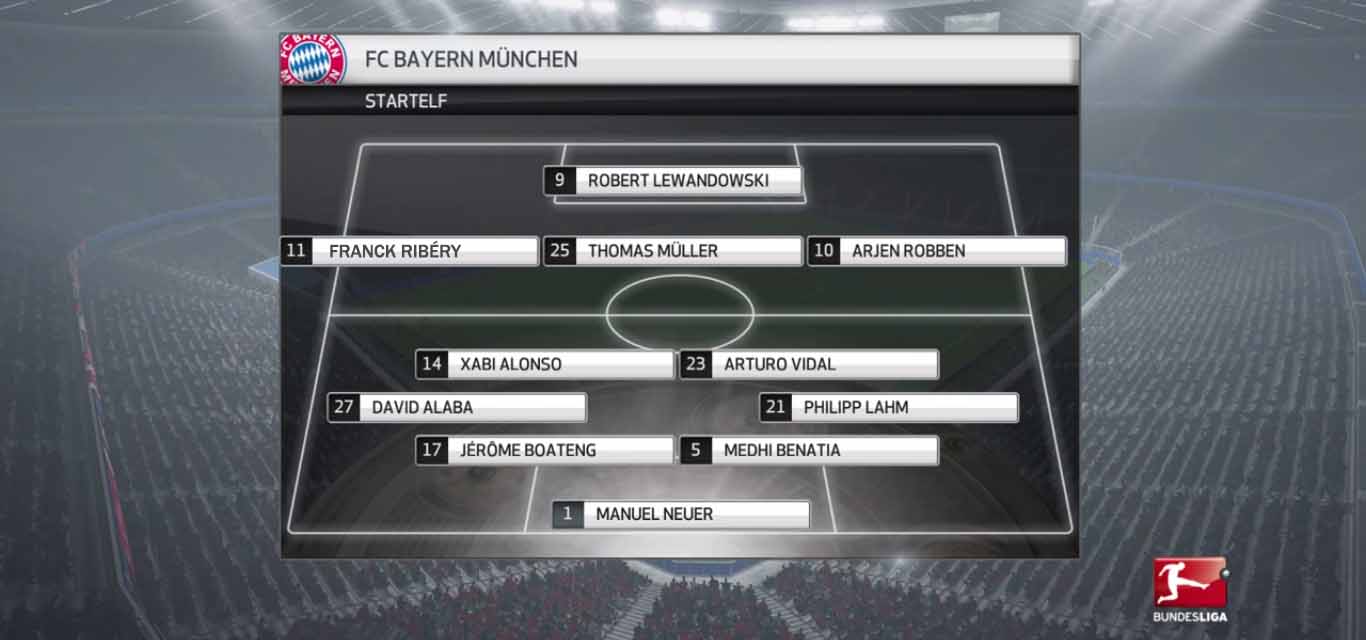 #2 FC Barcelona
Starting Line-Up
GK – Claudio Bravo (83)
CB – Gerard Piqué (85)
CB – Jérémy Mathieu (83)
RB – Dani Alves (84)
LB – Jordi Alba (84)
CDM – Sergio Busquets (86)
CM – Andrés Iniesta (88)
CM – Ivan Rakitić (84)
RW – Lionel Messi (94)
LW – Neymar (88)
ST – Luis Suárez (90)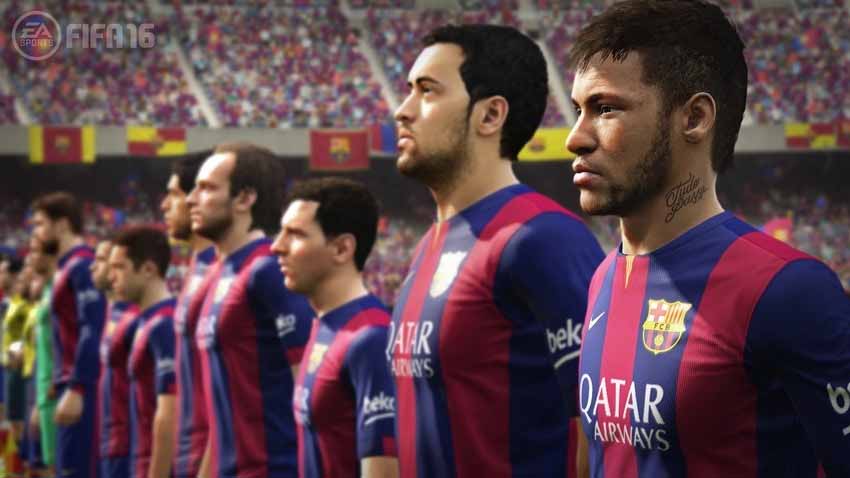 Key Player
Lionel Messi
Advantages
Best attacking force of FIFA 16
Messi
Dani Alves and Alba can cover the entire right and left side of the pitch
The offense is built around high percentage passes all over the pitch
Disadvantages
Defense is not as good as midfield and attack
Good attacking team but not as balanced as Real Madrid
Not many quality choices for the striker position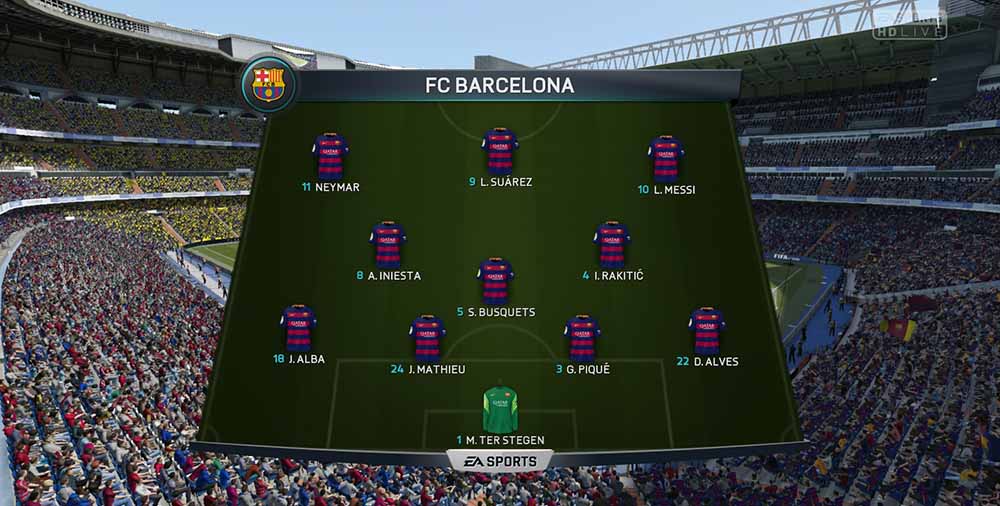 #1 Real Madrid
Overview
There is a reason why every single year, Real Madrid is the most used team: Ronaldo. He is the best FIFA 16 player and everyone wants to play with him. However, Real Madrid is much more than him. In fact, there are many good players in this club. It is a much balanced team than Barcelona.
Starting Line-Up
GK – Kiko Casilla (81)
CB – Sergio Ramos (87)
CB – Pepe (84)
RB – Danilo (81)
LB – Marcelo (83)
CM – Toni Kroos (87)
CM – Luka Modrić (87)
CF – James Rodriguez (87)
RW – Gareth Bale (87)
LW – Cristiano Ronaldo (93)
ST – Karim Benzema (86)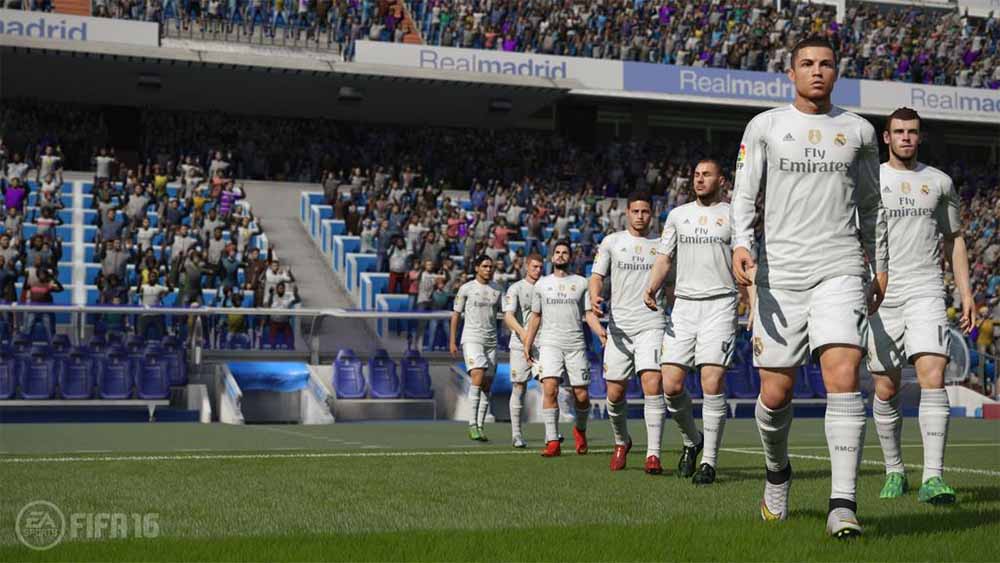 Key Player
Cristiano Ronaldo
Advantages
The best player in the game
Sergio Ramos and Pepe is one of the best center-back duo in the game
Solid midfielders with excellent passing and scoring potential
Bale is a great player especially for a counter-attacking team
Disadvantages
Goalkeeper is not as good as the rest of the team
Many attacking players but Benzema is the only quality striker