Virgin Gaming has released a new App that let XBox users play FIFA and earn cash at the same time: the Virgin Gaming XBox Tournaments App.
The new Virgin Gaming XBox Tournaments App
Virgin Gaming has successfully launched their new XBox Tournaments App that will allow you to select, join and play in tournaments without ever having to leave your console.
To launch the XBox Tournaments App, they created the chance to win a share of $100,000 in the 'Get Paid to Play' Tournament. Top titles are already available on this app including FIFA 13, NHL 13, Madden 13 and NBA 2K13.
Being paid to play seems something amazing but Virgin Games have more to offer:
Advanced technology against cheaters (Fair Play Guarantee);
24/7 Dedicated Customer Support;
Integration directly into the FIFA 13;
Direct connection to the EA servers.
What are you waiting for?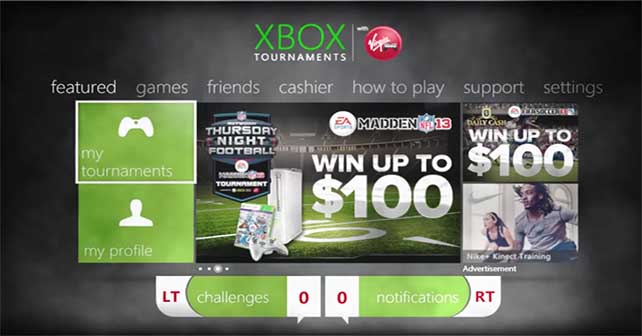 How to Install the Virgin Gaming Xbox Tournaments App ?
The app is available in the USA, Canada and UK right now. To download it and install it just follow these steps:
Step 1
The first thing to do is to join to Virgin Gaming. If already are a Virgin Gaming Member, skip this step. Otherwise, click HERE.
Step 2
Go to Bing on your XBox and search for Virgin Gaming. The Xbox Tournaments App will be first in your search results. Follow the instructions that you will see.
Step 3
Go to the Xbox Tournaments App Page HERE and click on 'Activate Now' to link your account to the new app.
If you have any trouble following these steps, you can check this video:
Virgin Gaming Xbox Tournaments App Trailer
You can watch a bit more about the new Virgin Gaming XBox Tournaments App in the following video:
If you are a PS3 player, you can also play and win cash. Just click HERE to register in Virgin Gaming and to start earn money.