Right before the European game release, it was launched the first update for FIFA 14.
Custom FIFA 14 Cover
You can have a special FIFA 14 cover with your favourite club. EA have released a bunch of club specific covers to download as well as iOS wallpapers to go along with them.
In this special covers, Lionel Messi and Gareth Bale were replaced by players of the club cover. Besides very popular teams, there are three unpopular clubs that got a custom FIFA 14 cover: Swindon Town, Wycombe Wanderers and Leyton Orient. If you are asking why they got it, we answer to you: because they are sponsored by EA Sports. Their shirts have printed "FIFA 14".
Check if your club is included:
FC Barcelona
Everton
Aston Villa
Tottenham Spurs
Manchester City
Liverpool
Newcastle United
Southampton
Swindon Town
Wycombe Wanderers
Leyton Orient
Ireland
Chicago Fire
Columbus Crew
DC United
Houston Dynamo
Montreal Impact
NE Revolution
New York Red Bulls
Philadelphia Union
Sporting Kansas City
Toronto FC
Chivas USA
Colorado Rapids
FC Dallas
Los Angeles Galaxy
Portland Timbers
Real Salt Lake
San Jose Earthquakes
Seattle Sounders
Vancouver Whitecaps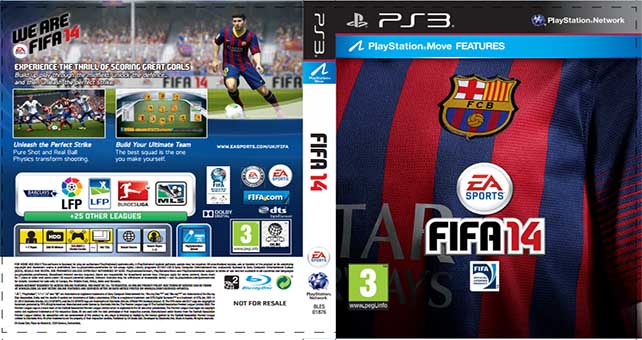 The Barcelona custom FIFA 14 Cover is our favourite
You can download these custom FIFA 14 covers HERE, except for the MLS teams that only have the XBox cover available HERE.

EA Sports recommends that you print your sleeve using standard printer settings.
Your FIFA 14 club sleeve PDF is set to print using CMYK colours at 300 dpi (dots per inch). This is standard high resolution production printing. They recommend you use printer settings which your printer is capable of managing successfully.
Your FIFA 14 sleeve is printed on 170gsm gloss art paper. They recommend you only use a paper type that your printer is capable of managing successfully.