The new game engine EA Sports Ignite was announced by EA Sports on the Microsoft's Xbox One Reveal event. The Executive Vice President and Head of EA Sports, Andrew Wilson, gave the first EA Sports Ignite Interview to tell more about the engine and what gamers can expect with the next console generation.
Don't lose great details in this EA Sports Ignite Interview with Andrew Wilson
EA Sports Ignite Interview with Andrew Wilson
"EA Sports Ignite is our new game engine developed for next-generation consoles. It harnesses the potential of Xbox One and PlayStation®4 and will deliver more authenticity, more connectively and, importantly, more fun.
The engine focuses on Human Intelligence, True Player Motion and Living Worlds – three interconnected elements that we're confident will rewrite how sports games are experienced.
(…)Our games will be alive. In-game players will be able to anticipate and make intelligent decisions with human-like reaction times. With the new consoles, the engine delivers four times more decision-making calculations per second.
We've been able to recreate the explosiveness and agility of real-world athletes because the engine's locomotion system is fueled by ten times greater animation fidelity. Players will plant, shift momentum, pivot and cut with incredible realism.
The stadiums and atmospheres will also be alive through Living Worlds. The engine allows us to have 3D crowds and living sidelines that evolve and react organically to the on-field action.
This is incredibly exciting stuff for us as developers, and we think gamers will love just how much this new innovation will change how you play.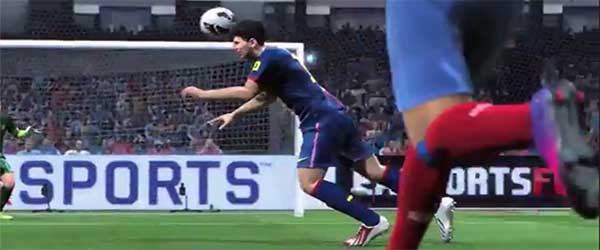 (…)Our development studios at EA Canada and EA Tiburon have been working on the engine's components for a few years. It's the first time that we have brought all of our best tech together in this way, and our games will be better for it – we truly have some great things planned.
(…)Shared technology will help us make better games. We'll be more innovative, more efficient, and we'll raise the quality bar across the titles. Each franchise will leverage the technology differently to create game experiences unique to their sport.
(…)Our engine is built specifically for sports. For example, the new locomotion system was developed specifically to create player movement that is authentic to real-world athletes. EA Sports Ignite is more than a rendering engine; it also combines run-time physics, animation, locomotion and online systems.
(…)Right now we have FIFA 14, Madden NFL 25, NBA LIVE 14 and EA SPORTS UFC in development on the Xbox One and PlayStation®4, and we are extremely excited to bring over the rest of our titles to next-generation consoles in the future.
(…)We have never been more prepared for a new console generation. Through this powerful engine and our innovative development teams, we are focused on not only creating the best games at the moment, but also pushing the boundaries on what is possible in the future."
You can read the full EA Sports Ignite Interview with Andrew Wilson HERE.