The team at EA Sports aims to deliver the most realistic sports video games possible, and that includes working with the best clubs in the world. Today, the FIFA team announced that FC Barcelona has agreed to a three-year partnership with EA SPORTS. Fully-scanned likenesses from 17 Barça players will be featured in FIFA 14, as will the iconic Camp Nou, which makes its triumphant return to the franchise.
In addition, fans visiting the real life Camp Nou in Barcelona over the course of the 2013-14 La Liga season will have the opportunity to visit the EA Sports Dugout and play a number of EA Sports titles, including obviously FIFA 14.
FC Barcelona is just one of our many partner clubs throughout Europe. Other clubs include AC Milan, Borussia Dortmund and Manchester City.
EA Sports announce a 3-Year Partnership with FC Barcelona
Electronic Arts and F.C. Barcelona today announced they have agreed to a three-year partnership that will make EA SPORTS™ the Exclusive and Official Video Game Partner of one of the most popular and storied football clubs in the world.
"Joining a world class football club like Barcelona as an Official Club Partner is a fantastic opportunity for EA SPORTS and our fans," said Matt Bilbey, Senior Vice President and Group General Manager, EA SPORTS. "We will create a deeper connection with their passionate, global fan base, and use our games as a platform to engage supporters all around the world for years to come."
Laurent Colette, Chief Marketing Officer at F.C. Barcelona said, "We are delighted to have the opportunity to partner with EA SPORTS, one of the world's leading sports and entertainment brands, and to create a stronger relationship between our global fan bases. We encourage everyone to try out the game, get a feel for being under the skin of our players and emulating their actions on the pitch; without a doubt those who try it will enjoy it."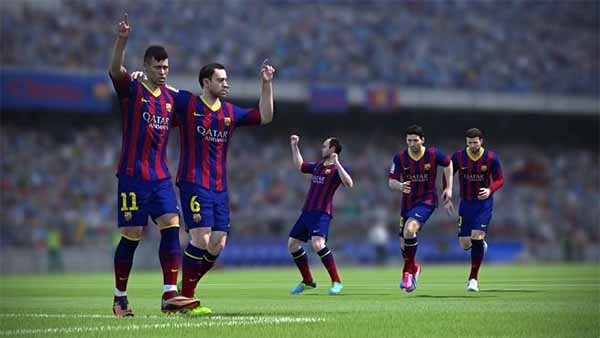 Through the partnership, EA Sports captured 3D head scans of 17 F.C. Barcelona stars such as Xavi Hernandez, Gerard Piqué, Cesc Fàbregas, Dani Alves, and Andrés Iniesta, and they will appear as stunning, high-quality and authentic 3D digital player models in FIFA 14. In addition, Camp Nou, Barcelona's home pitch, will be a featured stadium. F.C. Barcelona and its superstar forward and FIFA 14 cover athlete, Lionel Messi, will become central figures in global marketing, advertising and social media activities for the critically acclaimed FIFA franchise. Plus, F.C. Barcelona will host an exclusive videogame tournament later this year to determine the best FIFA 14 player on the squad.
Over the course of the partnership, F.C. Barcelona and EA will develop a range of interactive activities to entertain and engage fans both at Camp Nou and around the world. At selected home matches over the course of the season, the EA Sports Dugout, a mobile gaming trailer, will be on-site so fans can play EA Sports games. In addition, F.C. Barcelona will receive in-game insights and data about how their fans engage with the club through EA Sports FIFA.
F.C. Barcelona joins many other prestigious EA SPORTS partner clubs around the world, including Valencia from Spain's La Liga, Tottenham Hotspur and Manchester City from Barclays Premier League in England, Borussia Dortmund from the German Bundesliga, Olympique Lyonnais and Paris Saint-Germain F.C. from Ligue 1 in France, and AC Milan in Italy's Serie A.
To celebrate this partnership with FC Barcelona, EA Sports released some cool wallpapers. Click HERE to get it.