FUT Legends, Co-op Seasons, Demo release date and much more FIFA 14 news were unveiled by EA Sports in the Gamescom 2013 Conference.
EA Sports Unveils FIFA 14 News in the Gamescom 2013 Conference
Electronic Arts today announced that EA Sports is bringing legendary players such as Pelé, Patrick Vieira, and Ruud Gullit, to FIFA 14 Ultimate Team to the Xbox 360® and Xbox One®, the all-in-one games and entertainment systems from Microsoft. Fans will be able to craft their FIFA 14 Ultimate Team with a mix of legendary players playing alongside today's stars. Each Legend will have unique attributes that will showcase the skills and flair that made them legendary at the height of their careers, and will be randomly included in Gold Packs in FIFA 14 Ultimate Team beginning with the launch of the Xbox One.
"Our fans will be able to bring stars from different eras together to create teams and combinations they have previously only dreamed about," said David Rutter, Executive Producer of FIFA 14. "For the first time ever, you will be able to play with Pelé and Messi in the same lineup. It is going to create a unique experience within our most popular game mode."
A FIFA 14 demo will launch worldwide for the Xbox 360 and PC beginning September 10, and for the PlayStation®3 computer entertainment system on September 10 in North America, and September 11 in Europe. A FIFA 14 "New Season" trailer can be viewed at HERE.
EA Sports also announced today that it has developed Seasons into a new on line mode called Co-op Seasons, where anyone can play with a friend on line against two other on line friends anywhere in the world in 2v2 ranked on line play, trying to climb up to Division One, win a League Title and achieve greatness together. In addition, Match Day has been expanded to Seasons and Co-op seasons, completely connecting fans playing on line to the real-world soccer season for the world's top leagues, with injuries, suspensions, and player form changing throughout the season based on real-world events and performances.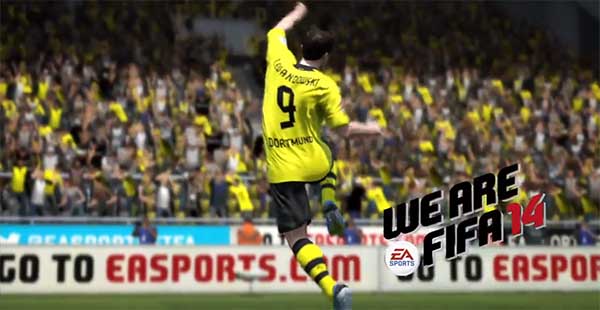 It will be easy for fans to bring their FIFA 14 experiences to the new generation of consoles: between Xbox 360® and Xbox One, and between PlayStation®3 and PlayStation®4. Fans will be able to bring their FIFA 14 Ultimate Team full roster, progress, in-game items and in-game currency (coins) to the new consoles so they can access and compete with their squads on either console throughout the season. EA SPORTS Football Club level, XP and select catalogue items such as celebrations and historical kits will also travel to the new consoles along with Seasons progress, including trophy case and leader boards, Virtual Pro and accomplishments, and selected Career Mode rewards.
When playing FIFA 14 on Xbox One and PS4, fans will feel the electricity of a living stadium, and experience the majesty of the world's greatest sports theatres. From dramatic broadcast-inspired stadium flyovers to emotional pre-match ceremonies, fans will see and feel the match like never before. A new feature called Match Flow will revolutionize the FIFA experience, delivering dynamic and continuous game play. Players will interact with side-line characters such as ball boys so they can get the ball back into play as the clock winds down and the pressure mounts, and fans will witness the build-up and player positioning prior to corners or free kicks. The all-new in-game Director will keep fans connected to the action. With 121 different broadcast cameras outside the stadium and positioned around the pitch, each following star players and headline makers, FIFA 14 will deliver stunning new replay angles, compelling storylines, and all the emotion that unfolds within a match…so FIFA 14 will look and feel alive.
With the addition of the iconic Brazilian National Team and new licenses for the Chilean Primera Division, Argentinean Primera División, 19 clubs from Brazil, and other new licenses to be revealed in the weeks ahead, FIFA 14 will be the most authentic soccer game on the planet. It will feature 33 officially licensed leagues, over 600 clubs and more than 16,000 players.