EA Sports and Everton have agreed a partnership for the next two seasons. As part of the deal, Goodison Park will make its gaming debut in FIFA 14.
Everton Partnership with EA Sports takes Goodison Park into FIFA 14
Goodison Park will make its gaming debut in FIFA 14, after Everton penned a new two-year deal to secure EA Sports as the Club's official gaming partner until the end of the 2014/15 season.
The announcement follows on from a successful partnership with the sports entertainment brand over the past two years, and the inclusion of Everton's iconic stadium in the latest version of FIFA 14 is a prominent feature of the deal.
EA Sports committed to featuring Goodison in its most lifelike format in the popular football video game and paid a visit earlier this year to capture the all-important details of one of the oldest football grounds in the world.
Dan Holman, Head of UK Product Marketing, EA Sports said: "We're delighted to extend our partnership with Everton and especially to be adding Goodison Park to the stadium roster in FIFA 14. This will ensure fans will get a completely authentic experience. We look forward to working closely with the club over the next two years.".
Everton' s Commercial Director Dave Biggar said: "We're delighted that EA SPORTS are once again joining our portfolio of official partners – and even more so that Goodison will make its debut in FIFA 14. The game is hugely popular so we have no doubt that Evertonians will be looking forward to playing inside the stadium, even if it is in a virtual sense!".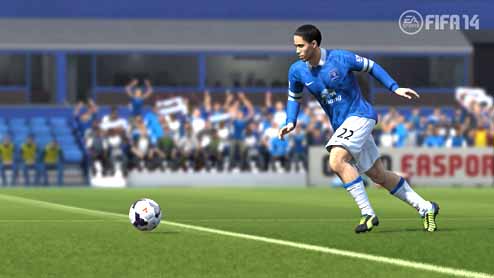 Everton player Steven Pienaar in FIFA 14
Not only will Evertonians be able to enjoy playing in the home of the Blues in their virtual world, their favourite stars will be more realistic than ever in the new game.
Everton's first team line-up underwent a 360-degree 3D digital head scan at the Club's training ground so that EA Sports could make their virtual counterparts as lifelike as possible.
And supporters will be able to try out the brand-new Everton features at Goodison Park during the 2013/14 campaign when the popular EA Sports Dugout makes a return.
The special unit, which features two large dugout-style seats and contains Xbox 360 game consoles, and iPads, proved popular with Evertonians last season and will be back at Goodison Park for selected fixtures throughout the 2013/14 campaign – starting with the home game against Newcastle United on Monday 30 September.
Members of the first-team will also be able to try out the game when the dugout pays a visit to Finch Farm to host this season's Pro-Player Tournament. Last season Shane Duffy emerged as the FIFA 13 champion after a hotly-contested tournament with Seamus Coleman, Darron Gibson and Victor Anichebe.
As part of the partnership, a special Everton FIFA 14 cover will be available for supporters to download for free when the game is launched on Friday 27 September. A very limited-edition game with a wrapped Everton sleeve will be also be available to buy in store at Everton One or Everton Two.