The new Team of the Week was released. Check out who is in the FIFA 13 Ultimate Team TOTW 31.
FIFA 13 Ultimate Team – TOTW 31
EA already picked the best players of the week. The players names were unveiled this Wednesday at 3pm UK.
The main highlight is the TIF Ronaldo that will cost some millions coins. If you have the luck of get this card on a pack, you will be very rich for sure. The Portuguese is one of the best players and he fits in almost every team.
But there are more popular players in this TOTW. On the goal, the second In Form Steve Mandanda is now the best goal keeper of Ligue 1. The same happened with Benoît Trémoulinas, that is now the best Ligue 1 LB thanks to his second In Form card. He was the player with the higher rating improvement of this Team of the Week. On the midfield, Mario Götze got a SIF too. He is now the second best Bundesliga LM. Only Ribéry is better, but the French is too expensive for most of the wallets.
Check it out the staring eleven of this FUT 13 Team of the Week 31:
GK: Steve Mandanda, Olympique de Marseille – 84>86
CB: John O'Shea, Sunderland – 77>79
LB: Benoît Trémoulinas, Girondins de Bordeaux – 76>79
CB: Jérôme Boateng, Bayern München – 79>80
CDM: Michael Carrick, Manchester United – 81>82
CAM: İlkay Gündoğan, Borussia Dortmund – 80>81
LM: Mario Götze, Borussia Dortmund – 84>86
CM: Thiago, FC Barcelona – 79>80
LW: Cristiano Ronaldo, Real Madrid – 92>94
ST: Mauricio Pinilla, Cagliari – 78>80
ST: Luis Muriel, Udinese – 78>80
The substitutes of this FIFA 13 Ultimate Team TOTW 31 are:
GK: Alex McCarthy, Reading – 69>73
CB: Darío Verón, U.N.A.M. – 74>74
CAM: Valerón, RC Deportivo – 76>78
CM: Kim Bo Kyung, Cardiff City – 70>73
LM: Christopher Forrester, Patrick's Athletic – 58>64
ST: Dino Kresinger, Western Sydney Wanderers – 62>64
ST: Javier Orozco, Cruz Azul – 66>71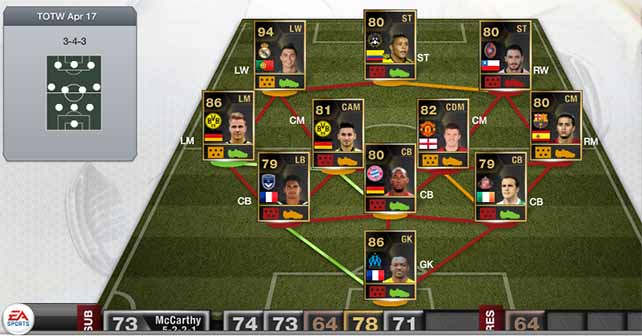 Click on the image in order to maximize it
The TOTW 31 IF players will be available in packs only from 6pm UK April 17th 2013 until 6pm April 24th 2013. You can play against them on the 'Team of the Week Challenge' section within FIFA 13 Ultimate Team on your console.