The new Team of the Week was released. Check out who is in the FIFA 13 Ultimate Team TOTW 34.
FIFA 13 Ultimate Team – TOTW 34
EA already picked the best players of the week. The players names were unveiled this Wednesday at 3pm UK.
The main highlight of this TOTW 34 are the three strikers that will cost a fortune.
To the Brazilians Squads, the release of IF Hulk is great. He already was the best RM born on Brazil, but now he is even better.
But the lucky guys is who have a Serie A squad. To the attack they will have two great options: Cavani, if they often play with the ball on the floor, or Klose, if they usually cross to the head.
Billy McKay, another striker, that plays in Inverness Caledonian Thistle, was the player with the higher improvement this week: 6 points!. He is no longer a bronze player. IF Billy McKay is now silver.
Check it out the staring eleven of this FUT 13 Team of the Week 34:
GK: Oliver Baumann, SC Freiburg – 77>79
CB: Chico, Swansea City – 76>78
CB: Ricardo Costa, Valencia CF – 77>80
RB: Guillaume Gillet, Anderlecht – 73>74
CM: Apoño, Real Zaragoza – 74>74
RM: Balázs Dzsudzsák, Dinamo Moskva – 81>82
CM: Christian Eriksen, Ajax – 80>82
CAM: Mathieu Valbuena, Olympique de Marseille – 82>84
ST: Edinson Cavani, Napoli – 86>88
ST: Hulk, Zenit ST. Petersburg – 84>85
ST: Miroslav Klose, Lazio – 83>85
The substitutes of this FIFA 13 Ultimate Team TOTW 34 are:
GK: Benjamin Kirsten, Dynamo Dresden – 64>64
CB: Lee Yong, Jeju United FC – 60>64
RM: Danny Cruz, Philadelphia Union – 63>64
CM: Ed Upson, Yeovil Town – 60>64
ST: Billy McKay, Inverness Caledonian Thistle – 63>69
ST: Gonzalo Bergessio, Catania – 74>74
ST: Mariano Pavone, Cruz Azul – 73>74
Position Changes:
Gillet has switched from RM > RB
Moskva has switched from LM > RB
Eriksen has switched from CAM > CM
Valbuena has switched from RW > CAM
Hulk has switched from RW > ST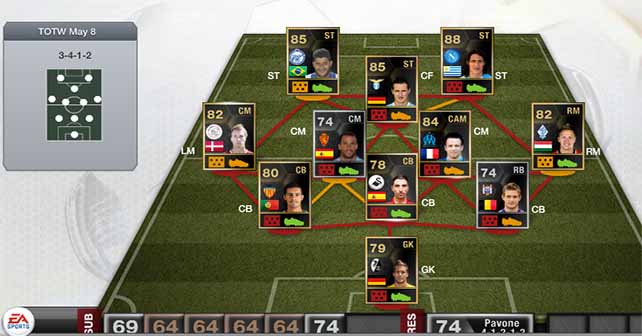 Click on the image in order to maximize it
The TOTW 34 IF players will be available in packs only from 6pm UK May 8th 2013 until 6pm May 15th 2013. You can play against them on the 'Team of the Week Challenge' section within FIFA 13 Ultimate Team on your console.