The new Team of the Week was released. Check out who is in the FIFA 13 Ultimate Team TOTW 36.
FIFA 13 Ultimate Team – TOTW 36
EA already picked the best players of the week. The players names were unveiled this Wednesday at 3pm UK.
The main highlight of this TOTW 36 is Laurent Koscielny. The Belgium player got his second In Form cards, being now one of the best choices for your BPL team. There are no many CB's as good as he is with this new card on the Barclays Premier League.
Romelu Lukaku, one of the biggest promises in the world football, scored a hat-trick last weekend and got his second IF card. Now, the also Belgium player is no more a silver player. He is gold.
Many of the players of these TOTW 36 got a great improvement: 5 points to Christian Benítez, 4 points to Raphaël Caceres, 3 points to Didier Ya Konan,Lukaku and Eddie Johnson. Max Friesacher, a goalkeeper that plays in Wolfsberger AC, was the player with the higher improvement this week: 6 points!.
Check it out the staring eleven of this FUT 13 Team of the Week 36:
GK: Mark Schwarzer, Fulham – 80>81
CB: Laurent Koscielny, Arsenal – 81>83
CB: Jérémy Mathieu, Valencia CF – 77>79
CB: Philippe Mexès, Milan – 81>82
CB: Mikel San José, Athletic Club de Bilbao – 77>79
LM: Sejad Salihović, 1899 Hoffenheim – 78>80
CM: Lucho González, FC Porto – 81>82
CAM: Kevin Nolan, West Ham United – 75>77
ST: Didier Ya Konan, Hannover 96 – 78>81
LW: Adem Ljajić, Fiorentina – 75>77
ST: Christian Benítez, América – 76>81
The substitutes of this FIFA 13 Ultimate Team TOTW 36 are:
GK: Max Friesacher, Wolfsberger AC – 52>64
RB: Paweł Golański, Korona Kielce – 63>64
LM: Fabrice Ehret, Évian Thonon Gaillard FC – 70>72
CM: Casquero, Real Sporting de Gijón – 72>74
ST: Eddie Johnson, Seattle Sounders – 71>74
ST: Raphaël Caceres, AC Arles-Avignon – 65>69
ST: Romelu Lukaku, West Bromwich Albion – 74>77
Some players has changed position:
Jérémy Mathieu has switched from LB to CB
Sejad Salihović has switched from CAM to LM
Adem Ljajić has switched from CAM to LW
Fabrice Ehret has switched from LB to LM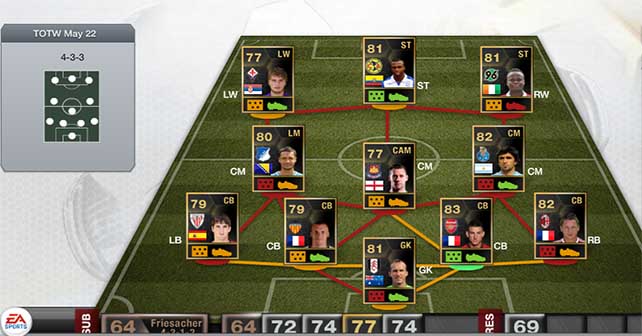 Click on the image in order to maximize it
The TOTW 36 IF players will be available in packs only from 6pm UK May 22nd 2013 until 6pm May 29th 2013. You can play against them on the 'Team of the Week Challenge' section within FIFA 13 Ultimate Team on your console.