The new Team of the Week was released. Check out who is in the FIFA 13 Ultimate Team TOTW 37.
FIFA 13 Ultimate Team – TOTW 37
EA already picked the best players of the week. The players names were unveiled this Wednesday at 3pm UK.
The main highlight of this TOTW 37 is Alexis Sánchez. The Chilean player got his second In Form cards, being now one of the best choices for your BPL team on the right side of your attack. Di Maria and Navas are also good options.
Isco was one of the big surprises in Liga BBVA, this season. He helped Málaga in an amazing European Championship League campaign and in a wonderful Spanish League performance. This week he got his second In Form card.
Many of the players of these TOTW 37 got a great improvement: 5 points to Sébastien Puygrenier, Kim Byung Ji and Franz Schiemer, and 4 points to Jung In Whan and Jason Byrne. Moisés Muñoz, a goalkeeper that plays in América, was the player with the higher improvement this week: 6 points!.
Check it out the staring eleven of this FUT 13 Team of the Week 37:
GK: Moisés Muñoz, América – 71>77
CB: Sébastien Puygrenier, AS Nancy – 75>80
CB: Tore Reginiussen, Rosenborg BK – 72>74
LB: Roberto Lago, RC Celta de Vigo – 72>74
RM: Alexandr Samedov, Lokomotiv Moskva – 81>82
CDM: Nilton, Cruzeiro – 72>74
LM: Isco, Málaga CF – 79>81
LM: Gökdeniz Karadeniz, Rubin Kazan – 75>77
ST: Kévin Gameiro, Paris Saint-Germain – 79>80
RW: Alexis Sánchez, FC Barcelona – 85>87
ST: Marco Di Vaio, Montreal Impact – 81>82
The substitutes of this FIFA 13 Ultimate Team TOTW 37 are:
GK: Kim Byung Ji, Chunnam Dragons – 68>73
CB: Franz Schiemer, Red Bull Salzburg – 68>73
CB: Jung In Whan, Jeonbuk Hyundai Motors – 65>69
CDM: Souza, Grêmio – 73>74
ST: Robbie Keane, Los Angeles Galaxy – 77>80
CF: Julius Perstaller, Wacker Innsbruck – 62>64
ST: Jason Byrne, Bray Wanderers – 60>64
Some players have changed position:
Samedov has switched positions from CAM > RM
Isco has switched positions from CAM > LM
Karadeniz has switched positions from RM > LM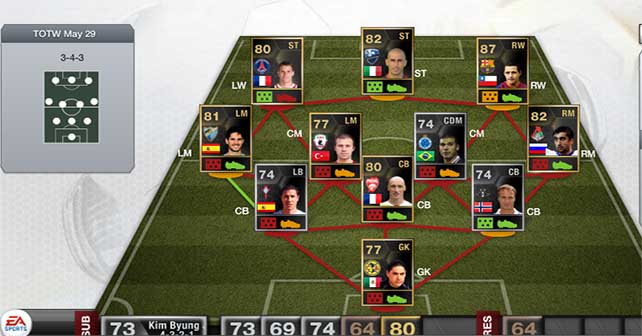 Click on the image in order to maximize it
The TOTW 37 IF players will be available in packs only from 6pm UK May 29th 2013 until 6pm June 05th 2013. You can play against them on the 'Team of the Week Challenge' section within FIFA 13 Ultimate Team on your console.