The new Team of the Week was released. Check out who is in the FIFA 13 Ultimate Team TOTW 42.
FIFA 13 Ultimate Team – TOTW 42
EA already picked the best players of the week. The players names were unveiled this Wednesday at 3pm UK.
The main highlight of this TOTW 42 is Lee Dong. He is not fast but has an amazing shot power, volleys and strengt. He is also the player with better rating in this TOTW, the only gold one.
The goalkeepers of this TOTW 42 are also good choices. Daniel Örlund is now the silver Sweden GK with better reflexes, better positioning and has the second best handling. Nick Rimando, that plays on Real Salt Lake, isn't so high but are has also great important attributes: he has the better diving between the silver MLS goalkeepers, the second best reflexes and the second best handling.
David McMillan, the striker from U.C.D, was the player with the greatest rating improvement: 9 points(!).
Check it out the staring eleven of this FUT 13 Team of the Week 42:
GK: Daniel Örlund, Rosenborg BK – 71>74
CB: Alex Wilkinson, Jeonbuk Hyundai Motors – 67>70
RB : Martin Linnes, Molde FK – 69>72
RB : Peter Nymann, Djurgårdens IF – 65>69
LM : Shea Salinas, San Jose Earthquakes – 65>69
RM: Lee Dong, Jeonbuk Hyundai Motors – 76>78
RM: Stefan Ishizaki, IF Elfsborg – 72>74
LM : Kei Kamara, Sporting KC – 68>71
ST: Amadou Jawo, Djurgårdens IF – 62>64
ST: Fabian Espindola, New York Red Bulls – 69>72
ST: Alan Gordon, San Jose Earthquakes – 65>69
The substitutes of this FIFA 13 Ultimate Team TOTW 42 are:
GK: Nick Rimando, Real Salt Lake – 71>74
RB: Simon Madden, Derry City – 58>64
RB: Johan Larsson, IF Elfsborg – 58>64
RM: Han Ji Ho, Busan I'Park – 62>64
ST: Christopher Fagan, ST. Patrick's Athletic – 58>64
LW: Gary McCabe, Shamrock Rovers – 59>64
ST: David McMillan, U.C.D – 55>64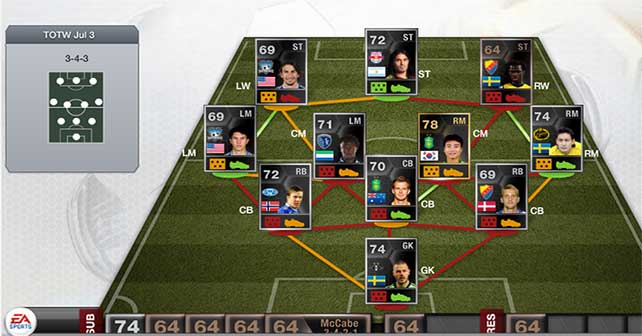 Click on the image in order to maximize it
The TOTW 42 IF players will be available in packs only from 6pm UK July 03rd 2013 until 5:30pm July 10th 2013. You can play against them on the 'Team of the Week Challenge' section within FIFA 13 Ultimate Team on your console.