The new Team of the Week was released. Check out who is in the FIFA 13 Ultimate Team TOTW 43.
FIFA 13 Ultimate Team – TOTW 43
EA already picked the best players of the week. The players names were unveiled this Wednesday at 3pm UK.
The main highlight of this TOTW 43 is Alexandre Pato. He is the player with higher rating, the most popular one and with great attributes. Finishing, pace and dribbling are just some of them.
Andres D'Alessandro is other great player of this TOTW that helps to make it the best TOTW of the last weeks. He is the only gold player that not plays in Brazil. He has a fantastic dribbling and short passing, but what makes him really special is his 5 star skills. As a Left Midfielder, playing better with the left foot is not a great thing.
Who already played with Seedorf, knows how he is. Now, with this TOTW card, the Botafogo player is even better taking free kicks thanks to his +95 Shot Power and Curve.
Tiarnán Mulvenna, the striker from Dundalk FC, was the player with the greatest rating improvement: 9 points(!).
Check it out the staring eleven of this FUT 13 Team of the Week 43:
GK: Vanderlei, Coritiba – 72>77
CB: Kim Jin Kyu, FC Seoul – 64>64
CB: Índio, Internacional – 73>74
CB : Daniel O'Connor, Bray Wanderers – 59>64
RM: Jiloan Hamad, Malmö FF – 70>74
LM: Andrés D'Alessandro, Internacional – 80>81
CAM: Clarence Seedorf, Botafogo – 80>82
CM: Guilherme, Atlético Mineiro – 76>78
CAM: Maranhão, Jeju United FC – 65>69
LW: Chukwu Daniel Chima, Molde FK – 67>71
ST: Alexandre Pato, Corinthians – 83>84
The substitutes of this FIFA 13 Ultimate Team TOTW 43 are:
GK: Brad Knighton, Vancouver Whitecaps – 62>64
CB: Derek Prendergast, Drogheda United – 56>64
LM: Saër Sène, New England Revolution – 67>71
LM: Daryl Horgan, Cork City – 57>64
CM: Daniel Sjölund, Åtvidabergs FF – 69>73
ST: Patrik Ingelsten, Viking FK – 64>64
ST: Tiarnán Mulvenna, Dundalk FC – 55>64
Some of the players of this TOTW 43 changed their position:
O'Connor has switched from CDM to CB
D'Alessandro has switched from CAM to LM
Seedorf has switched from CM to CAM
Guilherme has switched from ST to CM
Maranhao has switched from CF to CAM
Chima has switched from ST to LW
Sene has switched from ST to LM
Horgan has switched from RM to LM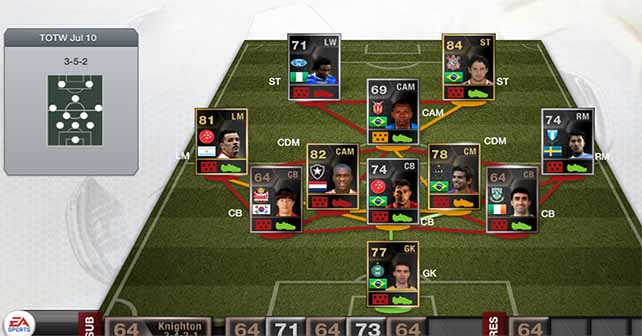 Click on the image in order to maximize it
The TOTW 43 IF players will be available in packs only from 6pm UK July 10th 2013 until 5:30pm July 17th 2013. You can play against them on the 'Team of the Week Challenge' section within FIFA 13 Ultimate Team on your console.