The new Team of the Week was released. Check out who is in the FIFA 13 Ultimate Team TOTW 44.
FIFA 13 Ultimate Team – TOTW 44
EA already picked the best players of the week. The players names were unveiled this Wednesday at 3pm UK.
The main highlight of this TOTW 44 is Thierry Henry. It isn't easy to find a player with the attributes he has: more than 90 in ball control, curve and shot power. He is fast enough, as everybody loves, and in his new card he was released as ST.
If you want to find a player with those attributes even higher, you need to go to Brazilian League. The popular Diego Forlán also got a new IF card. A very special one. This striker is not so fast but has other better attributes: 95+ ball control, 99 curve, 99 shot power, 5 stars weak foot, 86 dribbling and 89 shooting is not for everyone.
Seán Brennan, the CAM from Shelbourne FC, was the player with the greatest rating improvement: 9 points(!).
Check it out the staring eleven of this FUT 13 Team of the Week 44:
GK: Guilherme, Lokomotiv Moskva – 78>80
LB: Kim Chi Woo, FC Seoul – 67>71
CB: Joona Toivio, Molde FK – 70>74
CB: Edu Dracena, Santos – 76>78
LM: Valentin Stocker, FC Basel – 76>80
LM: Zé Roberto, Grêmio – 76>78
CAM: Leonardo, Jeonbuk Hyundai Motors – 72>74
CAM: Javier Morales, Real Salt Lake – 76>80
ST: Thierry Henry, New York Red Bulls – 79>81
ST: Diego Forlán, Internacional – 82>84
ST: Eduardo Vargas, Grêmio – 75>77
The substitutes of this FIFA 13 Ultimate Team TOTW 44 are:
GK: Marcelo Lomba, Bahia – 72>74
CB: Andrew Jean-Baptiste, Portland Timbers – 62>64
CDM: Adam Moffat, Houston Dynamo – 64>64
CAM: Seán Brennan, Shelbourne FC – 56>64
LW: Camilo, Vancouver Whitecaps – 66>71
RW: Sean O'Connor, Shamrock Rovers – 60>64
LW: Soony Saad, Sporting KC – 61>64
Some of the players of this TOTW 44 have changed their position:
Chi Woo has switched from LM to LB
Zé Roberto has switched from CM to LM
Henry has switched from LF(CF) to ST
Vargas has switched from CF to ST
Brennan has switched from CM to CAM
O'Connor has switched from LM to RW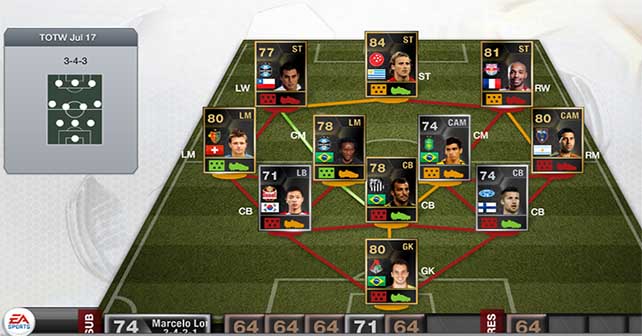 Click on the image in order to maximize it
The TOTW 44 IF players will be available in packs only from 6pm UK July 17th 2013 until 5:30pm July 24th 2013. You can play against them on the 'Team of the Week Challenge' section within FIFA 13 Ultimate Team on your console.