The new Team of the Week was released. Check out who is in the FIFA 13 Ultimate Team TOTW 45.
FIFA 13 Ultimate Team – TOTW 45
EA already picked the best players of the week. The players names were unveiled this Wednesday at 3pm UK.
The main highlight of this TOTW 45 is Juninho. He is the best choice to take free kicks thanks to his wonderful stats: 99 free kicks, 95+ curve and 95+ long shots. He is a really good choice not only to take free kicks. He is also a excellent CAM, with passing 88 and ball control +95.
Juninho is not the only great card from this TOTW. Aiden McGeady, for example, is a great IF card. Great work rate (H/M), wonderful agility, aggression and dribbling, fast as the wind and with 5 star skills and 4 star weak foot. He is good or what?!
Juninho, the CAM from Vasco da Gama, was the player with the greatest rating improvement: 5 points.
Check it out the staring eleven of this FUT 13 Team of the Week 45:
GK: Yann Sommer – FC Basel. (76->78)
RB: Roman Shishkin – Lokomotiv Moskva (73->74)
CB: Juan – Internaciona l(77->79)
CB: Luis Amaranto Perea – Cruz Azul (76->78)
CB: Sören Gonther – FC St. Pauli (69->72)
ST -> RM: Michał Kucharczyk – Legia Warszawa (68->71)
RM -> LM: Gökdeniz Karadeniz – Rubin Kazan (75->79)
CM -> CAM: Juninho – Vasco da Gama (76->81)
RM: Aiden McGeady – Spartak Moskva (82->83)
LW -> ST: Luan – Cruzeiro (72->74)
ST: Jonathan Soriano – Red Bull Salzburg (71->73)
The substitutes of this FIFA 13 Ultimate Team TOTW 45 are:
GK : Wolfgang Hesl – SpVgg Greuther Fürth (71->74)
ST -> RB: Henrik Dalsgaard – Aalborg BK (61->64)
LB -> CB: José Gonçalves – New England Revolution (62->64)
LM: Joel Lindpere – Chicago Fire (68->71)
CM: Park Jong Woo – Busan I'Park (65->69)
ST: Ronnie Schwartz – Randers FC (61->64)
ST: Jakub Sylvestr – Erzgebirge Aue (68->71)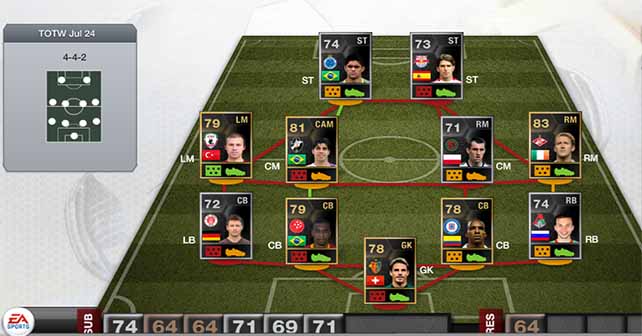 Click on the image in order to maximize it
The TOTW 45 IF players will be available in packs only from 6pm UK July 24th 2013 until 5:30pm July 31st 2013. You can play against them on the 'Team of the Week Challenge' section within FIFA 13 Ultimate Team on your console.