Here is an explanation of players ratings for FIFA 14 Ultimate Team
Introduction to the Players Ratings Explained
There are two different types of player items in FIFA Ultimate Team: goalkeepers and outfield players. Each player has an overall rating followed by six essential attribute ratings for that specific player. Finding players with high ratings, specific to the style of football that you like to play, is important for building your squad.
Goalkeepers Ratings Explained
Here are the six goalkeepers ratings explained:
DIV
The DIVING attribute refers to the goalkeeper's ability to dive across and stop shots. The best keepers are those that dive further across the net to prevent goals from being scored!
HAN
HANDLING refers to how well a goalkeeper controls the ball with his hands. Preventing rebounds from shots and accurate throwing to team mates are signs of a keeper with good handling.
KIC
KICKING represents a keeper's ability on goal kicks. A keeper who kicks both far and accurately puts less pressure on your defenders and can create opportunities for your attackers to score.
REF
REFLEXES refers to a goalkeeper's ability to react quickly to shots on goal. Keepers with high reflexes are more capable of some incredible point-blank saves!
SPD
A keeper's SPEED is shown in their ability to rush out and intercept potential one-on-one situations.
POS
The POSITIONING attribute refers to a goalkeeper's ability to properly position himself while anticipating a shot.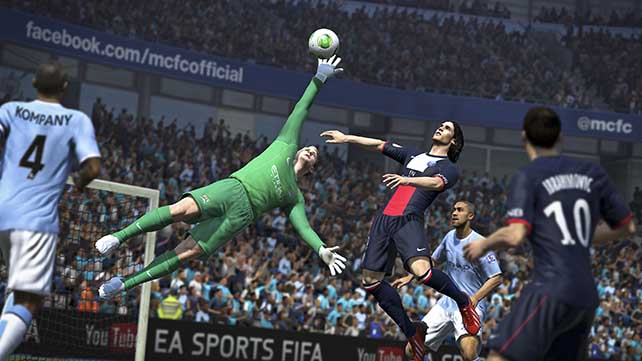 Outfield Players' Ratings Explained
Outfield players' six attribute ratings are based on a number of different "in-game" ratings that delve deeper into football. These detailed "in-game" stats can be viewed in Team Management. The six base attributes for outfield players are:
PAC
he PACE attribute refers to a player's speed. It takes into account the player's sprint speed and acceleration, which can be found from his in-game stats. Players with high PAC stats are typically attacking players (wingers and strikers).
SHO
SHOOTING refers to how well the player can shoot the ball. The SHO attribute accounts for the Finishing, Long Shots, and Shot Power in-game stats. Generally, attacking players such as strikers will have a higher SHO attributes than other players.
PAS
PASSING attribute refers to the player's ability to accurately pass the ball. This attribute takes into account a player's Short and Long Passing stats, as well as Crossing. Usually, midfielders will have higher PAS attributes.
DRI
DRIBBLING represents a player's ability to dribble and maintain possession of the football. Ball Control, Agility, and Balance are taken into account when determining a player's DRI rating. Midfielders and attackers will normally have a higher DRI attribute than defenders.
DEF
The DEFENDING refers to a player's ability to defend against opponents. Marking, Tackling, and Strength are important traits for a strong DEF rating in FUT. Central defending midfielders (CDMs) and center-backs (CBs) are the two types of players that have high DEF ratings.
HEA
A player's HEADING ability is reflected by the HEA attribute. HEA rating is derived from a player's Jumping and Heading Accuracy in-game stats. Generally, taller players, center-backs, and strikers have good HEA attributes.