If the official FIFA 14 simulation is any indication, fans watching the 2013 AT&T MLS All-Star Game on Wednesday night in Kansas City will be in for quite a treat. According to FIFA 14, the MLS All-Stars will defeat AS Roma 3-2. The simulation was a back-and-forth contest, with goals from American national team player Michael Bradley and French superstar Thierry Henry, as well as the "In the Game" forward, Marco Di Vaio. Camilo Sanvezzo, the co-leading scorer in MLS, scored the game-winner in the 88th minute.
FIFA 14 Predicts the 2013 AT&T MLS All-Star Game
EA Sports™ predicted the MLS All-Stars will be victorious over AS Roma in the 2013 AT&T MLS All-Star Game. Utilizing the football engine that will drive FIFA 14 on Xbox 360, PS3 and PC, EA Sports was able to simulate the 2013 AT&T MLS All-Star Game under the same conditions the teams will face Wednesday, July 31, in Kansas City. The 2013 AT&T MLS All-Stars gave fans a dazzling display of soccer, beating an elite European side for the second year in a row, with a late goal by Camilo Sanvezzo in the 88th to clinch a 3-2 win.
The simulation was possible because the 2013 AT&T MLS All-Stars will be an all new unlockable team in FIFA 14. Fans around the world will be able to access and play with the 2013 AT&T MLS All-Stars through EA Sports Football Club (EAS FC) and the EAS FC Catalogue, which features hundreds of game changing rewards such as historic kits, special goal celebrations, and more. By accessing the EAS FC Catalogue, fans who achieve Level 14 will be able to unlock the MLS All-Stars.
Fans across North America and Italy will compare this result to the real-world game as it unfolds on Wednesday. EA Sports has a proven track record of correctly predicting winners using its game engines across all of its simulation sports franchises. EA Sports correctly determined that the MLS All-Stars would defeat Chelsea FC in last year's AT&T MLS All Star Game.
Game Simulation Details:
AS Roma got off to a flying start, scoring from an early corner kick as Erik Lamela's wonderful curved cross met Federico Balzaretti at the far post and he fired a hard volley past keeper, Raul Fernandez. The MLS All-Star squad answered in the 33rd minute as Marco Di Vaio beat the Roma offside trap, taking a through ball from Tim Cahill and calmly curling a shot past goalkeeper, Bodgan Lobont to tie the match 1-1. After Michael Bradley and Thierry Henry exchanged goals for AS Roma and MLS All Stars respectively, the match seemed to be headed towards a 2-2 draw, until substitute, Camilo Sanvezzo dribbled past two AS Roma defenders and swerved a shot past the Roma goalkeeper in the 88th. The match ended 3-2.
Scoring Summary:
9' – Balzaretti (Goal – Lamela Assist)
33' – Di Vaio (Goal – Cahill Assist)
64' – Bradley (Goal – Osvaldo Assist)
70' – Henry (Goal – Di Vaio Assist)
88' – Camilo (Goal – Unassisted)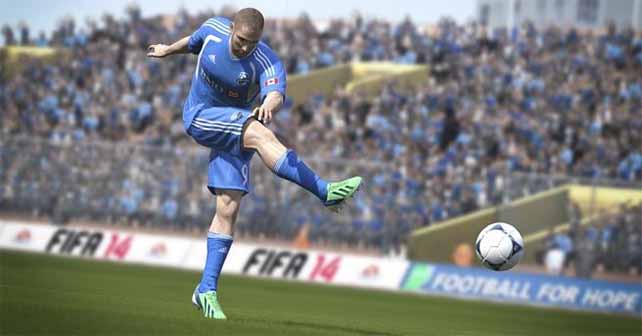 FIFA fans score one for Di Vaio
Thanks to the support of FIFA 13 gamers, Marco Di Vaio has been voted into the 2013 MLS All-Star Game. The AT&T "In the Game" forward will join the All-Star Fan XI as they take on AS Roma on July 31st in Kansas City.
Fans scored more goals with Di Vaio over the last week in FIFA 13 than any of the other eligible MLS pros to earn his spot. Each goal scored counted for one vote. Di Vaio, the leading scorer for the Eastern Conference-leading Montreal Impact, finished with 4,000 more goals than second-place finisher Robbie Keane of the Los Angeles Galaxy.
In all, FIFA 13 players scored 73,838 goals with Di Vaio across all games modes over the last week. Nearly 500,000 goals were scored with all candidates in the AT&T MLS All-Star "In the Game" Challenge.