FIFA 14 will be released in late September to PS3, XBox360 and PC. This is the time of the year in which FIFA 14 producers gave some interviews to help to promote their game.
Let's see what Sebastian Enrique and Kantcho Doskov think about FIFA 14.
FIFA 14 Producers Interview – Sebastian Enrique to Spong
One of the The FIFA 14 Producers, Sebastian Enrique, was interviewed by the Spong. Find out the most important parts of this interview:
PURE SHOT, REAL BALL PHYSICS AND PROTECT THE BALL
"Pure Shot gives you the proper visual feedback when you're shooting, in the sense that when you approach the ball you will see the player doing the proper steps. (…) We rewrote the ball physics engine so no we have the swerve and the rising shot. (…) Protect The Ball it's one more tool that you have to be able to play the possession game, the patient game of trying to assemble a nice play."
PRECISION MOVEMENT
"We are introducing using step-based locomotion technology is the accurate representation of how people move when they walk or when they jog or sprint. (…) You can change direction, yes, when you have a foot planted. Every time you plant a foot we are considering what is the next asset to play."
SKILLS AND STATS
"If you are with Messi in front of the goal it doesn't mean that you are going to score all of the time – you need to keep the right power, you need to keep the right timing, and with the rest it's the same. So you will expect to do things with Messi that you couldn't do with Puyol in the game, but all-in-all, if you don't have the skills of doing it in the game, it's not going to work."

You can read the the full Spong Interview to FIFA 14 Producer Sebastian Enrique HERE.
If you want know more about Sebastian Enrique click HERE.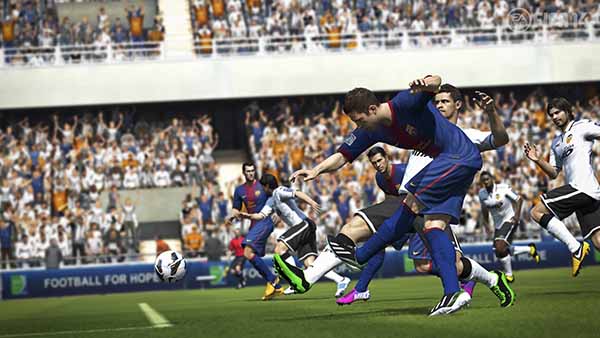 FIFA 14 Producers Interview – Kantcho Doskov to CVG
Sebastian Enrique was not the only one to give an interview to talk about FIFA 14. Kantcho Doskov, one of the others FIFA 14 Produces, gave an interview to CVG explaining the locomotion system and other new features of FIFA 14.
Watch the video of that interview here: