EA Sports has announced today the FIFA 14 Release Date & Pre-Order Details.
FIFA 14 Release Date & Pre-Order Details Revealed
On the early April we published here in FGN the FIFA 14 release date. More than six weeks later, EA has confirmed: the FIFA 14 release date is September 24th, 2013 in North America and September 27th, 2013 throughout Europe.
You can check here the full press release:
Electronic Arts Inc. announced today that EA Sports™ is offering FIFA 14 Ultimate Team gold packs to fans who pre-order* FIFA 14 on the PlayStation®3 computer entertainment system, Xbox 360® videogame and entertainment system and PC. The release date for FIFA 14 is September 24, 2013 in North America and September 27, 2013 throughout Europe.
FIFA Ultimate Team is the popular game mode within EA Sports FIFA that reflects the best recent real-world performances of the world's best players. Over 3.4 million games of FIFA Ultimate Team are played daily, and over 17 million footballers are transferred through the transfer market on a daily basis, as millions of fans re-shape their squads based on the real-world performances of their favorite players.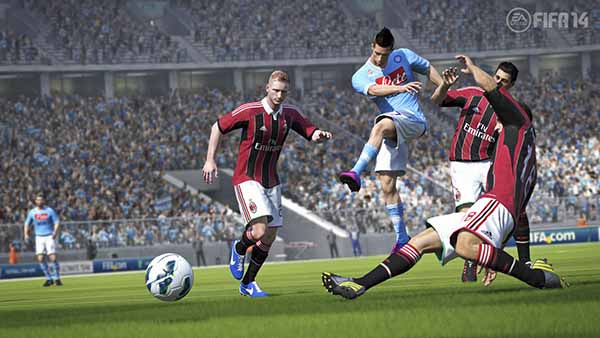 Fans who pre-order FIFA 14 will receive FIFA Ultimate Team gold packs to help build their ultimate team. Each gold pack is a mix of 12 items, including players, contracts, stadiums, managers, staff, fitness, healing, balls, kits, and badges. Gold packs consist mostly of players rated 75+ in-game, and include one rare item, such as enhanced player attributes, longer contracts, and the most coveted players.
Experience the emotion of scoring great goals in FIFA 14. Innovations to the franchise's award-winning gameplay will make FIFA 14 the complete matchday experience, introducing features that inspire fans to build play through midfield, dictate the tempo of a match and create rewarding opportunities. Great football matches are achieved through measured build up and incredible finishing. A new feature in FIFA 14 called Pure Shot and a brand-new ball physics system will transform shooting, making every shot attempt feel real, and when players connect with the perfect strike, feel exhilarating. FIFA 14 will deliver engaging online features and live services that connect fans to the heartbeat of the sport — and to each other — through EA Sports Football Club, making FIFA 14 football's social network, where fans connect, compete and share with millions of others around the world.
We are almost there…