A new Team of the Week was released. Check out who is in the FIFA 14 Ultimate Team TOTW 24.
FIFA 14 Ultimate Team – TOTW 24
EA already picked the best players of the week. The players names were unveiled this Wednesday at 3pm UK.
PSG's Zlatan Ibrahimović is running away with the Ligue 1 scoring title after putting in three goals for the club in their 2:4 away victory over Toulouse on Sunday evening. PSG maintained their five-point lead over second-place Monaco, and Ibra has now scored 22 goals in 25 matches played, nine more than his closest competitor.
It was a wild one at Anfield on Sunday as Liverpool came away with a 4:3 victory in a back-and-forth match with Swansea City, keeping them right in the thick of the Premier League title race. Both Jordan Henderson and Daniel Sturridge scored two goals apiece in the match. Sturridge has now scored in eight consecutive matches and he is looking to match and surpass the legendary Ruud van Nistelrooy's 10-match goal streak he set in 2003.
Staying in England, Arsenal bounced back after a tough home loss to Bayern München mid-week to defeat Sunderland 4:1. In the match, the Frenchman Olivier Giroud scored twice and helped set-up another to help the club achieve that victory. Giroud is the club's best offensive producer, with 12 goals scored and assists on eight scores in 25 matches played this season.
The dominant Bayern München saw their closest competitors in the Bundesliga drop points over the weekend, and the club is poised to be one of the first in Europe to win their domestic title. Bayern easily defeated Hannover 96 0:4 on Sunday to increase their league lead to 19 points. Midfielder Thomas Müller scored two goals, his ninth and tenth of the seasons in the win, and was also was responsible for one of the club's two goals in their mid-week victory over Arsenal in London.
Check it out the starting eleven of this FUT 14 Team of the Week 24:
GK: Raphael Schäfer, 1. FC Nürnberg – 76>78
CB: John Terry, Chelsea – 83>85
CB: Adil Rami, Milan – 82>83
CB: Semih Kaya, Galatasaray SK – 79>80
RM: Thomas Müller, Bayern München – 85>86
CM: Jordan Henderson, Liverpool – 77>79
RM: Cejudo, CA Osasuna – 74>74
CAM: Daniel Ludueña, U.N.A.M. – 74>74
RW: Daniel Sturridge, Liverpool – 82>83
ST: Olivier Giroud, Arsenal – 80>81
ST: Zlatan Ibrahimović, Paris Saint-Germain – 89>92
The substitutes of this FIFA 14 Ultimate Team TOTW 24 are:
GK: Anthony Lopes, Olympique Lyonnais – 72>73
CB: Gavin Gunning, Dundee United – 63>64
CM: David Syers, Scunthorpe United – 63>64
CAM: Gonzalo Castellani, Godoy Cruz – 69>72
ST: Alan, Red Bull Salzburg – 71>74
ST: Cheick Diarra, FC Istres – 67>71
ST: Marcin Robak, Pogoń Szczecin – 64>64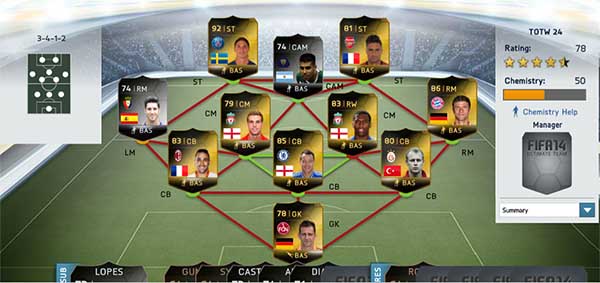 Click on the image in order to maximize it
The TOTW 24 IF players will be available in packs only from 6pm UK February 26th 2014 to 5:30pm March 5th 2014.
You can play against them on the 'Team of the Week Challenge' section within FIFA 14 Ultimate Team on your console.