A new Team of the Week was released. Check out who is in the FIFA 14 Ultimate Team TOTW 37.
FIFA 14 Ultimate Team – TOTW 37
EA already picked the best players of the week. The players names were unveiled this Wednesday at 3pm UK.
The LA Galaxy's Landon Donovan scored twice and made MLS history as the club defeated the Philadelphia Union 4:1 on Sunday. His 135th and 136th goals helped the 32-year old become the league's all-time leading scorer. Donovan has spent 13 seasons in the league; four with the San Jose Earthquakes before moving south and joining the Galaxy in 2005.
The 30-year old Jadson had two goals for Corinthians as they defeated Sport 1:4 on Sunday. The two goals were Jadson's second and third with the club since being traded to the Tatuapé side for Alexandre Pato last February.
A 90th minute goal by Bobby Zamora helped Queens Park Rangers defeat Derby County 0:1 and earn promotion back into the Premier League. QPR return to top-flight football after only spending a single season in the Championship following their relegation at the end of the 2012-13 campaign.
Check it out the starting eleven of this FUT 14 Team of the Week 37:
GK: Marcelo Barovero, River Plate – 75>77
CB: Richard Dunne, Queens Park Rangers – 74>74
CB: Gum, Fluminense – 72>73
CB(CM): Alessandro Budel, Brescia – 69>72
CAM: Dillon Powers, Colorado Rapids – 65>69
CAM: Jadson, Corinthians – 78>80
RM(CAM): Petter Vaagan Moen, Lillestrøm SK – 71>73
CAM(LW): Jesús Dátolo, Atlético Mineiro – 73>74
ST: Walter, Fluminense – 74>74
ST: Bobby Zamora, Queens Park Rangers – 75>77
ST (CF): Landon Donovan, Los Angeles Galaxy – 78>80
The substitutes of this FIFA 14 Ultimate Team TOTW 37 are:
GK: Krzysztof Kamiński, Ruch Chorzów – 57>64
RB: Johan Larsson, IF Elfsborg – 62>64
CB: Adam Danch, Górnik Zabrze – 68>71
RM(CAM): Jota, SD Eibar – 64>64
CM(LW): Karim Laribi, Latina – 64>64
ST: Alex Revell, Rotherham United – 61>64
ST(CAM): Romarinho, Corinthians – 71>73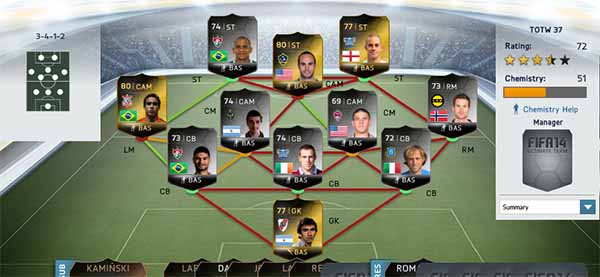 Click on the image in order to maximize it
The TOTW 37 IF players will be available in packs only from 6pm UK May 28th 2014 to 5:30pm June 4th 2014.
You can play against them on the 'Team of the Week Challenge' section within FIFA 14 Ultimate Team on your console.