A new Team of the Week was released. Check out who is in the FIFA 14 Ultimate Team TOTW 39.
FIFA 14 Ultimate Team – TOTW 39
EA already picked the best players of the week. The players names were unveiled this Wednesday at 3pm UK.
Struggling Chivas USA managed to draw the LA Galaxy 1:1 thanks to the fine play of keeper Dan Kennedy. The club sit at the bottom of the Western Conference but managing to prevent their city rivals from earning three points can be viewed as a moral victory.
On Saturday, Dejan Lekić's goal in the third minute spurred Sporting de Gijón to a 3:0 victory over Tenerife. The club now prepares for their first leg semi-final playoff match against Las Palmas with the hopes of earning a spot in La Liga.
Cesena's 0:1 away victory moves them one step closer to promotion to Italy's Serie A. Guido Marilungo scored the lone goal in the 16th minute. The two clubs meet again on Wednesday evening with the winner advancing to face off against either Latina or Bari.
Check it out the starting eleven of this FUT 14 Team of the Week 39:
GK: Dan Kennedy, Chivas USA – 70>73
CB: Nicolai Høgh, Vålerenga Fotball – 65>69
CB: Bobby Boswell, D.C. United – 67>71
CB: Luka Krajnc, Cesena – 64>64
LM: Mohamed Elyounoussi, Molde FK – 66>70
RM: Guzmán, Deportivo Alavés – 63>64
RM(RW): Carmona, Real Sporting de Gijón – 68>71
LM: Felipe Sanchón, Girona FC – 69>72
ST: Conor Casey, Philadelphia Union – 66>70
ST(CF): Guido Marilungo, Cesena – 72>73
ST: Dejan Lekić, Real Sporting de Gijón – 71>73
The substitutes of this FIFA 14 Ultimate Team TOTW 39 are:
GK: Luis Robles, New York Red Bulls – 65>69
RB: Amin Nouri, IK Start – 60>64
RM(LM): Fabián Castillo, FC Dallas – 65>69
CDM(CM): Ole Kristian Selnæs, Rosenborg BK – 64>64
LM(LB): Masahudu Alhassan, Latina – 62>64
ST: Mauro Quiroga, Deportivo Alavés – 60>64
ST: Kike, Real Murcia CF – 67>73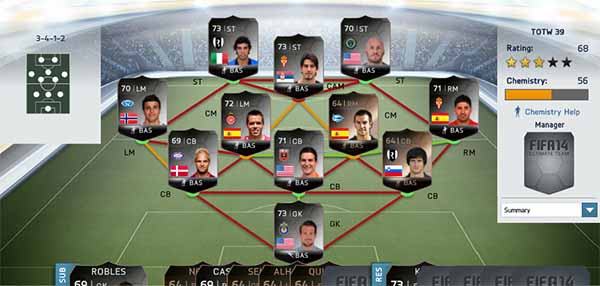 Click on the image in order to maximize it
The TOTW 39 IF players will be available in packs only from 6pm UK June 11th 2014 to 5:30pm June 18th 2014.
You can play against them on the 'Team of the Week Challenge' section within FIFA 14 Ultimate Team on your console.