Last week the EA Sports FIFA team invited twenty fans to play FIFA 15 early, months before its September 23 release date, at Seattle's CenturyLink Field for their FIFA 15 Fan Fest event.
FIFA 15 Fan Fest at Seattle CenturyLink Field
First order of the day: a full-access guided tour of the CenturyLink Field, home of Seattle Sounders FC and reigning Super Bowl Champions the Seattle Seahawks.The stadium tour took a pit stop into the Sounders locker room where fans ran into their first big surprise of the day: their very-own personalized Sounders FC kits.
With the stadium tour over, Gameplay Producer Santiago Jaramillo walked the attendees through FIFA 15's new features: Emotional Intelligence, Dynamic Match Presentation, Living Pitches, and Authentic Player Visuals. After the presentation, fans were able to get their hands-on FIFA 15 with a fleet of Xbox One consoles.
While fans sunk their teeth into FIFA 15, a few recognizable faces decided to join in the fun. Seattle Sounders FC players Lamar Neagle, Brad Evans, and World Cup starlet DeAndre Yedlin stopped by play a few matches with FIFA fans. That was only the beginning: Tottenham Hotspur club ambassador and former centre-back Ledley King joined the festivities with a special gift for each attendee: a brand new Spurs 2014/15 Home kit. The Tottenham representation didn't stop there: striker Roberto Soldado and full-back Kyle Naughton decided to swing by and play a few games of FIFA 15 with the fans.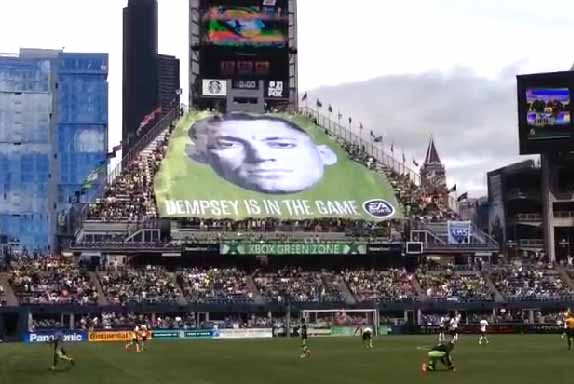 The final guest of the day was none other than USA & Seattle Sounders FC captain Clint Dempsey. He made time for quite a few selfies. The next day Dempsey was revealed as FIFA 15's new North American cover athlete with massive tifo right before the Sounders FC vs. Tottenham Hotspur match.
In the end, the fans had a great time playing FIFA 15 and meeting some of their football heroes. With Seattle in the bag, the FIFA 15 Fan Fest rolls on to New York City and Portland, Oregon in the coming weeks.
Yes, we were not invited. So, the question is: how the hell these parties will help to improve the servers ?