The votes have been counted and Pink FIFA 15 FUTTIES in-forms were announced. Find out who won.
FIFA 15 FUTTIES Are Now Live !
The FIFA community already picked the winners of the ten categories of FIFA 15 FUTTIES. The players names were unveiled this Wednesday at 3pm UK.
Check it out the eleven cards of this FIFA 15 FUTTIES:
In for the Safe Hands: Hugo Lloris (Tottenham Hotspur)
In for the Tackles: Yaya Touré (Manchester City)
In for the Skills: Ricardo Quaresma (FC Porto)
In for the Longshots: Wayne Rooney (Manchester United)
In for the Headers: Edinson Cavani (Paris Saint-Germain)
In for the Leadership: Ronaldinho (Querétaro)
In for the Weak Foot: Christian Eriksen (Tottenham Hotspur)
Out of Position: Gareth Bale (Real Madrid)
Perfect Link: İlkay Gündoğan & Marco Reus (Borussia Dortmund)
In for the Pace: Seydou Doumbia (AS Roma)
There will be another pink card in packs this week. While you were waiting for the voting to begin, EA gave away something special. According to their data, Liverpool's Daniel Sturridge is the top scorer in FIFA 15 Ultimate Team with over 80 million goals scored in total. To celebrate FUT's top goal scorer, they gave away a pink FIFA 15 FUTTIES Daniel Sturridge on a five match loan to everyone. Now, it is time to add this card to the another eleven ones.
Here is the list of the other nominees who will not get a pink card:
Handanovic, Sirigu, Leno, Muslera
Khedira, De Rossi, Cattermole, Luiz Gustavo
Nani EI, Taarabt, Chikhaoui, Çifty
Ronny, Kolarov, Guarín, Hernanes
Negredo Mandzukic, Carrol, Klose
Lampard, Gerrard, Pirlo, Xavi
Blanco, Villa, Totti, Mkhitaryan
Alaba, David Luiz, Walker, Walcott
McGeady and Coleman, Pastore and Lavezzi, Alba and Pedro, Barzagli and Chiellini
Ramires, Ibarbo, Ramos, Emenike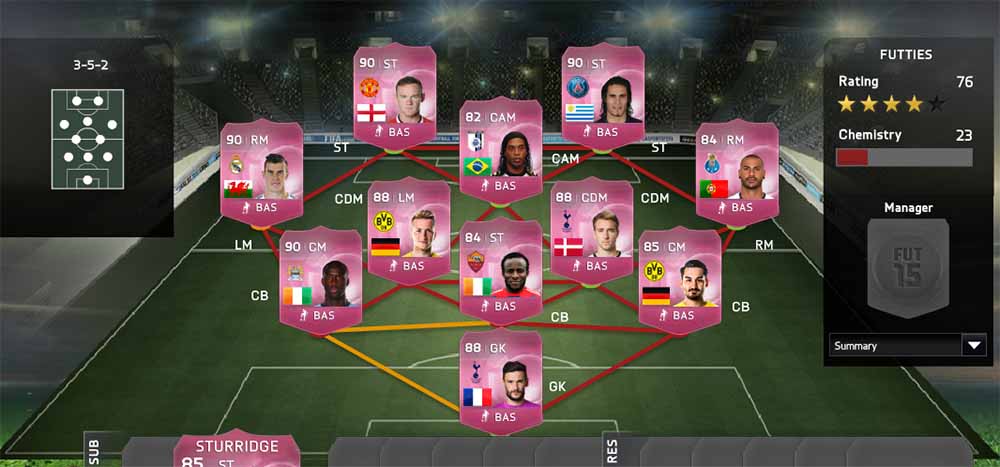 Click on the image in order to maximize it
FIFA 15 FUTTIES IF players will be available in packs only from 6pm UK July 15 to 5:30pm July 22, 2015.