Follow your favourite teams and leagues while playing FIFA 15 with the new in-game hub – Match Day Live powered by Goal.com.
Updated as news breaks, Match Day Live pulls football stories directly into your FIFA 15 experience so you are always aware of the latest headline or rumour.
Check league tables and stats of all our featured leagues, or jump in and play your team's next fixture before it happens via EA Sports Football Club Match Day.
FIFA 15 Match Day Live Powered by Goal.com
The new edition of the popular football video game will include the Match Day Live hub, which allows Goal to keep players up to date with the world's latest news.
Goal is teaming up with the world's most loved football video game to provide an unrivalled new live service which links virtual with reality.
EA Sports' much-anticipated launch of FIFA 15 is drawing ever nearer, and the new edition of the popular simulation will include a magnificent new feature which allows players to keep up to date with all of the latest football news thanks to Goal.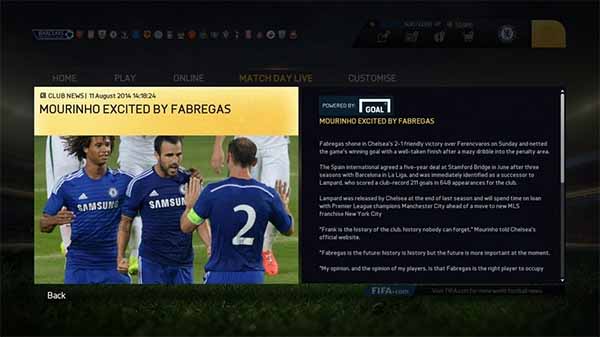 The Match Day Live hub in FIFA 15 includes all of the most relevant news, stats, and league information as selected by the user, with all of the latest information from the football world pulled directly from Goal's live content and made easily accessible from the FIFA 15 home menu.
The link-up underlines Goal's status as the most respected source of news and views from all over the globe, and brings together two of the world's biggest footballing institutions.
"FIFA fans are always connected to their favorite clubs and leagues, and Goal is the perfect source to integrate all the right news and stats into Match Day Live to fuel that connection," said David Rutter, the GM of EA Sports FIFA. "Goal's massive global network of content creators made the decision easy when looking for a provider that could bring all the latest news to FIFA 15 fans spanning the world."
Ben Warn, the Managing Director of the Consumer division at Goal's parent company PERFORM, added: "This collaboration brings together two of the world's leading football brands, offering fans a unique, real-time news service within their gaming experience. Goal's global reach and the strength of our editorial team – covering every corner of the world – means that we are perfectly positioned to be the premier provider of the feeds that EA Sports requires to power this new and exciting feature within FIFA 15."