Who are the top league players in FIFA 15 ?
FIFA 15 Top League Players
Here are the Top 20 players from each of the major European leagues in FIFA 15. These are the players to look out for when playing with or against clubs from England, France, Germany, Italy and Spain.
FIFA 15 Top Barclays Premier League Players
20. Santi Cazorla – Arsenal
19. Alexis Sánchez – Arsenal
18. Samir Nasri – Manchester City
17. Oscar – Chelsea
16. Cesc Fàbregas – Chelsea FC
15. Hugo Lloris – Tottenham Hotspur
14. Juan Mata – Manchester United
13. Diego Costa – Chelsea FC
12. Petr Čech – Chelsea FC
11. Thibaut Courtois – Chelsea FC
10. Mesut Özil – Arsenal
9. Ángel Di María – Manchester United
7. Wayne Rooney – Manchester United
6. Kun Aguero – Manchester City
5. Vincent Kompany – Manchester City
4. David Silva – Manchester City
3. Radamel Falcao – Manchester United
2. Robin van Persie – Manchester United
1. Eden Hazard – Chelsea FC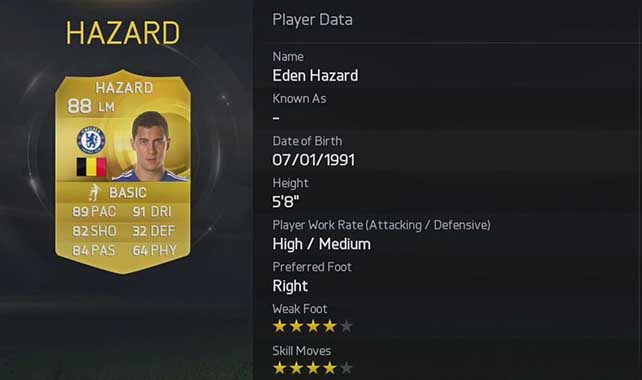 FIFA 15 Top Ligue 1 Players
20. Loïc Perrin – Saint-Étienne
19. Marco Verratti – Paris Saint-Germain
18. Vincent Enyeama – Lille OSC
17. Cédric Carrasso – Bordeaux
16. Dimitar Berbatov – AS Monaco
15. Yohan Cabaye – Paris Saint-Germain
14. Rio Antonio Mavuba – Lille OSC
13. Lucas – Paris Saint-Germain
12. Steve Mandanda – Olympique de Marseille
11. David Luiz – Paris Saint-Germain
10. Thiago Motta – Paris Saint-Germain
9. Ezequiel Lavezzi – Paris Saint-Germain
8. Jérémy Toulalan – AS Monaco
7. Stéphane Ruffier – Saint-Étienne
6. João Moutinho – AS Monaco
5. Blaise Matuidi – Paris Saint-Germain
4. Salvatore Sirigu – Paris Saint-Germain
3. Edinson Cavani – Paris Saint-Germain
2. Thiago Silva – Paris Saint-Germain
1. Zlatan Ibrahimović – Paris Saint-Germain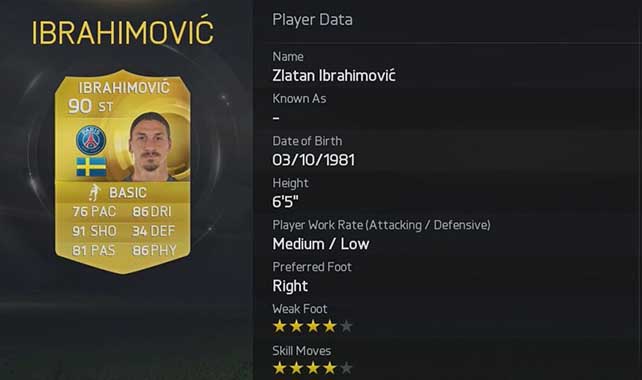 FIFA 15 Top Bundesliga Players
20. David Alaba – Bayern Munich
19. Sokratis – Borussia Dortmund
18. İlkay Gündoğan – Borussia Dortmund
17. Roman Weidenfeller – Borussia Dortmund
16. Jefferson Farfán – FC Schalke 04
15. Klass-Jan Huntelaar – FC Schalke 04
14. Mehdi Benatia – Bayern Munich
13. Xabi Alonso – Bayern Munich
12. Javi Martinez – Bayern Munich
11. Jérôme Boateng – Bayern Munich
10. Mario Götze – Bayern Munich
9. Mats Hummels – Borussia Dortmund
8. Thomas Müller – Bayern Munich
7. Marco Reus – Borussia Dortmund
6. Robert Lewandowski – Bayern Munich
5. Philipp Lahm – Bayern Munich
4. Franck Ribéry – Bayern Munich
3. Bastian Schweinsteiger – Bayern Munich
2. Manuel Neuer – Bayern Munich
1. Arjen Robben – Bayern Munich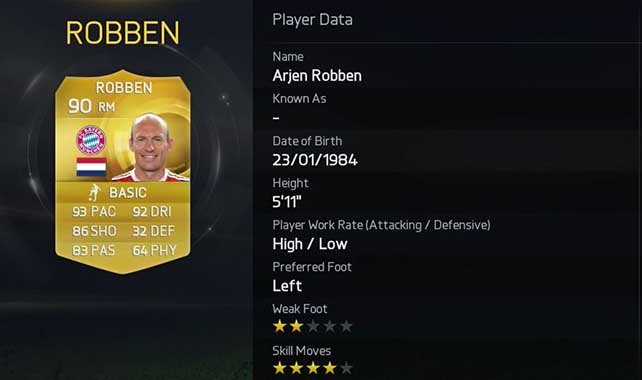 FIFA 15 Top Serie A Players
20. Borja Valero – Fiorentina
19. Hernanes – Inter
18. Giuseppe Rossi – Fiorentina
17. Gianluigi Buffon – Juventus
16. Samir Handanović – Inter
15. Marek Hamšík – Napoli
14. Claudio Marchisio – Juventus
13. Antonio Candreva – SS Lazio
12. Diego López – AC Milan
11. Nemanja Vidić – Inter
10. Andrea Barzagli – Juventus
9. Miralem Pjanić – AS Roma
8. Paul Pogba – Juventus
7. Juan Cuadrado – Fiorentina
6. Gonzalo Higuaín – Napoli
5. Daniele De Rossi – AS Roma
4. Giorgio Chiellini – Juventus
3. Andrea Pirlo – Juventus
2. Carlos Tévez – Juventus
1. Arturo Vidal – Juventus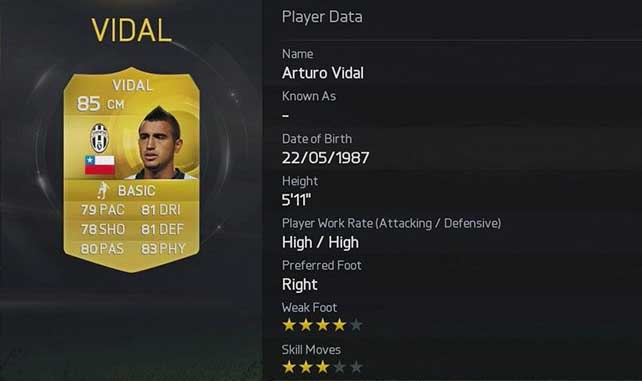 FIFA 15 Top Liga BBVA Players
20. Ivan Rakitić – FC Barcelona
19. Javier Mascherano – FC Barcelona
18. Gerard Piqué – FC Barcelona
17. Diego Godín – Atlético Madrid
16. Sami Khedira – Real Madrid
15. Arda Turan – Atlético Madrid
14. Iker Casillas – Real Madrid
13. Sergio Busquets – FC Barcelona
12. Karim Benzema – Real Madrid
11. Toni Kroos – Real Madrid
10. James Rodríguez – Real Madrid
9. Neymar Jr. – FC Barcelona
8. Xavi – FC Barcelona
7. Luka Modrić – Real Madrid
6. Sergio Ramos – Real Madrid
5. Gareth Bale – Real Madrid
4. Luis Suárez – FC Barcelona
3. Andrés Iniesta – FC Barcelona
2. Cristiano Ronaldo – Real Madrid
1. Lionel Messi – FC Barcelona