A new Team of the Week was released. Check out who is in the FIFA 15 Ultimate Team TOTW 4.
FIFA 15 Ultimate Team – TOTW 4
EA already picked the best players of the week. The players names were unveiled this Wednesday at 3pm UK.
Arjen Robben and Robert Lewandowski both had two goals as Bayern München comfortably defeated Hannover 96 4-0 on Saturday. The win, coupled with both Bayer Leverkusen and Borussia Mönchengladbach dropping points, helped to extend the defending champions lead atop the Bundlesliga table to four points.
A David De Gea penalty save just before the half, followed by a 62nd minute go-ahead goal by Radamel Falcao helped Manchester United defeat Everton 2-1 and move up to fourth in the Premier League standings. After having a fairly inconsistent start to the season, United fans will hope the winning can continue as they have tough matches against Chelsea, Manchester City and Arsenal occurring over the next month and a half.
It was a wild Sunday night in Turin as first-place Juventus managed to defeat second-place AS Roma 3-2. Heading into the match neither side had dropped a point this season. Defender Leonardo Bonucci scored the match-winner in the 86th minute, following a first half that saw three goals scored from the penalty spot.
Check it out the starting eleven of this FUT 15 Team of the Week 4:
GK: De Gea, Manchester United – 84
RB: Branislav Ivanović, Chelsea – 82
CB: Naldo, VfL Wolfsburg – 81
CB: Ricardo Carvalho, AS Monaco – 79
CB: Leonardo Bonucci, Juventus – 80
RM(LM): Moi Gómez, Villarreal CF – 74
LM(CAM): Lorenzo Insigne, Napoli – 80
CDM(CM): Marko Vejinović, Vitesse – 73
RW(RM): Arjen Robben, Bayern München – 91
ST: Steven Fletcher, Sunderland – 78
ST: Alexandre Lacazette, Olympique Lyonnais – 80
The substitutes of this FIFA 15 Ultimate Team TOTW 4 are:
GK: Michael McGovern, Hamilton Academical – 64
CB: Juanpe, Racing de Santander – 64
CAM(ST): Kamil Wilczek, Piast Gliwice – 64
LM(RM): Daniel Sobralense, Örebro SK – 64
ST: Semih Şentürk, İstanbul Başakşehir FK – 77
ST: Obafemi Martins, Seattle Sounders – 78
ST: Joel Pohjanpalo, Fortuna Düsseldorf – 64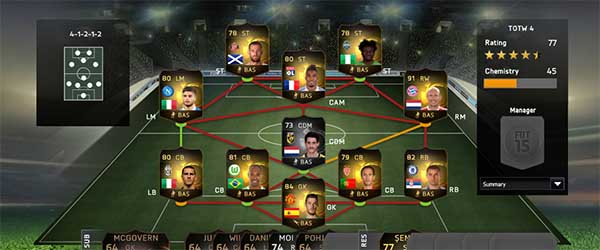 Click on the image in order to maximize it
The TOTW 4 IF players will be available in packs only from 6pm UK October 8th 2014 to 5:30pm October 15th 2014.
You can play against them on the 'Team of the Week Challenge' section within FIFA 15 Ultimate Team on your console.