FIFA 15 Ultimate Team Winter Upgrades is an amazing time of the season. EA has released 134 new winter upgrades cards including Neymar, Aguero and Diego Costa. These new cards will replace the original ones on packs. If you have a regular card with the old overall it will not be updated.
Upgrades apply to new players found in packs from this point forward. Existing non-IF players in your Club will not receive an upgrade.
If an upgraded player already has one or more in-forms, all of his IFs will be upgraded respectively. If you already own the IF version of an upgraded player, your IF will be upgraded. However, if an upgraded player with a previous IF gets upgraded across Quality tiers (eg. Bronze to Silver), his IF will not be upgraded. This preserves the value of the IF and ensures your Bronze and Silver squads aren't negatively affected.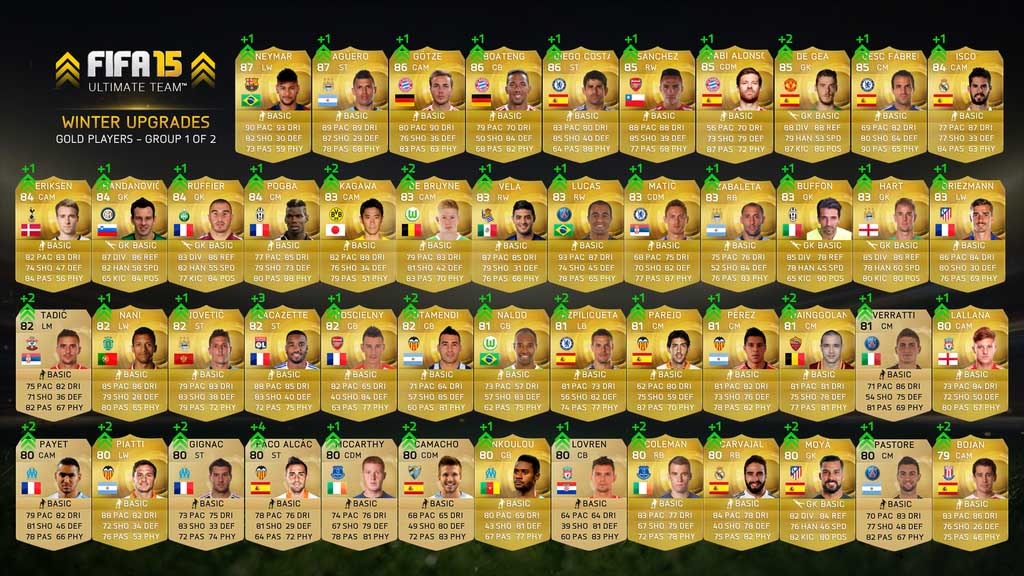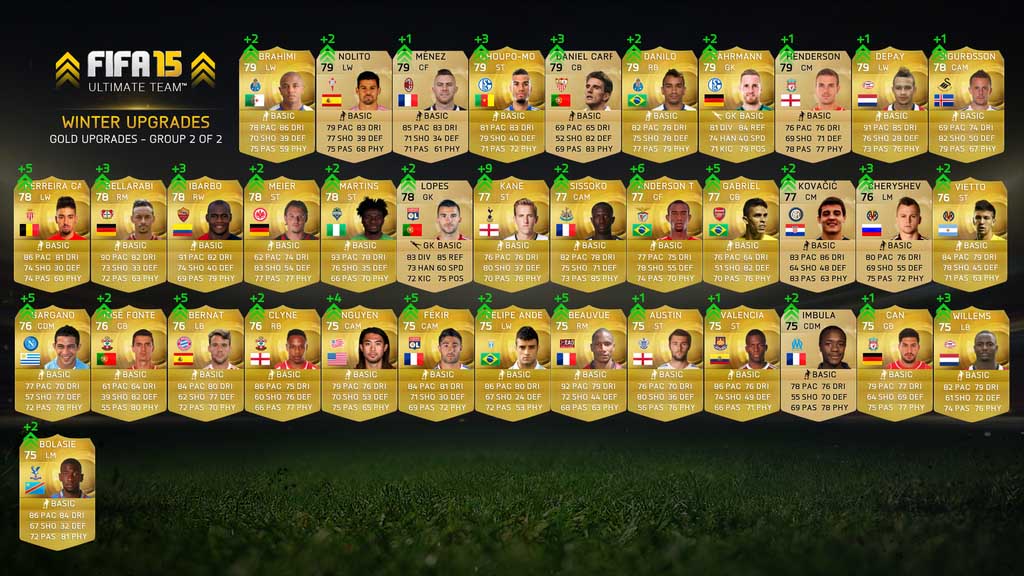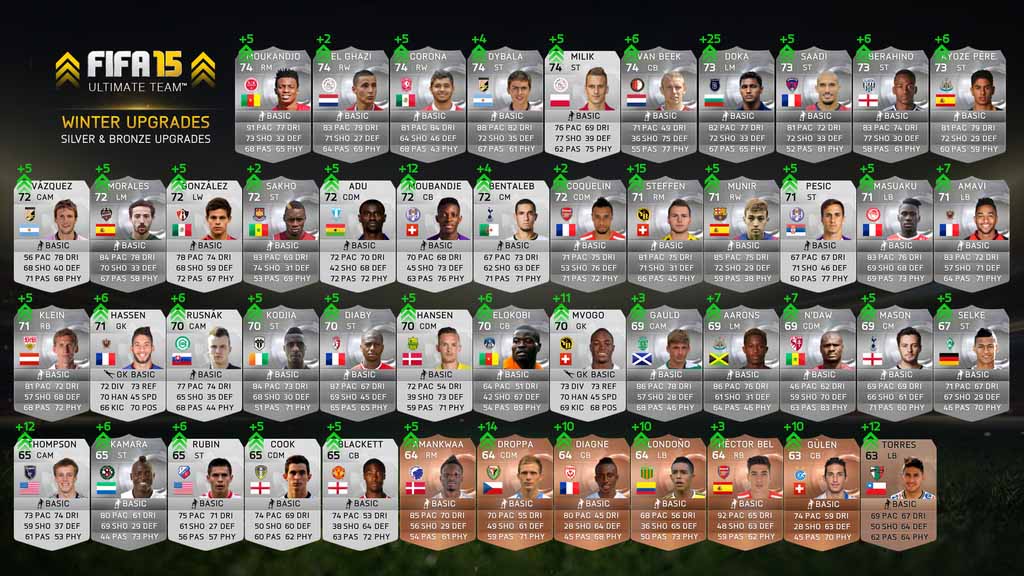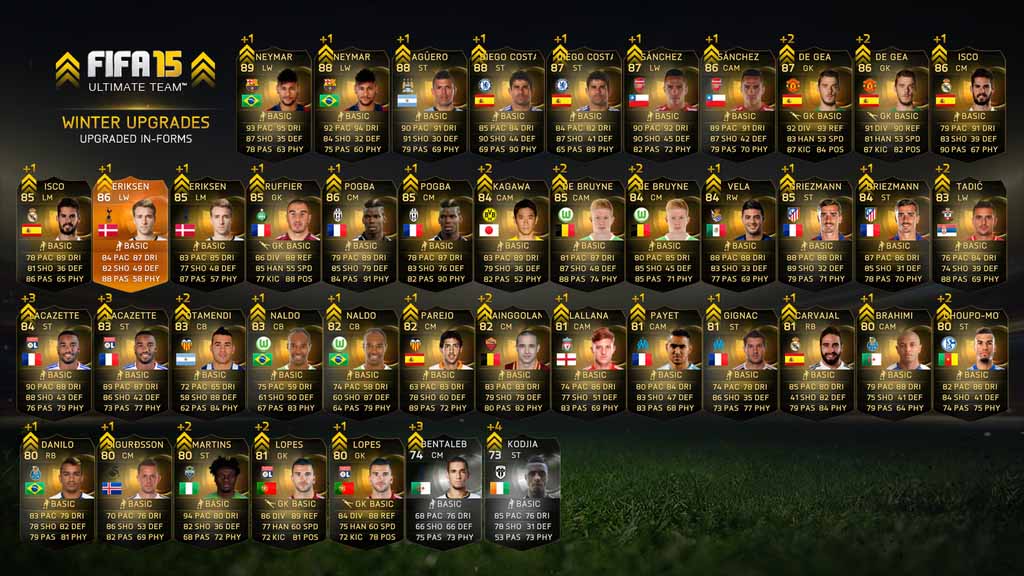 FIFA 15 Ultimate Team Winter Upgrades
| | | | | | | | |
| --- | --- | --- | --- | --- | --- | --- | --- |
| NAME | CLUB | POS | OLD OVR | NEW OVR | UP | IF1 | IF2 |
| | | | | | | | |
| Neymar | FC Barcelona | LW | 86 | 87 | 1 | 87 -> 88 | 88 -> 89 |
| Sergio Agüero | Manchester City | ST | 86 | 87 | 1 | 87 -> 88 | |
| Mario Götze | Bayern München | CAM | 85 | 86 | 1 | – | |
| Jérôme Boateng | Bayern München | CB | 85 | 86 | 1 | – | |
| Diego Costa | Chelsea | ST | 85 | 86 | 1 | 86 -> 87 | 87 ->88 |
| Alexis Sánchez | Arsenal | RW | 84 | 85 | 1 | 85 -> 86 | 86 -> 87 |
| Xabi Alonso | Bayern München | CDM | 84 | 85 | 1 | – | |
| De Gea | Manchester United | GK | 83 | 85 | 2 | 84 -> 86 | 85 -> 87 |
| Cesc Fàbregas | Chelsea | CM | 84 | 85 | 1 | – | |
| Isco | Real Madrid | CAM | 83 | 84 | 1 | 84 -> 85 | 85 -> 86 |
| Christian Eriksen | Tottenham Hotspur | CAM | 83 | 84 | 1 | 84 -> 85 | 85 -> 86 |
| Samir Handanovič | Inter | GK | 83 | 84 | 1 | – | |
| Stéphane Ruffier | AS Saint-Etienne | GK | 83 | 84 | 1 | 84 -> 85 | |
| Paul Pogba | Juventus | CM | 83 | 84 | 1 | 84 -> 85 | 85 -> 86 |
| Shinji Kagawa | Borussia Dortmund | CAM | 81 | 83 | 2 | 82 -> 84 | |
| Kevin De Bruyne | VfL Wolfsburg | CAM | 81 | 83 | 2 | 82 -> 84 | 83 -> 85 |
| Carlos Vela | Real Sociedad | RW | 82 | 83 | 1 | 83 -> 84 | |
| Lucas | PSG | RW | 82 | 83 | 1 | – | |
| Nemanja Matić | Chelsea | CDM | 82 | 83 | 1 | – | |
| Pablo Zabaleta | Manchester City | RB | 82 | 83 | 1 | – | |
| Gianluigi Buffon | Juventus | GK | 82 | 83 | 1 | – | |
| Joe Hart | Manchester City | GK | 82 | 83 | 1 | – | |
| Antoine Griezmann | Atlético de Madrid | LW | 82 | 83 | 1 | 83 -> 84 | 84 -> 85 |
| Dušan Tadić | Southampton | LM | 80 | 82 | 2 | 81 -> 83 | |
| Nani | Sporting CP | LW | 81 | 82 | 1 | – | |
| Stevan Jovetić | Manchester City | ST | 81 | 82 | 1 | – | |
| Alexandre Lacazette | Lyon | ST | 79 | 82 | 3 | 80 -> 83 | 81 -> 84 |
| Laurent Koscielny | Arsenal | CB | 81 | 82 | 1 | – | |
| Nicolás Otamendi | Valencia CF | CB | 80 | 82 | 2 | 81 -> 83 | |
| Naldo | VfL Wolfsburg | CB | 80 | 81 | 1 | 81 -> 82 | 82 -> 83 |
| Azpilicueta | Chelsea | LB | 79 | 81 | 2 | – | |
| Parejo | Valencia CF | CM | 80 | 81 | 1 | 81 -> 82 | |
| Enzo Pérez | Valencia CF | CM | 80 | 81 | 1 | – | |
| Radja Nainggolan | Roma | CM | 79 | 81 | 2 | 80 -> 82 | |
| Marco Verratti | PSG | CM | 80 | 81 | 1 | – | |
| Adam Lallana | Liverpool | CAM | 79 | 80 | 1 | 80 -> 81 | |
| Dimitri Payet | Marseille | CAM | 78 | 80 | 2 | 80 -> 81 | |
| Pablo Piatti | Valencia CF | LW | 78 | 80 | 2 | – | |
| André-Pierre Gignac | Marseille | ST | 78 | 80 | 2 | 80 -> 81 | |
| Paco Alcácer | Valencia CF | ST | 76 | 80 | 4 | – | |
| James McCarthy | Everton | CDM | 79 | 80 | 1 | – | |
| Camacho | Málaga CF | CDM | 78 | 80 | 2 | – | |
| Nicolas Nkoulou | Marseille | CB | 79 | 80 | 1 | – | |
| Dejan Lovren | Liverpool | CB | 79 | 80 | 1 | – | |
| Séamus Coleman | Everton | RB | 78 | 80 | 2 | – | |
| Carvajal | Real Madrid | RB | 79 | 80 | 1 | 80 -> 81 | |
| Moyá | Atlético de Madrid | GK | 78 | 80 | 2 | – | |
| Javier Pastore | PSG | CM | 79 | 80 | 1 | – | |
| Bojan | Stoke City | CAM | 77 | 79 | 2 | – | |
| Yacine Brahimi | FC Porto | LW | 77 | 79 | 2 | 79 -> 80 | |
| Nolito | RC Celta de Vigo | LW | 77 | 79 | 2 | – | |
| Jérémy Ménez | Milan | SS | 78 | 79 | 1 | (Not required) | |
| Eric Maxim Choupo-Moting | FC Schalke 04 | ST | 76 | 79 | 3 | 78 -> 80 | |
| Daniel Carriço | Sevilla FC | CB | 76 | 79 | 3 | – | |
| Danilo | FC Porto | RB | 77 | 79 | 2 | 79 -> 80 | |
| Ralf Fährmann | FC Schalke 04 | GK | 77 | 79 | 2 | – | |
| Jordan Henderson | Liverpool | CM | 78 | 79 | 1 | – | |
| Memphis Depay | PSV | LW | 78 | 79 | 1 | (Not required) | |
| Gylfi Sigurðsson | Swansea City | CAM | 77 | 78 | 1 | 79 -> 80 | |
| Yannick Ferreira Carrasco | AS Monaco | LW | 73 | 78 | 5 | – | |
| Karim Bellarabi | Bayer Leverkusen | RM | 75 | 78 | 3 | – | |
| Víctor Ibarbo | Roma | RW | 75 | 78 | 3 | – | |
| Alexander Meier | Eintracht Frankfurt | ST | 76 | 78 | 2 | – | |
| Obafemi Martins | Seattle Sounders | ST | 76 | 78 | 2 | 78 -> 80 | |
| Anthony Lopes | Lyon | GK | 76 | 78 | 2 | 78 -> 80 | 80 -> 81 |
| Harry Kane | Tottenham Hotspur | ST | 68 | 77 | 9 | (Not required) | |
| Moussa Sissoko | Newcastle United | CAM | 75 | 77 | 2 | – | |
| Anderson Talisca | SL Benfica | SS | 71 | 77 | 6 | (Not required) | |
| Gabriel | Arsenal | CB | 72 | 77 | 5 | – | |
| Mateo Kovačić | Inter | CM | 75 | 77 | 2 | – | |
| Denis Cheryshev | Villarreal CF | LM | 73 | 76 | 3 | – | |
| Luciano Vietto | Villarreal CF | ST | 74 | 76 | 2 | – | |
| Walter Gargano | Napoli | CDM | 71 | 76 | 5 | – | |
| José Fonte | Southampton | CB | 74 | 76 | 2 | (Not required) | |
| Bernat | Bayern München | LB | 71 | 76 | 5 | (Not required) | |
| Nathaniel Clyne | Southampton | RB | 74 | 76 | 2 | – | |
| Lee Nguyen | NE Revolution | CAM | 71 | 75 | 4 | – | |
| Nabil Fékir | Lyon | CAM | 70 | 75 | 5 | (Not required) | |
| Felipe Anderson | Lazio | LW | 73 | 75 | 2 | – | |
| Claudio Beauvue | En Avant Guingamp | RM | 70 | 75 | 5 | – | |
| Charlie Austin | QPR | ST | 74 | 75 | 1 | (Not required) | |
| Enner Valencia | West Ham United | ST | 74 | 75 | 1 | – | |
| Giannelli Imbula | Marseille | CDM | 73 | 75 | 2 | – | |
| Emre Can | Liverpool | CB | 74 | 75 | 1 | – | |
| Jetro Willems | PSV | LB | 72 | 75 | 3 | – | |
| Yannick Bolasie | Crystal Palace | LM | 73 | 75 | 2 | (Not required) | |
| Benjamin Moukandjo | Stade de Reims | RM | 69 | 74 | 5 | – | |
| Anwar El Ghazi | Ajax | RW | 72 | 74 | 2 | – | |
| Jesús Corona | FC Twente | RW | 69 | 74 | 5 | – | |
| Paulo Dybala | Palermo | ST | 70 | 74 | 4 | – | |
| Arkadiusz Milik | Ajax | ST | 69 | 74 | 5 | – | |
| Sven van Beek | Feyenoord | CB | 68 | 74 | 6 | – | |
| Doka | İstanbul Başakşehir FK | LM | 48 | 73 | 25 | – | |
| Idriss Saadi | Clermont Foot | ST | 68 | 73 | 5 | – | |
| Saido Berahino | West Bromwich Albion | ST | 67 | 73 | 6 | – | |
| Ayoze Pérez | Newcastle United | ST | 67 | 73 | 6 | – | |
| Franco Vázquez | Palermo | CAM | 67 | 72 | 5 | – | |
| Morales | Levante UD | LM | 67 | 72 | 5 | – | |
| Arturo González | Atlas | LW | 67 | 72 | 5 | – | |
| Diafra Sakho | West Ham United | ST | 70 | 72 | 2 | – | |
| Enoch Kofi Adu | Malmö FF | CDM | 67 | 72 | 5 | – | |
| François Moubandje | Toulouse FC | CB | 60 | 72 | 12 | – | |
| Nabil Bentaleb | Tottenham Hotspur | CM | 68 | 72 | 4 | 71 > 74 | |
| Francis Coquelin | Arsenal | CDM | 70 | 72 | 2 | – | |
| Renato Steffen | BSC Young Boys | RM | 56 | 71 | 15 | – | |
| Munir | FC Barcelona | RW | 66 | 71 | 5 | – | |
| Aleksandar Pesic | Toulouse FC | ST | 66 | 71 | 5 | – | |
| Fuka Arthur Masuaku | Olympiacos CFP | LB | 66 | 71 | 5 | – | |
| Jordan Amavi | OGC Nice | LB | 64 | 71 | 7 | – | |
| Florian Klein | VfB Stuttgart | RB | 66 | 71 | 5 | – | |
| Mouez Hassen | OGC Nice | GK | 65 | 71 | 6 | – | |
| Albert Rusnák | FC Groningen | CAM | 64 | 70 | 6 | – | |
| Jonathan Kodjia | Angers SCO | ST | 65 | 70 | 5 | 69 -> 73 | |
| Abdoulay Diaby | Mouscron-Péruwelz | ST | 65 | 70 | 5 | – | |
| Kian Hansen | FC Nantes | CDM | 65 | 70 | 5 | – | |
| George Elokobi | Oldham Athletic | CB | 64 | 70 | 6 | – | |
| Yvon Mvogo | BSC Young Boys | GK | 59 | 70 | 11 | – | |
| Ryan Gauld | Sporting CP | CAM | 66 | 69 | 3 | – | |
| Rolando Aarons | Newcastle United | LM | 62 | 69 | 7 | – | |
| Guirane N'Daw | FC Metz | CDM | 62 | 69 | 7 | – | |
| Ryan Mason | Tottenham Hotspur | CM | 64 | 69 | 5 | – | |
| Davie Selke | Werder Bremen | ST | 62 | 67 | 5 | – | |
| Tommy Thompson | San Jose Earthquakes | CAM | 53 | 65 | 12 | – | |
| Alhassan Kamara | Örebro SK | ST | 59 | 65 | 6 | 64 | |
| Rubio Rubin | FC Utrecht | ST | 59 | 65 | 6 | – | |
| Lewis Cook | Leeds United | CDM | 60 | 65 | 5 | – | |
| Tyler Blackett | Manchester United | CB | 60 | 65 | 5 | – | |
| Danny Amankwaa | FC København | RM | 59 | 64 | 5 | – | |
| Lukáš Droppa | Śląsk Wrocław | CDM | 50 | 64 | 14 | – | |
| Modou Diagne | AS Nancy | CB | 54 | 64 | 10 | – | |
| Daniel Londoño | Envigado FC | LB | 54 | 64 | 10 | – | |
| Héctor Bellerín | Arsenal | RB | 61 | 64 | 3 | – | |
| Levent Gülen | Grasshopper Club Zürich | CB | 53 | 63 | 10 | – | |
| Diego Torres | CD Palestino | LB | 51 | 63 | 12 | – | |