The votes have been counted and Pink FIFA 16 FUTTIES in-forms were announced. Find out who won.
FIFA 16 FUTTIES Are Now Live !
The FIFA community already picked the winners of the ten categories of FIFA 16 FUTTIES. The players names were unveiled this Friday at 3pm UK.
Check it out the eleven cards of this FIFA 16 FUTTIES:
Brick Wall: Lloris
Class is Permanent: Ben Arfa
Engine Room: Willian
Head First: Mandzukic
Most Improved: Mahrez
One Club Man: Buffon
Pot Shots: Çalhanoğlu
Skillers Delight: Nani
Get Stuck In: Gustavo
The Maestro: De Bruyne
Two Footed: Kroos
There will be another three pink cards as rewards of the new FUTTIES Cup Tournament: Konoplyanka, Aubameyang and Marco Reus.
All nominees that won their FUTTIES's category will automatically be upgraded to FUTTIES winner items. This means they will receive a stat boost and feature a golden trim around their items. This is a permanent upgrade in FUT 16. The nominee items have been removed from Packs and items that did not win The FUTTIES will stay in the game with their base stats. Look for the winner items in the Transfer Market. They will also be available in Packs until 6 pm, August 5, UK time.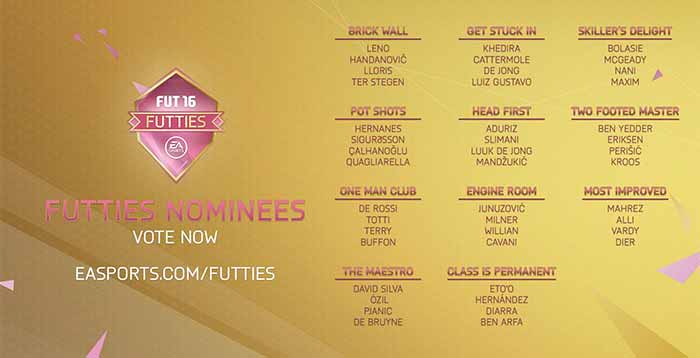 Click on the image in order to maximize it
FIFA 16 FUTTIES IF players will be available in packs only from 6pm UK July 29 to 5:30pm August 5, 2016.