We're just days away from kicking off the new FIFA Ultimate Team season, and we want to share news how EA is making your FUT 16 experience fun, fair, and secure. Here's the update on what you can expect from FIFA 16 Ultimate Team.
Transfer Market is back to FUT Web and Companion Apps
To kick off the new Ultimate Team season, the Transfer Market will once again be available within both the Web and Mobile Companion apps beginning September 17. Returning and verified FUT 15 players will be able to get access to the web app and begin building their Ultimate Team club by opening free returning user packs and by trading early via the Transfer Market. Note that you'll need to start on the web app before you can use the mobile app.
New players to FIFA Ultimate Team must play on console or PC before accessing the Transfer Market via the web app. Within a few days of playing on console, new players will pass verification and be granted access to the Transfer market via the web app. This is a new security measure EA has implemented for FUT 16 to make sure all players are human, as opposed to bots that harm the Transfer Market. The health of the Transfer Market, which determines its availability on the apps will be consistently assessed throughout the season.
Prices Rangers are much wider in FIFA 16
In FUT 16, Price Ranges will start much wider. This will make it easier to buy and sell players on the Transfer Market. Their aim this year is to keep Price Ranges as wide as possible throughout the season to offer a fair environment for trading and to protect the market against coin buying. The less coin farming and buying they see within FUT 16, the wider the Price Ranges will stay.
The chart below illustrates the average price of a sample top-tier player in FUT 15 and the change in Price Range parameters from FUT 15 to FIFA 16 Ultimate Team at launch. The wider ranges will enhance the trading experience on the Transfer Market.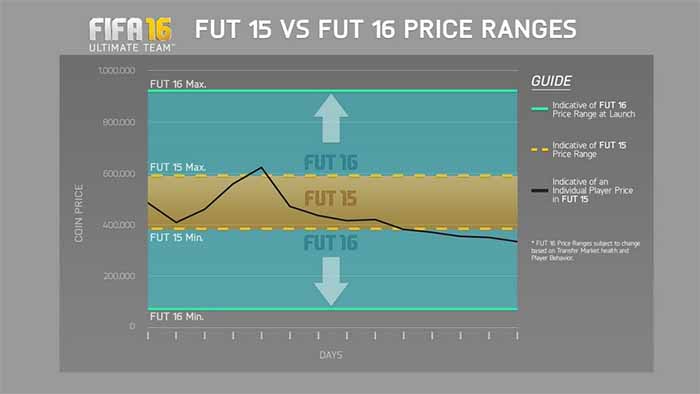 Splitted Markets for each Platform
To further prevent coin farmers and coin buyers from negatively impacting the FUT economy, EA Sports is splitting Transfer Market economies by console generation. This means coins, club items, and transfer market items will no longer be shared between Xbox 360 and Xbox One, and between PS3 and PS4.
When first accessing FUT 16 through the web apps, you'll be asked to choose which console you would like to start your FUT club in. After choosing your console type, it will become the default for your account. From that point onwards, all your coins and items will stay within that account on the default console.
Returning FUT players will be able to carry over FIFA Points via a one-time transfer. This can be done between FUT 15 and FUT 16 on the same console or between the Xbox 360 & Xbox One or PS3 & PS4. As always, any players using exploits or transferring FIFA Points using illegitimate accounts or means will be subject to an account ban.