A new Team of the Week was released. Check out who is in the FIFA 16 Ultimate Team TOTW 35.
FIFA 16 Ultimate Team – TOTW 35
EA already picked the best players of the week.
The players names were unveiled this Wednesday at 3pm UK.
Even with the title wrapped up for quite time, PSG continues their winning ways. This time, they beat Gazélec Ajaccio 0-4, with Edinson Cavani earning himself a hat-trick.
Meanwhile, Olympique Lyonnais crushed AS Monaco 6-1 and all but wrap up second place. Alexandre Lacazette finished the match with three goals while teammate Mapou Yanga-M'Biwa scored twice.
On Sunday, Quincy Promes scored twice for Spartak Moskva as they defeated city rivals, Dinamo Moskva 3-0.
Check it out the starting eleven of this FUT 16 Team of the Week 35:
GK: Marchetti, Lazio – 80>81
CB: Yanga-M'Biwa, Olympique Lyonnais – 78>80
CB: Rüdiger, Roma – 76>80
CB: Abraham, Eintracht Frankfurt – 76>80
RM: Promes, Spartak Moskva – 80>81
LM: Gayle, Crystal Palace – 71>74
CAM: Davis, Southampton – 76>80
LM: Ruíz, Sporting CP – 79>80
LW: Cavani, Paris Saint-Germain – 85>87
ST: Hahn, Borussia M'gladbach – 77>80
ST: Lacazette, Olympique Lyonnais – 84>87
The substitutes of this FIFA 16 Ultimate Team TOTW 35 are:
GK: García, Club Atlético Tigre – 73>74
GK: Hrádecký, Eintracht Frankfurt – 75>78
CB: Lindgren, FC Groningen – 68>72
LM: Oyarzabal Ugarte, Real Sociedad – 56>64
CM: Livermore, Hull City – 74>74
LM: Cuenca López, Granada CF – 70>74
LW: Izquierdo, Club Brugge – 74>74
LM: Taylor, Peterborough United – 66>72
CAM: Perišić, Inter – 82>84
ST: Keane, Los Angeles Galaxy – 80>81
ST: Al Qahtani, Al Hilal (Riyadh) – 71>74
ST: Gignac, Tigres U.A.N.L. – 81>84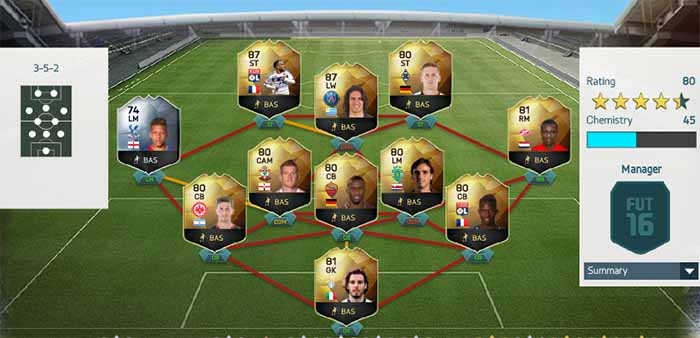 Click on the image in order to maximize it
TOTW 35 IF players will be available in packs only from 6pm UK May 11th to 5:30pm May 18th, 2016.
You can play against them on the 'Team of the Week Challenge' section within FIFA 16 Ultimate Team on your console.