As you know, FIFA 17 features are not the same ones for new-gen consoles and for the old ones. Let's see what is included in FIFA 17 for Playstation 3 and XBox 360.
Which FIFA 17 Features are included for Playstation 3 and XBox 360?
There are console limitations so the feature set available for FIFA 17 on Xbox 360 and PlayStation 3 does not include all the same innovations and new modes that are available on Xbox One, PlayStation 4 or PC. FUT Champions, The Journey and Premier League managers are just three examples of new features not included in FIFA 17 for PS3 and XB360.
However, there are still big changes coming to fans playing on those systems with gameplay innovations, audio enhancements and the brand new Squad Building Challenges for the FIFA Ultimate Team fans. In addition, Career Mode sees the edition of Pre-Season Training and Career Mode Training to add more depth to your season.
Here is a rundown of what you'll find in the Xbox 360 and PlayStation 3 versions of FIFA 17.
SQUAD BUILDING CHALLENGES
Complete challenges and earn unique in-game rewards in all-new Squad Building Challenges (SBC). Test your squad-building skills by choosing from Basic, Advanced, or League specific challenges. Check in often, Challenges will be updated throughout the season. FIFA 17 fans who own an Xbox 360 and Playstation 3 will be able to enjoy this brand new feature.
GAMEPLAY
New Attacking Techniques and the Set Piece Rewrite let you Own Every Moment in FIFA 17. New options in attack including Low Driven Shots give players more ways to create chances and finish in front of goal.
From free kicks to penalties to corner kicks, inject personality and experience control from every dead ball situation.
NEW LEAGUES
The J-League and Brazilian Clubs will be available to FIFA 17 fans who play on Xbox 360 and Playstation 3. Additionally, the Norway and Netherlands International Women's Teams will be available.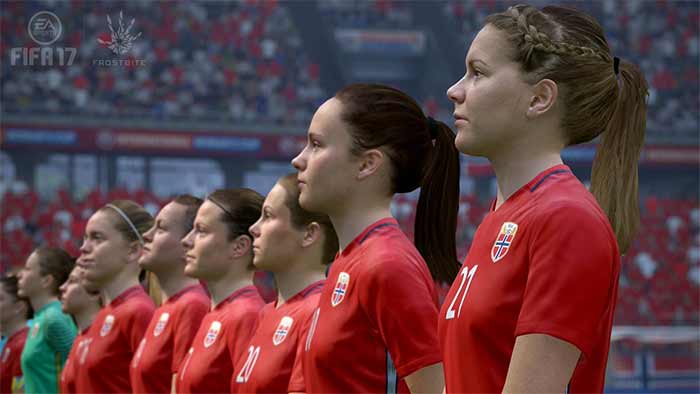 PRESENTATION
Joining West Ham's new home at the Olympic Stadium will be Middlesborough's Riverside Stadium, alongside Gamba Osaka's Suita City Football Stadium.
EA are adding brand new chants, making FIFA 17's crowds the most vibrant and dynamic to date. New additions this year include the Icelandic Clap and the Hala Madrid anthem, alongside many new high quality chants from La Liga clubs.
GAME MODES
Available game modes in FIFA 17 for Xbox 360 and PlayStation 3:

FIFA Ultimate Team including Squad Building Challenges
Career Mode
Be a Pro Player
Be a Pro Goalkeeper
Tournament Mode
Women's International Cup
Online Seasons
Online Friendlies
Skill Games
Kick-Off
Play Next Fixture
Practice Arena