The Best Players of the FIFA 17 La Liga Santander have been officially revealed. Beside each player are their work rates, weak foot ability and skill moves level. According to EA SPORTS FIFA, each player's rating is based on their performances over the last year of football in league and cup competitions. Check out the Top 20 of Spanish League players for FIFA 17 Ultimate Team.
FIFA 17 La Liga Best Players – Top 20 of Spanish League

CRISTIANO RONALDO | 94 rated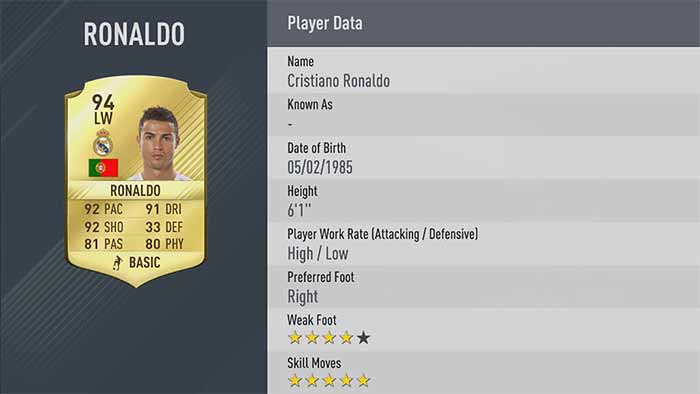 The top ranked player in FIFA 17. Cristiano Ronaldo has 92 Pace, 92 Shooting, 91 Dribbling and is as strong as an ox with 80 Physicality.

LIONEL MESSI | 93 rated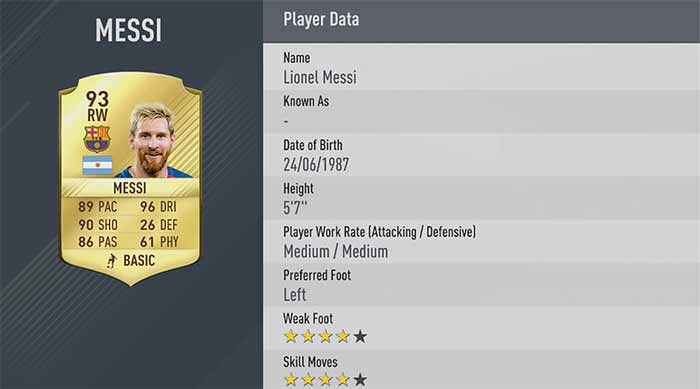 The top ranked dribbler in FIFA 17 with 96. The Barcelona right wing is the 2nd ranked player overall in FIFA 17.

NEYMAR | 92 rated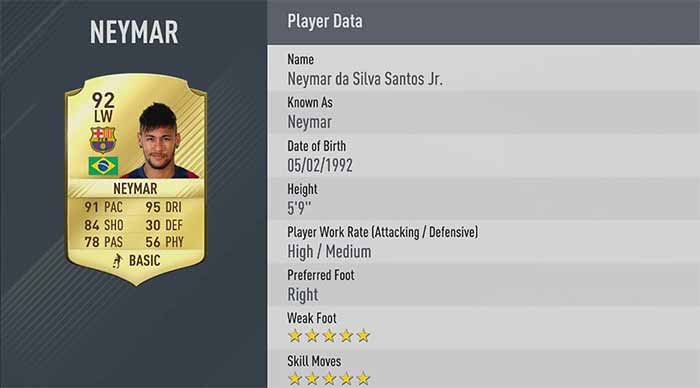 Incredibly skillful with the ability to turn a game in an instant. The Barcelona left wing has the 2nd highest Dribbling attribute in FIFA 17 with 95.

LUIS SUÁREZ | 92 rated


Such a talented player!

GARETH BALE | 89 rated


All about that Pace. The Real Madrid right winger has 94 Pace to go along with 87 Shooting and 86 Dribbling.

SÉRGIO RAMOS | 89 rated


Polished and supremely gifted, Sergio Ramos is a ball playing center back. His 87 Defending puts him among the elites of world football.

LUKA MODRIC | 89 rated


Elegant and accomplished. Luka Modrić is a center midfielder who will help you unlock any opponent's defence. 86 Passing and 89 Dribbling will give the opposition center backs a tough challenge.

ANTOINE GRIEZMANN | 88 rated


The Atletico striker will be a key addition to any line up in FIFA 17. His 87 Dribbling is one of the highest in all of FIFA 17.

PEPE | 88 rated


88 Defending and 81 Physicality tells you all you need to know about Pepe. The Real Madrid central defender is a force at the back.

DIEGO GODÍN | 88 rated


Godín continues to be the heart and soul of Atletico Madrid. His 88 Defending make him one of the best center backs in world football.

ANDRÉS INIESTA | 88 rated


90 Dribbling and 87 Passing summerise Andres Iniesta well. A dazzling center midfielder who is one of the best in the world at what he does.

TONI KROOS | 88 rated


The Real Madrid man is one of the best passers of the ball in world football. The center midfielder has 88 Passing, one of the highest in all of FIFA 17.

JAN OBLAK | 87 rated


Jan Oblak came into his own for Atletico Madrid last season. The goalkeeper boasts 90 Handling and 87 Positioning to make him a very valuable shot stopper.

IVAN RAKITIC | 87 rated


An incredibly gifted center mid who will be the work horse of any midfield. Rakitić possesses 86 Passing and 84 Shooting making him a strong choice for the middle of the park.

SERGIO BUSQUETS | 87 rated


An incredibly versatile defensive midfielder, Sergio Busquets does everything well. His 83 Defending and 81 Physicality make him an impressive support for the back-line.

KARIM BENZEMA | 87 rated


Still a destructive force in front of goal, the Real Madrid striker has the ability to win any match. His 84 Shooting and 82 Dribbling will be a nightmare for defenders to cope with.

JAMES RODRIGUEZ | 87 rated


The FIFA 17 Ambassador, James, is an incredibly well rounded option at attacking midfield. His 85 Shooting, 85 Dribbling, and 85 Passing make him a key link man.

MARCELO | 86 rated


Real Madrid's Marcelo stats are highlighted by 84 Dribbling and 82 Defending.

ALBA | 86 rated


GERARD PIQUÉ
| 86 rated
Based on their performances over the last 365 days in league and cup competitions, these were the top-rated FIFA 17 La Liga players chosen by Electronic Arts.
The Primera División, commonly known as La Liga and as La Liga Santander for sponsorship reasons, is the top professional association football division of the Spanish football league system and one of the most popular professional sports leagues in the world.