The EA SPORTS™ FIFA 18 Demo is out. It was released on September 12 for PlayStation 4, Xbox One and PC. You are able to play Kick Off mode with a selection from the world's biggest clubs and stadiums, as well as a preview of the next chapter in Alex Hunter's story, The Journey: Hunter Returns ahead of the game's official launch on September 29.
FIFA 18 Demo is Out!
Experience FIFA 18's Real Player Motion Technology, a groundbreaking animation system that unlocks a new level of realistic, responsive, and fluid gameplay. Player Personalities give some of the biggest stars in the world the distinct traits of their real-world counterparts, Team Styles let players mimic their favourite clubs' on-field tactics, and Immersive Atmospheres bring some of the football world's most famous stadiums to life during matches. Plus, enjoy the brand-new broadcast overlays for LaLiga and MLS, as well as vibrant and region-specific sights and sounds that make football's biggest stadiums come to life.
Play as one of these 12 top football clubs in Kick Off mode:
🇪🇸 Atlético de Madrid
🇦🇷 Boca Juniors
🇲🇽 Chivas
🇩🇪 FC Bayern
🇮🇹 Juventus
🇺🇸 LA Galaxy
🇬🇧 Manchester City
🇬🇧 Manchester United
🇫🇷 Paris Saint-Germain
🇪🇸 Real Madrid
🇨🇦 Toronto FC
🇯🇵 Vissel Kobe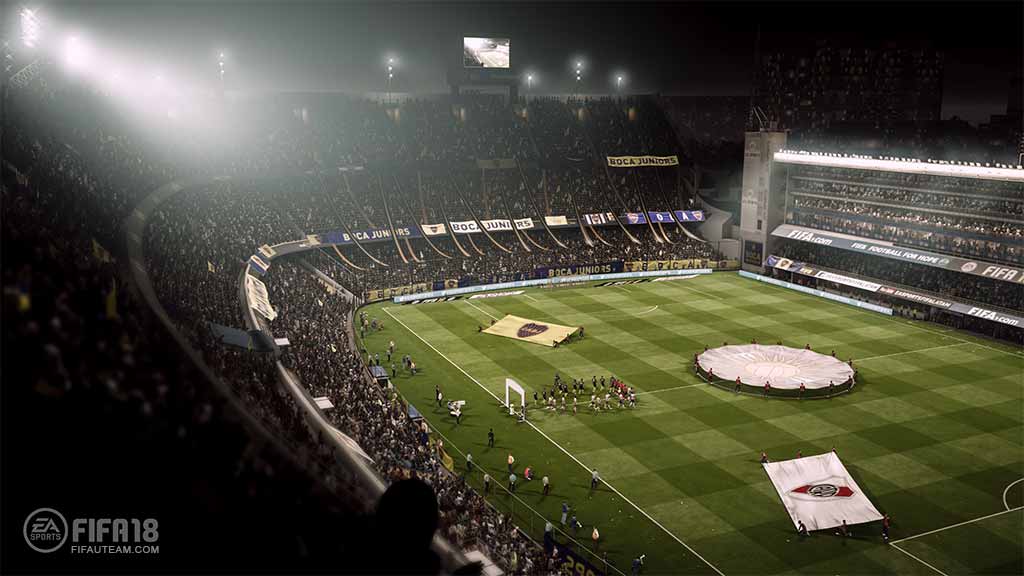 Play in one of these four stadiums from around the world. With new high-res crowds, regionalized atmospheres, player banners, on-pitch graphics, and more, FIFA 18 brings the most immersive football experiences to life.
Santiago Bernabéu
La Bombonera
StubHub Center
King Fahd Stadium
Alex Hunter is back for a second season, and rumor has it, he's on the move. Preview the the next chapter in Hunter's story in the demo as he travels the world alongside a star-studded supporting cast featuring Cristiano Ronaldo, Antoine Griezmann, Thierry Henry, and new playable characters. The future is bright, and the world is talking about Hunter – but life in football isn't always fair.