FIFA 18 Ultimate Team features several single player game modes, including FUT Draft, Seasons and the new Squad Battles. Known them all here.
FIFA 18 Ultimate Team Single Player Modes
Now that you've got your first FUT squad set up and ready to go, you can kick off your Ultimate Team™ career by playing matches in a number of single player modes. The main options for playing matches solo are Single Player Seasons, Single Player FUT Draft, Team of the Week Challenge, and the all-new Squad Battles. All modes reward Coins just for playing, and you can also earn packs and player items in certain modes. You can choose your difficulty level in every single player mode, too, making them perfect for those just starting out in FUT. Learn more about the individual modes below.
Squad Battles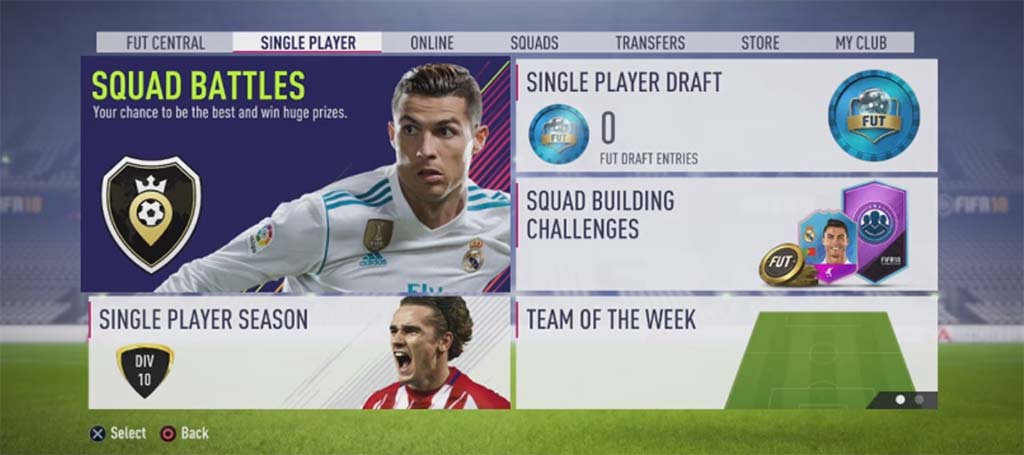 The newest single player feature in Ultimate Team gives you the opportunity to take on FUT squads from fellow players around the world—and even some of your FIFA heroes. Every week there is also a Featured Squad Battle put together by a pro footballer, club, or prominent member of the FIFA community. As with the other modes, you're able to pick the AI difficulty level—but rating and chemistry level also play a role in how tough your opponent will be.
In addition to the normal Coin rewards after each match, you'll gain points weekly that help you push up the rankings. The Squad Battles ranking progression goes from three levels each of Bronze, Silver, Gold, and Elite. After you get through those levels, all that's left is to try and work your way up the Top 100 leaderboard! At the end of a week, you'll receive generous rewards based on however far you progressed in Squad Battles during that period.
Single Player Season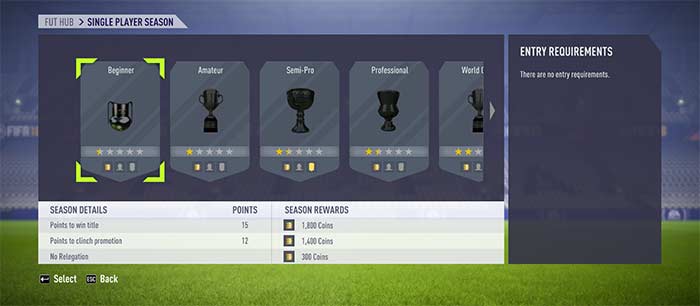 Participate in 10-match seasons at the difficulty level of your choice against real world clubs controlled by AI. The higher the difficulty level, the better your rewards will be after each match and at the end of the season.
In Seasons, you'll compete against a selection of teams in a format similar to many football leagues around the world. A win gets three points, a draw gets one point, and a loss earns zero points. Your Seasons career starts in Division 10, and you can get promoted all the way up to Division 1. Beyond just getting promotion, your main goal in each Season is to win the Division Title and receive bonus rewards. But be careful—there's also a relegation line, and failure to earn enough points in a single Season to get above it results in relegation to the Division below (except in Division 10, which is the lowest).
Single Player FUT Draft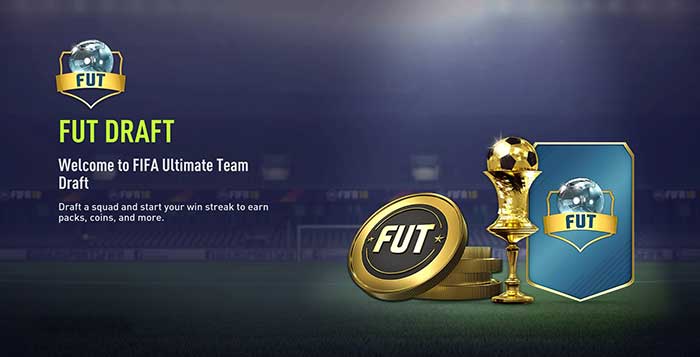 In this unique mode, you pay an entry fee (FUT coins or FIFA points) and pick a FUT squad from scratch by "drafting" your choice of players. You'll be presented with five players to choose from for each squad spot, and it's up to you to decide how you want to build your squad.
Next, take your FUT Draft squad through a four-match tournament in which the prizes get better the further you get in the competition. You're guaranteed to receive prizes no matter when you exit, but the quality of your reward will increase with every win.
Team of the Week Challenge
IThe FIFA 18 Team of the Week is a hand-picked FUT squad comprised of some of the best-performing players in world football over the previous week. Challenge the Team of the Week in a match to earn rewards based on your selected difficulty and the outcome of the match. Team of the Week players also get special live FUT items that can be found in packs that week and added to your squad.