FIFA 19 is out and the Ones to Watch items too. Find out who were the players who got a very special card.
FIFA 19 Ones to Watch Items are Out!
New clubs, new superstars, new season. Add these 23 sensational summer transfers to your FUT squad as special dynamic player items that get a permanent ratings boost throughout the season whenever they perform well for their new clubs.
An incredible summer of movement in the biggest leagues of world football makes the FIFA 19 Ultimate Team Ones To Watch (OTW) event the most anticipated yet. Cristiano Ronaldo, Riyad Mahrez and Leon Goretzka are just some of the stars that have changed clubs, starting off FUT 19 in style.
These are players that completed the highest profile and most promising transfers during the Summer transfer window. Each item's dynamic ratings will increase based on the players' real-world performances throughout the season:
85 🇧🇷 GK: Alisson (Liverpool)
84 🇵🇹 RB: João Cancelo (Juventus)
81 🇭🇷 RB: Šime Vrsaljko (Inter)
84 🇬🇷 CB: Sokratis (Arsenal)
81 🇸🇳 CB: Salif Sané (FC Schalke 04)
85 🇧🇪 CM: Radja Nainggolan (Inter)
84 🇮🇹 CM: Jorginho (Chelsea)
83 🇬🇳 CM: Naby Keïta (Liverpool)
83 🇩🇪 CM: Leon Goretzka (FC Bayern)
82 🇧🇪 CM: Axel Witsel (Borussia Dortmund)
79 🇷🇺 CM: Alexandr Golovin (AS Monaco)
82 🇧🇷 CDM: Fred (Manchester United)
85 🇩🇿 RM: Riyad Mahrez (Manchester City)
83 🇧🇷 RW: Malcom (FC Barcelona)
77 🇧🇷 LW: Richarlison (Everton)
83 🇫🇷 LM: Thomas Lemar (Atlético de Madrid)
83 🇳🇱 LM: Quincy Promes (Sevilla FC)
82 🇧🇷 LM: Felipe Anderson (West Ham United)
94 🇵🇹 ST: Cristiano Ronaldo (Juventus)
88 🇦🇷 ST: Gonzalo Higuaín (AC Milan)
81 🇷🇺 ST: Fedor Smolov (Lokomotiv Moskva)
80 🇩🇴 ST: Mariano (Real Madrid)
75 🇫🇷 ST: Moussa Dembélé (Olympique Lyonnais)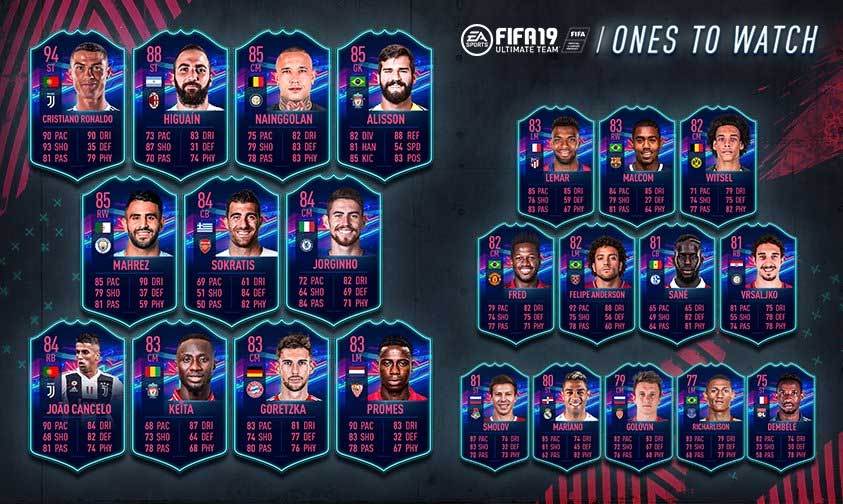 OTW items will be upgraded based on TOTW (until the end of the 2018-19 season), MOTM, Hero, Record Breaker and Team Of The Tournament selections. OTW items will NOT be upgraded based on POTM, Award Winner, SBC, or other in game event selection.
If a OTW player transfers/goes on loan during the season the OTW item keeps the player's latest in-form until the player receives an IF at their new club. At that point the OTW item will be updated with the player's new club and latest IF item. If a OTW player transfers/goes on loan to a club not in FUT19, his OTW player type will remain at the club he was previously at and his OTW item will not receive any further upgrades. The player's position on his Ones To Watch item type will not change. He will however continue to receive any attribute upgrades from that and future applicable in-forms.