The first event of the season is out! Find out how the Ultimate Scream works and who makes part of the FIFA 19 Ultimate Scream Team.
FIFA 19 Ultimate Scream Team
Ultimate Scream is back in FIFA 19 Ultimate Team, and a squad of 21 shapeshifting beasts has been let loose in FUT. These beasts have been released in the form of special player items that will have a boost throughout the FUT season to two of their six stat categories. These Ultimate Scream players are unlike any other in FIFA 19 Ultimate Team; not only will each player have two of their six attributes boosted at all times, but the stats that get boosted will change throughout the season.
When these boosts will occur, how often they occur, and which two of the six attributes are shifted each time is a complete mystery. And throughout the event, look out for 2 Ultimate Scream players available only through SBCs and 1 Ultimate Scream player available only through Objectives.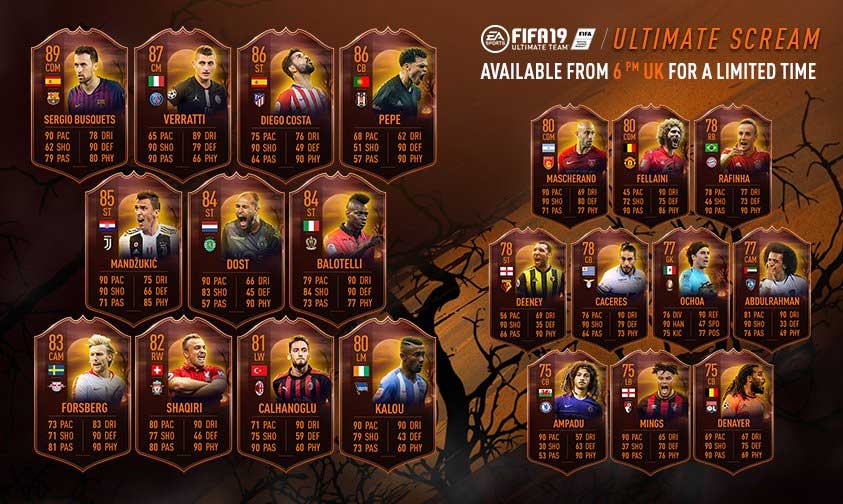 Here are the players who got a FIFA 19 Ultimate Scream item:
77 🇲🇽 GK: Guillermo Ochoa
The Mexican shot-stopper has loads of experience from his years in Europe, where he now plies his trade with Belgium's Standard Liege. But it's Ochoa's time with his national team that truly haunts opponents; in his 13 years with the national team, he's been included on four World Cup squads and earned three Gold Cup winner's medals.
78 🇧🇷 RB: Rafinha
A mainstay in Bayern Munich's constant dominance of the Bundesliga, Rafinha brings everything that a modern fullback needs. He can fight off opposing wingers with his strength and tackling ability, but the Brazilian becomes truly frightening when running down the wing to support his teammates or cutting inside to take a powerful shot for himself.
86 🇵🇹 CB: Pepe
The Portuguese hard man's name alone can strike fear into the heart of players and fans the world over, thanks to a decorated career filled with vicious tackles, aerial domination, and a relentless drive to get the ball as far away from his opponents as possible. If you want a balanced defender that is sure to torment, Pepe is for you.
78 🇺🇾 CB: Martín Cáceres
Uruguayan defender Cáceres is well-known all over Europe, having spent time at nearly every major league on the continent throughout his career. His strength and height make him an intimidating presence on the pitch, but Cáceres is also comfortable enough on the ball to take on opponents when kicking off attacks.
75 🇧🇪 CB: Jason Denayer
Talented young center back Denayer recently completed a permanent move to Lyon, where his aerial ability makes him an active threat when defending his own goal or helping his team in the opposing box on set pieces. The Belgian's discipline and focus are also a rarity for a player his age; opposing forwards often learn very quickly that he won't back down from a challenge.
75 🏴󠁧󠁢󠁷󠁬󠁳󠁿 CB: Ethan Ampadu
The young Welsh international has taken massive strides in recent seasons, making the leap from Exeter City to Chelsea's first team in 2017. Already composed and mature in central defense despite his age, Ampadu truly makes opponents panic when they see him on the ball. Capable of beating players with a crafty dribble or a pinpoint pass, Ampadu is a unique and frighteningly-talented player.
75 🏴󠁧󠁢󠁥󠁮󠁧󠁿 LB: Tyrone Mings
Bournemouth left-back Mings is versatile on both sides of the ball, a handful for opposing wingers and right-backs. Whether reading an opponent perfectly and intercepting a dangerous pass or moving up the pitch with the ball at his feet to kickstart an attack, Mings forces defenders to always keep an eye on him — ignore him for just a second and he'll make you regret it.
89 🇪🇸 CDM: Sergio Busquets
The big Spaniard has been a stalwart for Barcelona for many trophy-laden years, all of which he has spent tackling, intercepting, and generally terrorizing opponents in LaLiga and the Champions League. His physical presence combined with his experience make him a ghastly figure for anyone to face in midfield.
80 🇦🇷 CDM: Javier Mascherano
Known for intense tackling and a chilling disposition, the Argentine enforcer spent most of his early career in midfield before sliding back during his many years at Barcelona. He's since moved back to midfield, and his experience as a purely defensive player has made the Argentine a better and more well-rounded player.
87 🇮🇹 CM: Marco Verratti
The Italian midfield maestro commands respect on the pitch with his steely demeanor, slick passing, and artful dribbling. Give the man an inch of space and he'll turn the calmest of pitches into a scene worthy of a horror film.
80 🇧🇪 CM: Marouane Fellaini
The big Belgian midfielder has built his career upon kindling — and rising from — the flames of chaos. Barreling into the box to get his head on a cross or diving into a vicious tackle to protect his defenders, Fellaini rarely does what anybody would expect on the pitch.
83 🇸🇪 CAM: Emil Forsberg
The quick, creative Swedish playmaker has enough technique to haunt opponents' dreams every time he touches the ball, but his most unnerving quality is his versatility. Whether on the wing, behind the striker, or in an even deeper role, Forsberg pops up with the perfect pass, touch, or shot no matter where he plays.
77 🇦🇪 CAM: Omar Abdulrahman
A versatile attacking midfielder who loves to torment defenders no matter where he's deployed on the pitch, Abdulrahman's technique is almost supernatural. The UAE international dribbles past defenders like a phantom, and he has more than enough ability to turn just about any chance into a goal, whether through shooting it himself or creating something for a teammate.
82 🇨🇭 RW: Xherdan Shaqiri
Short and stocky with a low center of gravity, Swiss international Shaqiri is the ideal example of a player who uses every ounce of skill and talent he has to find success. Able to play on the wing or in a central attacking role, Shaqiri literally pops up anywhere and everywhere on the pitch, often petrifying defenders who are unable to react quickly enough. While his left foot is about as dangerous as it gets, Shaqiri uses both feet to blast shots at goal, fire set pieces into the box, and bewilder defenders that fall for his tricks.
80 🇨🇮 LM: Salomon Kalou
Ivorian striker Kalou manages to find the net everywhere he goes, including a very successful six-year stint at Chelsea. Effective at finishing chances for himself as well as creating for teammates, he's an attacking menace no defender wants to face.
81 🇹🇷 LW: Hakan Çalhanoğlu
An absolute monster of a free kick taker, few players in world football are as dangerous, clever, and creative with a dead ball as Çalhanoglu is. Whether whipping in a cross from deep to a teammate or firing in a rocket directly on goal, the Turkish midfielder sends chills down opponents' spines whenever he steps up to a set piece.
86 🇪🇸 ST: Diego Costa
Dedicated to the art of poking and prodding until his opponent snaps and gets himself in trouble, Costa is football's cheerful, mischievous poltergeist. Whether he's using his massive size to body defenders off the ball or popping up out of nowhere to poach a goal, the hulking Spanish striker lives to frustrate his opponents.
85 🇭🇷 ST: Mario Mandžukić
Gifted with brains and brawn in equal parts, the Croatian striker wears many masks. If he needs to play the role of target man, his physicality and height let him stand toe-to-toe with even the most monstrous defenders. If he needs to be a poacher, he's ready to hunt the ball down no matter how many opponents are in his way.
84 🇳🇱 ST: Bas Dost
A giant forward who towers over most defenders, the Dutchman was one of the most prolific strikers in Europe over the past two seasons—and his reign of terror seems far from over.
84 🇮🇹 ST: Mario Balotelli
Having played all over Europe at a young age, mercurial striker Balotelli is as talented as he is mischievous. The Italian can score even the most impossible-seeming shots, and as his focus and maturity have grown in recent seasons, he's started to shed the roguish persona that defined his early career. Instead, Balotelli has put all his energy into scoring goals, inducing nightmares in Ligue 1 defenders.
78 🏴󠁧󠁢󠁥󠁮󠁧󠁿 ST: Troy Deeney
Having cut his teeth in the lower divisions of English football, Deeney plays every match with an intense ferocity that keeps opponents at arm's length. He put in hard work to help Watford get to — and stay in — the Premier League. The stocky English forward channels these years of hard work and experience when he steps onto the pitch, scaring anyone who stands in his way.
FIFA 19 Ultimate Scream FAQ
Q: What makes Ultimate Scream items special?
A: Ultimate Scream players will have a unique item shell and a +1 to their overall rating. But this year, each player will always have two attributes boosted to a minimum of 90.
Q: How does the boost work?
A: All 21 Ultimate Scream players will have two attributes boosted to 90 at the launch of Ultimate Scream. When a shift occurs, two different attributes will be boosted to a minimum of 90.
Q: How long are Ultimate Scream players in packs for?
A: All 21 Ultimate Scream players are in packs from October 19 at 10am PDT until November 1 at 10am PDT.
Q: Are Ultimate Scream Players tradeable?
A: Yes. You can trade the 21 Ultimate Scream players that you find in packs. You can also potentially acquire them from the Transfer Market, starting on October 19.
Q: When will Ultimate Scream items have their attribute boosts changed?
A: These changes will occur throughout the year at different times.
Q: How long will it take for the attribute boost to be applied to a player item when a shift occurs?
A: Dynamic Player Items can take a few hours to update in-game.