FIFA 19 Winter Refresh is one of the biggest content updates of the entire year in FIFA Ultimate Team 19! New versions of ICONS, new Ones to Watch players, upgraded ratings for over 130 players, new players in League SBC rewards plus repeatable and non-repeatable SBCs, New Player SBCs, Themed Daily and Weekly Objectives and more!
FUT 19 Prime ICON Moments
A brand new item that celebrates a special moment in an ICON's career which propelled them to the top of the footballing world! Thirty Four select ICONS will have a special Prime ICON Moments version released during Winter Refresh, with more select Prime ICON Moments to follow during the course of FUT 19.
The Prime ICON Moment item represents the highest rated version of an ICON in FUT 19 with ratings upgrades inspired by their Prime ICON moment.
This is the list of released Moment items:
01 94 🇩🇪 CM: Lothar Matthäus
02 94 🇯🇪 RW: George Best
03 94 🇫🇷 ST: Thierry Henry
04 93 🇮🇹 CB: Fabio Cannavaro
05 93 🇮🇹 LW: Alessandro Del Piero
06 94 🇮🇹 CAM: Roberto Baggio
07 94 🇳🇱 ST: Marco Van Basten
08 93 🇳🇱 ST: Ruud Van Nistelrooy
09 93 🇳🇱 CF: Dennis Bergkamp
10 93 🇪🇸 CB: Carles Puyol
11 93 🇩🇰 GK: Peter Schmeichel
12 92 🇫🇷 CB: Laurent Blanc
13 92 🇫🇷 CB: Marcel Desailly
14 92 🏴󠁧󠁢󠁥󠁮󠁧󠁿 CM: Steven Gerrard
15 92 🇳🇱 ST: Patrick Kluivert
16 92 🇩🇰 CAM: Michael Laudrup
17 92 🇫🇷 LM: Robert Pirès
18 92 🇳🇱 CAM: Clarence Seedorf
19 92 🏴󠁧󠁢󠁥󠁮󠁧󠁿 ST: Alan Shearer
20 91 🇵🇹 CM: Deco
21 91 🇲🇽 ST: Luís Hernández
22 91 🇫🇷 CDM: Emmanuel Petit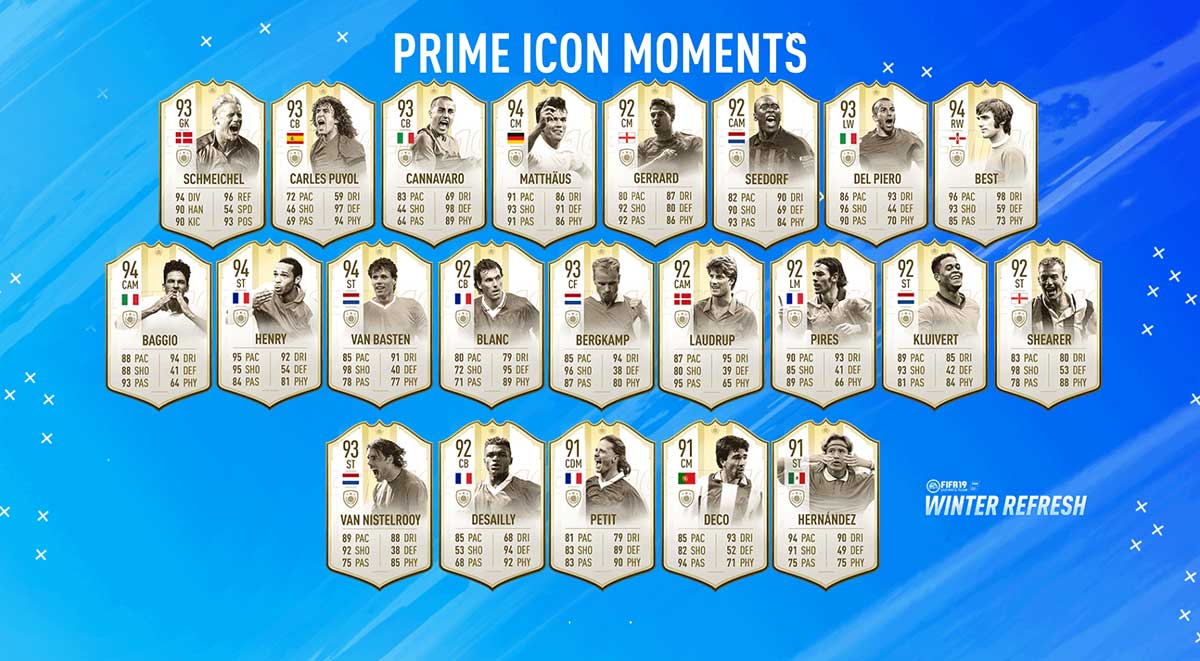 23 99 🇧🇷 CAM: Pelé
24 98 🇦🇷 CAM: Diego Maradona
25 95 🇷🇺 GK: Lev Yashin
26 95 🇳🇱 CF: Johan Cruyff
27 95 🇮🇹 CB: Paolo Maldini
28 94 🇳🇱 CF: Ruud Gullit
29 94 🇵🇹 CF: Eusébio
30 93 🇵🇹 RW: Luís Figo
31 93 🏴󠁧󠁢󠁥󠁮󠁧󠁿 ST: Gary Lineker
32 93 🏴󠁧󠁢󠁥󠁮󠁧󠁿 CB: Bobby Moore
33 93 🏴󠁧󠁢󠁷󠁬󠁳󠁿 LM: Ryan Giggs
34 93 🇦🇷 RB: Javier Zanetti
35 92 🏴󠁧󠁢󠁥󠁮󠁧󠁿 CM: Paul Scholes
36 92 🇧🇷 CAM: Sócrates
37 92 🇫🇷 CM: Patrick Vieira
38 91 🇮🇹 ST: Flippo Inzaghi
39 91 🇫🇮 CAM: Jari Litmanen
40 91 🇩🇪 GK: Jens Lehmann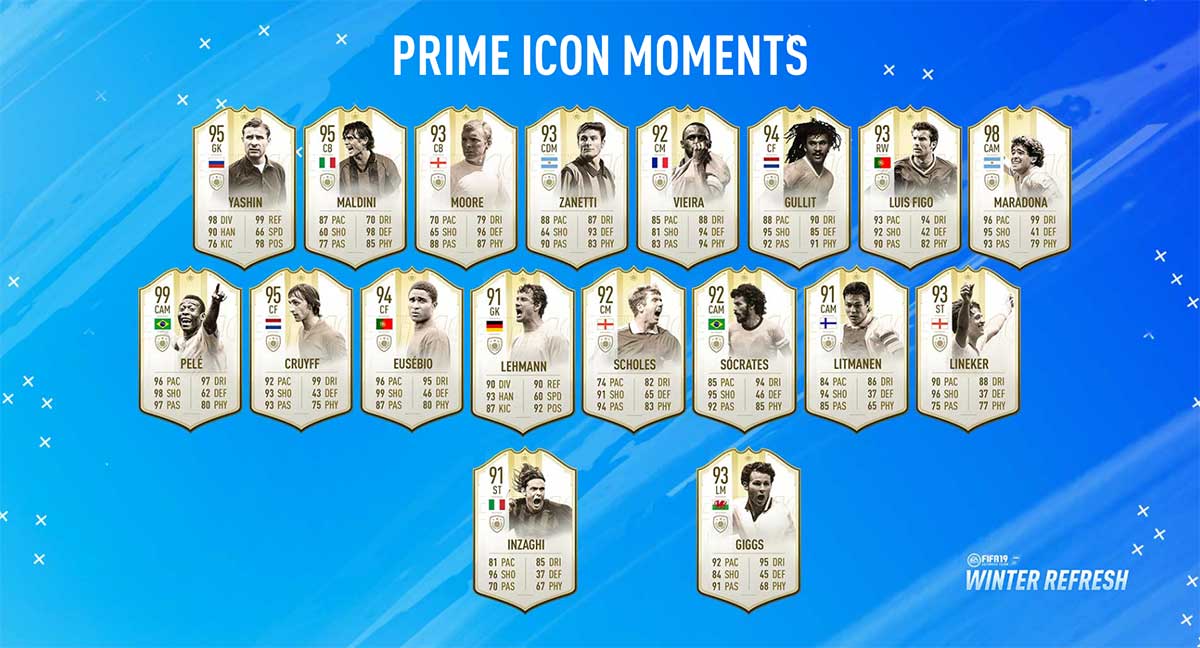 Ones to Watch – Winter Edition
The Winter Transfer Window's top transfers will be released in FUT 19 as dynamic items. The Ones to Watch items will automatically update whenever the player gets a qualifying In-Form item (Team of the Week, Man of the Match, Team of the Tournament, Hero and Record Breaker).
This is the list of OTW Winter Edition items:
86 🇧🇷 CB: Naldo (AS Monaco)
80 🏴󠁧󠁢󠁥󠁮󠁧󠁿 RB: Nathaniel Clyne (Bournemouth)
86 🇪🇸 CM: Cesc Fàbregas (AS Monaco)
81 🇬🇭 CM: Kevin-Prince Boateng (FC Barcelona)
79 🇪🇸 CM: Denis Suárez (Arsenal)
85 🇯🇵 CAM: Shinji Kagawa (Beşiktaş)
80 🇵🇾 CAM: Miguel Almirón (Newcastle United)
80 🇩🇿 CAM: Ryad Boudebouz (RC Celta de Vigo)
80 🇯🇵 LM: Takashi Inui (Deportivo Alavés)
79 🇨🇦 LM: Alphonso Davies (Bayern München)
79 🇳🇱 LM: Ryan Babel (Fulham)
84 🇧🇪 ST: Michy Batshuayi (Crystal Palace)
83 🇮🇹 ST: Mario Balotelli (Olympique Marseille)
83 🇪🇸 ST: Morata (Atlético Madrid)
83 🇨🇴 ST: Luis Muriel (Fiorentina)
82 🇮🇹 ST: Sebastian Giovinco (Al Hilal)
77 🇪🇸 ST: Munir (Sevilla FC)
75 🇨🇳 ST: Wu Lei (RCD Espanyol)
70 🇵🇱 ST: Krzysztof Piątek (AC Milan)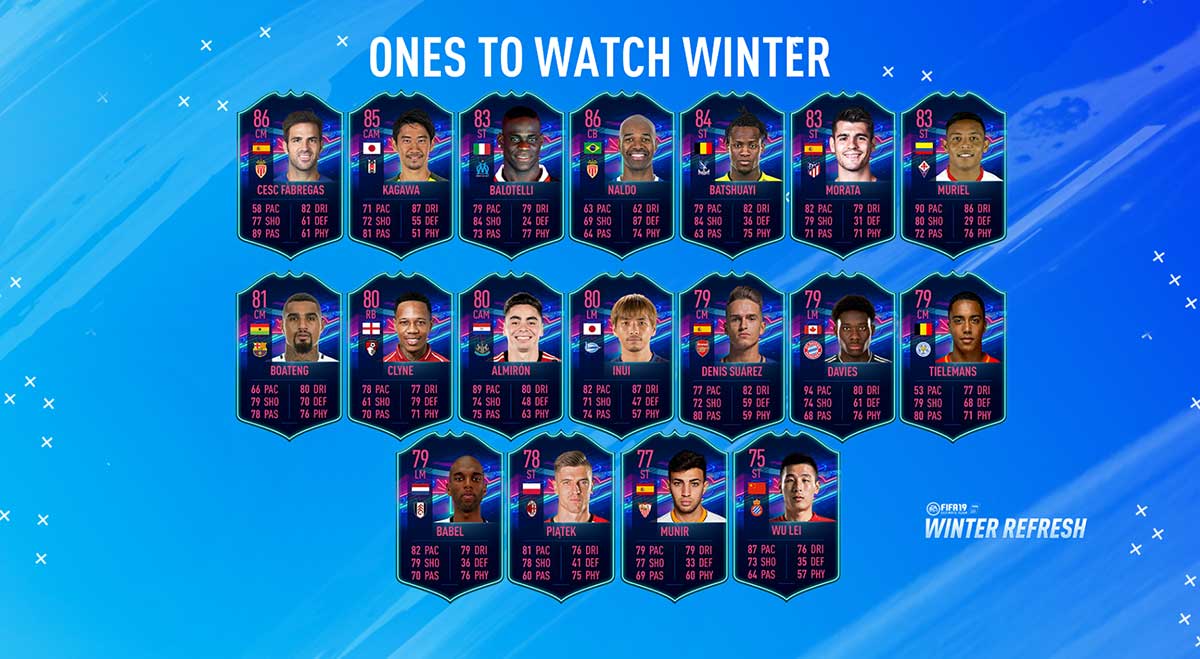 Ratings Refresh
From Feb 15 through Feb 24, over a hundred of the most deserving FUT 19 player items will have their ratings permanently updated to reflect their outstanding form in the first half of the season. Only new base player items found in packs will have updated ratings, but certain existing in-form items will have their ratings automatically updated.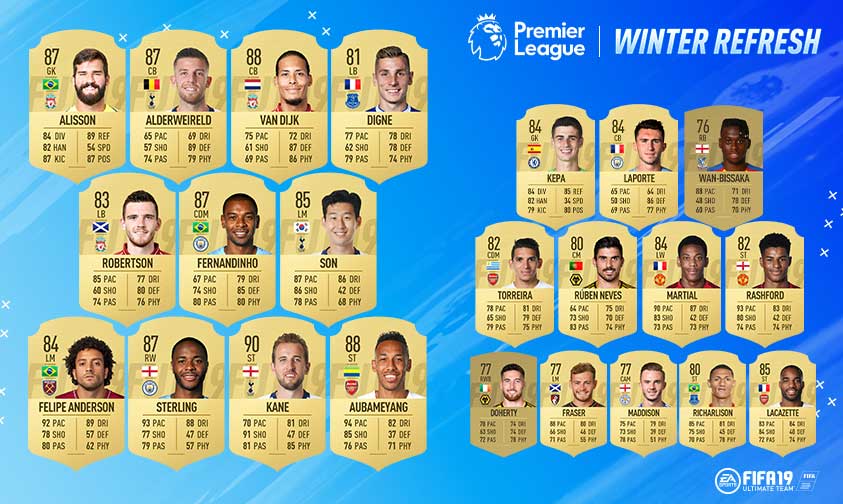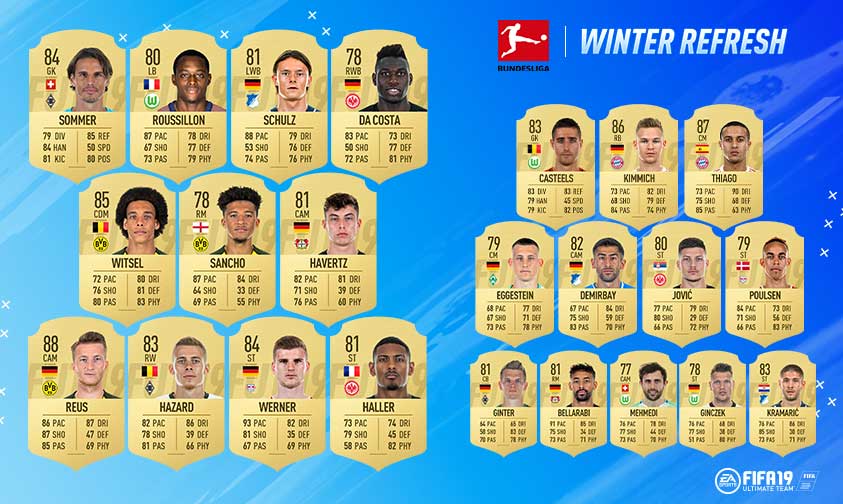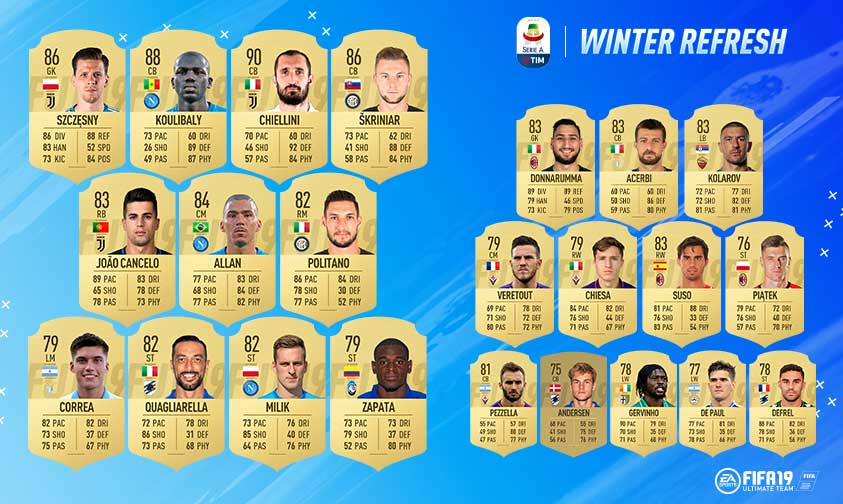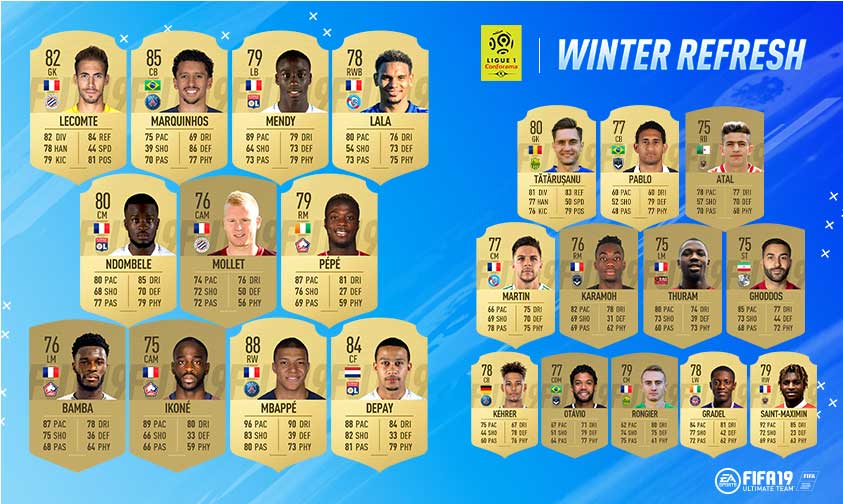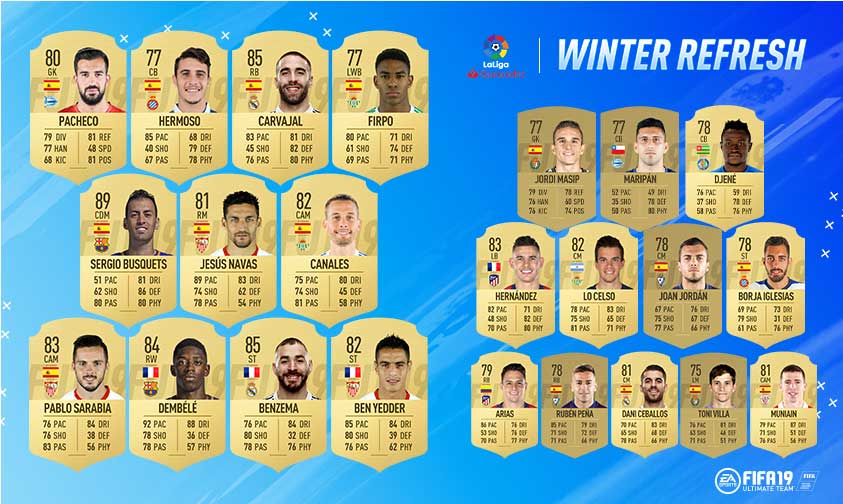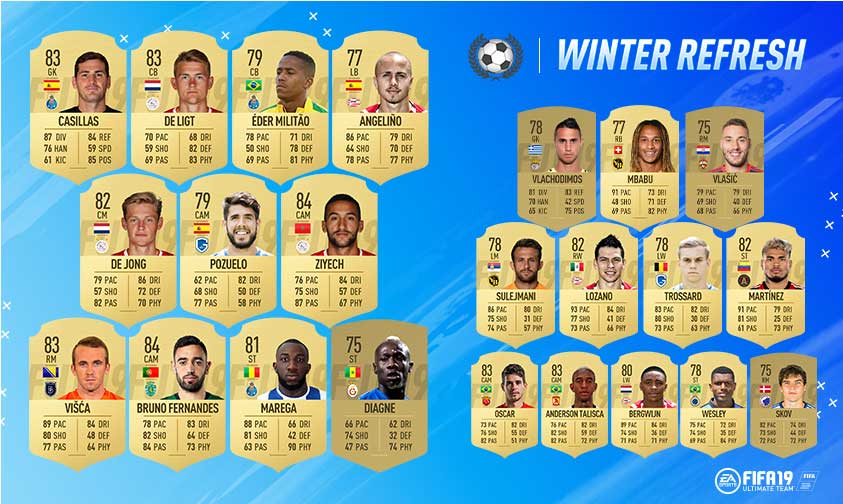 League Squad Building Challenges Update
From Feb 15 through Feb 24, every League SBC will be updated with the addition of a new player to the Player Pick reward granted for completing the group SBC. The Premier League and the EFL Championship will get the first update on Feb 15, with Manuel Lanzini (PL) and Leroy Fer (EFL) added as rewards. Other leagues will follow throughout Winter Refresh.
Additional new player pick rewards will be added to select League SBCs after Winter Refresh through the course of FUT 19.
New Players plus Weak Foot & Skill Move Updates
Getting upgraded to 5* Skill Moves or Weak Foot is a big deal and as part of Winter Refresh over 500 players have had one or both attributes updated. In addition to this, just over 100 players have been added to FUT, some transferring back from leagues or clubs not available in FIFA and some making their first appearance in the game. Visit the FIFA Forum to see full lists.
Winter Refresh Objectives Rewards
During Winter Refresh, you will be able to play through objectives to get unique pack rewards including a Guaranteed Ones To Watch Player (Untradeable), a Prime ICON Moment Player (7-game Loan) and League specific Packs (Untradeable).
Brand New Player Squad Building Challenges
During Winter Refresh, new UEFA Champions League (UCL) and UEFA Europa League (UEL) Player SBCs will debut inspired by memorable moments and performances during the respective competitions. One UCL Moments player and One UEL Moments player will be released during the course of Winter Refresh. In addition, there will be two new Flashback Player SBCs released during the course of Winter Refresh.
Catch up kits for EA Access Members
All EA Access members will receive 5 of the most popular kits so far in FUT 19. Simply log into FUT during Winter Refresh to claim them.