Online gaming has never been so popular and this holds for the entire range of activity in this genre. Whether it may be those who spend hours on Fortnite from Epic Games, exercising with the Nintendo Switch; everyone is spending more time in the gaming world. When it comes to video games, none are as famous as the FIFA series, and EA Sports have recently released their biggest promo of the series. Team of the Year.
So, if you're an avid FIFA Ultimate Team player, we have the low down on which cards are worth their millions.
Lionel Messi
We start with arguably the goat of FIFA 20, and one of only three players in the promo to receive a 99-overall rating. Lionel Messi has been a hit on this year's instalment of the popular game series, and this is very much to do with his fantastic dribbling ability.
Messi's TOTY card sees a +3 applied to his overall from his other special cards, while it's a much-improved card compared to his gold rare. The 99 acceleration, 92 sprint speed and increased shot power stand out as significant boosts. However, you will have to pay over 4 million coins to buy TOTY Messi from the market.
Frenkie de Jong
Next up on our list is Messi's Barcelona teammate Frenkie de Jong. The central midfielder has proved popular amongst FUT players since FIFA 20's release and was extinct for long periods in the early days. De Jong's FUT 20 career with Barca kicked off with an 85 gold rarer, with upgrade cards of 86 appearing since.
So, as you will expect, the Dutchman's TOTY card, which has an overall of 94, sees significant improvement across the board. The most significant boosts concern de Jong's shooting, which makes this card a must-have in many respects. The Barca man's shooting stats held his card back in its previous versions, but now de Jong could be slotted in at CDM, CM and CAM with ease. And, he's relatively cheap at just over 1.5m.
Sadio Mané
Sadio Mané, the African Footballer of the Year, is also one of the most sought-after players on FIFA 20. With the Premier League being ever popular with Ultimate Teamers, it's no surprise to see the Senegalese's TOTY card proving to be a big hit as well. This 97 version of Mané happens to be his seventh card since release, and it's comfortably the best.
In terms of improvements, EA have done a fantastic job of ensuring there are well-rounded boosts to the card. The plusses in shooting, dribbling and physicality are most noticeable for sure, but when you combine this with Mané's lightning-fast acceleration and sprint speed, the card becomes unstoppable. At just over 2 million coins on console, he's a reasonable price and will take your Weekend League record to the next level.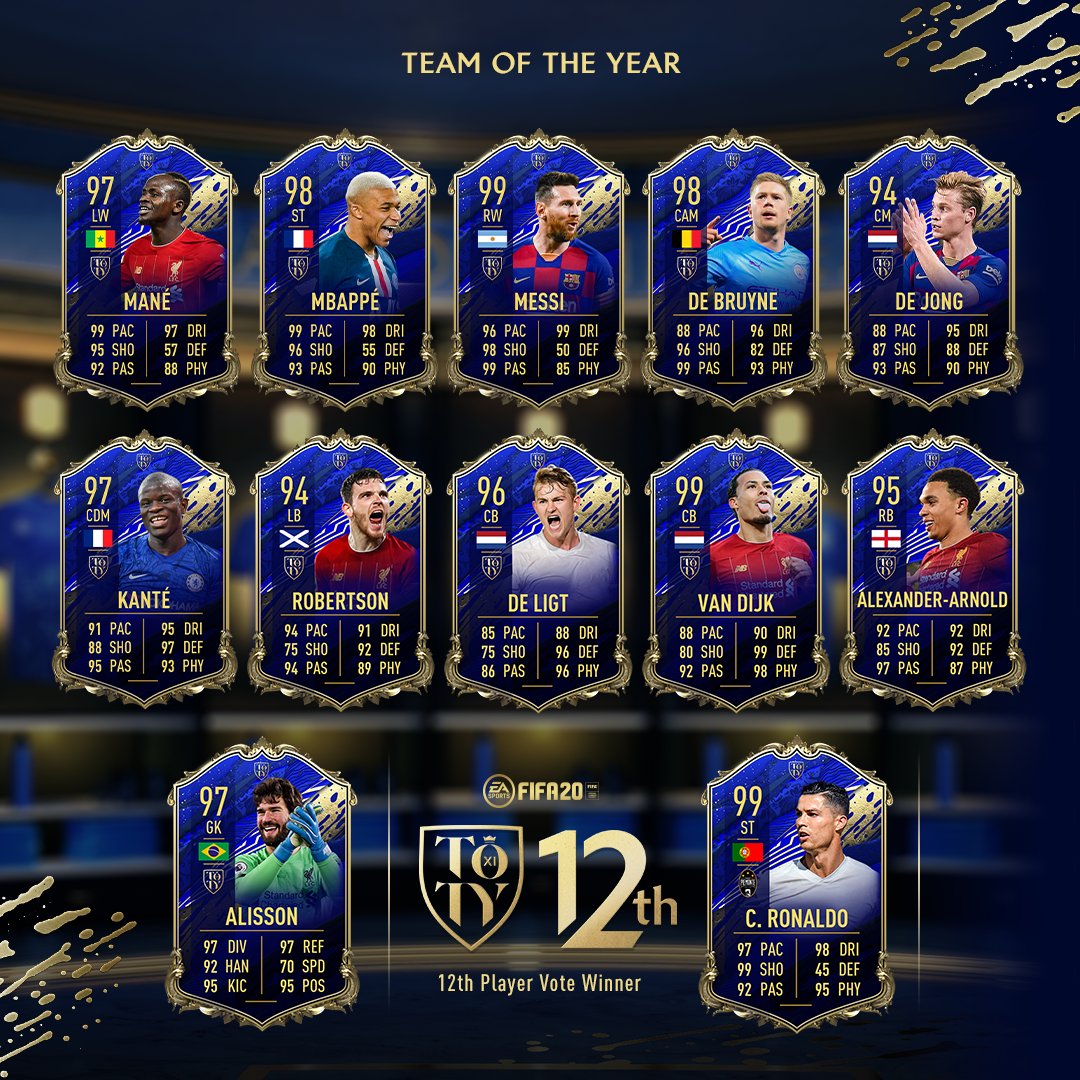 While there are some other great TOTY cards in what has been an exciting promo in FIFA 20 by EA Sports, the three players mentioned above are must-buys. Messi the pick of the bunch, and if you can afford him, you should grab him now.