FIFA 20 Winter Refresh is one of the biggest content updates of the entire year in FIFA Ultimate Team 20! New versions of ICONS, a completely new squad, upgraded ratings, new players in League SBC and League Objectives rewards plus skills and weak foot updates.
FIFA 20 Winter Refresh
Join us for one of the biggest content updates of the entire year in FIFA 20 Ultimate Team! Brand new ICON Moments, a new Winter Refresh Team, upgraded ratings for the 50 Most Improved players, additional League SBC player rewards, new Upgradeable League Objective Player Rewards, SBCs, and more!
FUT 20 ICON Moments
A brand new item for all 89 ICONs that celebrates a special moment in their career which propelled them to the top of the footballing world! The ICON Moment item represents the highest-rated version of an ICON in FUT 20 with brand new ratings upgrades inspired by their ICON moment.
The Winter Refresh Team
Introducing the all-new Winter Refresh Team. With real-world clubs making signings to help improve their squads, now is the time for you to do the same. Each Winter Refresh team player will receive a uniquely tailored permanent upgrade designed to help improve your FUT club by filling either a position gap, aiding team building, adding depth, accessibility or new options within their league or nation in FUT. The Winter Refresh team will be in packs for a limited time.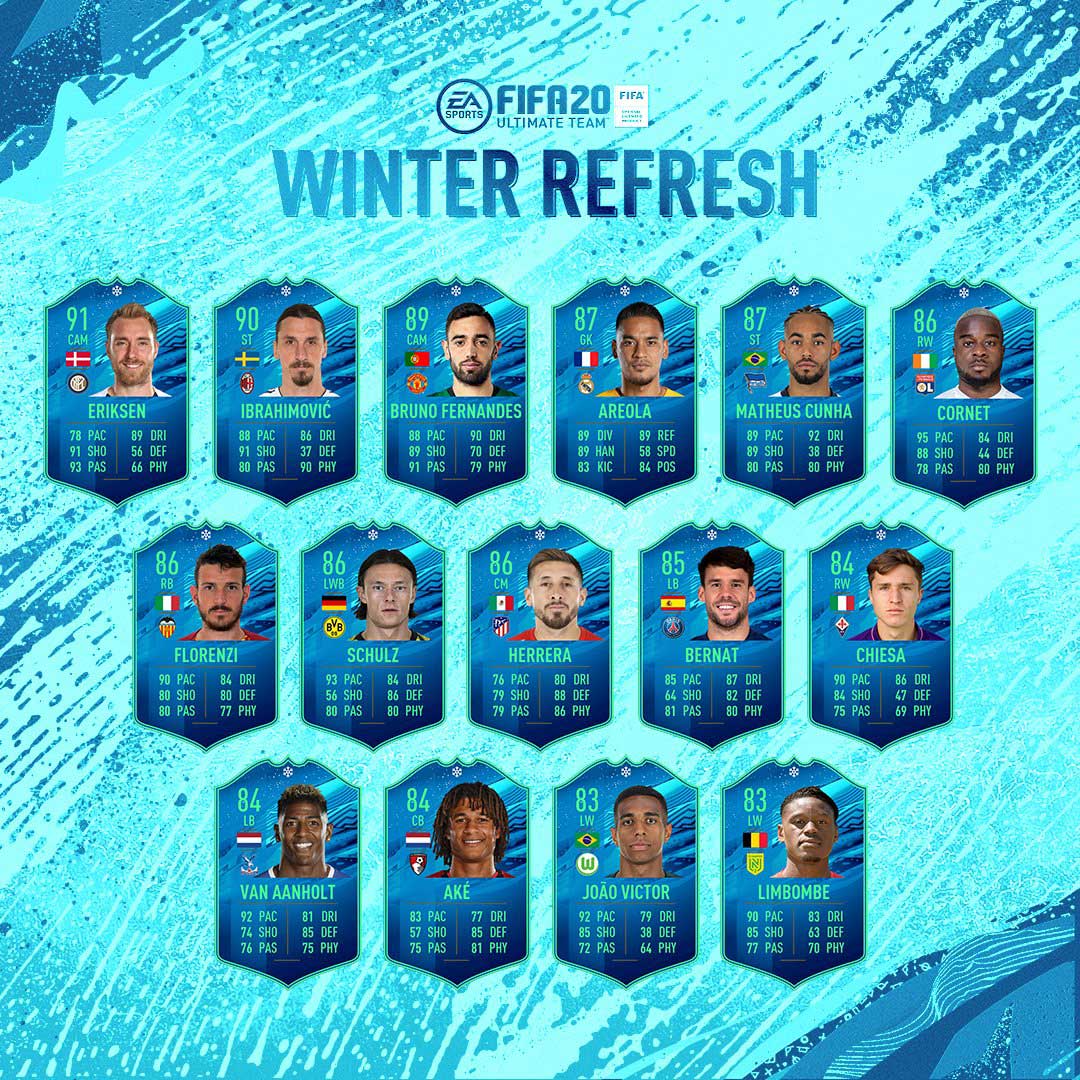 87 🇫🇷 GK: Alphonse Areola (Real Madrid)
87 🇮🇹 RB: Alessandro Florenzi (Valencia CF)
84 🇳🇱 CB: Nathan Aké (Bournemouth)
85 🇪🇸 LB: Bernat (Paris Saint-Germain)
84 🇳🇱 LB: Patrick van Aanholt (Crystal Palace)
86 🇩🇪 LWB: Nico Schulz (Borussia Dortmund)
86 🇲🇽 CM: Héctor Herrera (Atlético Madrid)
91 🇩🇰 CAM: Christian Eriksen (Inter)
89 🇵🇹 CAM: Bruno Fernandes (Manchester United)
86 🇨🇮 RW: Maxwel Cornet (Olympique Lyonnais)
84 🇮🇹 RW: Federico Chiesa (Fiorentina)
87 🇮🇹 LM: Simone Verdi (Torino)
83 🇧🇪 LW: Anthony Limbombe (FC Nantes)
83 🇧🇷 LW: João Victor (VfL Wolfsburg)
90 🇸🇪 ST: Zlatan Ibrahimovic (Milan)
87 🇧🇷 ST: Matheus Cunha (Hertha BSC)

League Squad Building Challenges Update
During Winter Refresh every League Objective Player will be updated with a new upgraded version to work towards. This will be the final League Objective Player Upgrade the player will receive during FUT20. Remember, you must use your original League Player Item in order to obtain the next upgraded version of a League Player.
The Top 50 Most Improved Player Upgrades
The Top 50 Most Improved players in FUT will have their ratings permanently updated to reflect their outstanding form in the first half of the season. Only new base player items found in packs will have updated ratings, but certain existing in-form items will have their ratings automatically updated.
New FUT Player Additions
Over 100 players will be added to FUT over the course of Winter Refresh with some transferring back from leagues or clubs not available in FIFA and some making their first appearance in the game.