Manage every moment of your team's journey to the top of the game with new depth in matches, training, and transfers in FIFA 21 Career Mode
FIFA 21 Career Mode Features
FIFA 21 Career Mode gives you more control, freedom of choice, depth, diversity of play and authenticity.Players have the chance to experience more depth in matches, transfers and training, while also improving accessibility to Career Mode.
Interactive Match Simulation
A whole new way to play out your season. Jump in and out of gameplay during matches to control the outcome of the match, change the course of a game by controlling key moments like penalties and free kicks, and make changes directly from the sim as you monitor your players' performance levels and the match stats.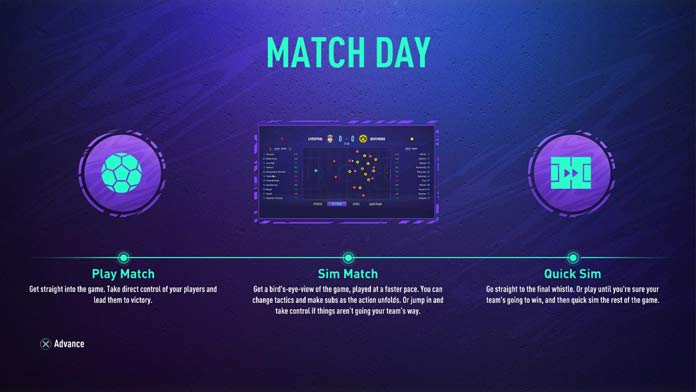 Interactive Match Sim is a new way to experience matches in FIFA 21 Career Mode. You can now take a step back from the traditional gameplay and focus on the bigger picture. Interactive Match Sim enables managers to adopt a more tactical and faster-pace approach to matches, making all-important decisions from the touchline and watching their impact on the pitch from a top-down view. In the Interactive Match Sim, the match plays out at twice the speed of regular gameplay. Out of play match moments are automatically skipped, ensuring that you're always looking at meaningful events.
Instantly Jump In Or Out
The Interactive Match Sim allows you to jump straight into action at any given moment, giving you a traditional gameplay experience. Whether you only like to intervene when your team goes down, or you prefer to jump in whenever your team is within shooting range, the Interactive Match Sim allows players to experience matches exactly how they want to. You can also jump back out of gameplay and watch the rest of the game play out in Interactive Match Sim or skip straight to the final result at any time. Both jumping in and out of the game, and jumping to the end result are accessible at any point during the match, regardless of whether the match started as regular gameplay or in sim mode.
A New Way To Experience Match Gameplay
Whenever you're inside the Interactive Match Sim, you see the players attempt to implement your Game Plans and have all the tools needed to reorganize them on the fly if needed. You can interact with Team Management, change Game Plans, and monitor your team's and your opponent's information in real-time. The following tabs are available:
Fitness – gives you an idea of which players might run out of Stamina first.
Player Ratings – summarizes which players are performing well and which players are struggling.
Match Stats – provides an instant snapshot of both teams' performance.
Game Plan – shows the systems the teams have adopted on the field.
Player Development
Enjoy more control over your players' growth in FIFA 21. New position training lets you turn marauding right-backs into right-wingers, goal-scoring midfielders into false 9s, and more, while new development plans let you focus your squad's development in the areas you want to match your team's style of play.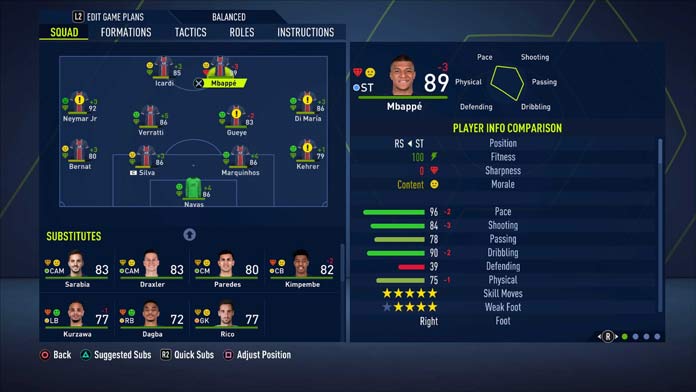 With the new Player Development feature, a fully revamped player growth system, you can grow your squad and make the most of it when possible. Players can be developed and specialized in various roles based on their playing position, and the attributes that best fit your style of play improved upon. Whether you favor playing out from the back, possession, or fast counter-attacks, you can instruct your players to focus their growth in the direction that you want.
Player growth is determined through XP accumulation. Based on how well they do in matches (their Form) and their potential to grow, they will gain more or less growth XP. That XP is distributed to their Attributes, determining Attribute growth over time. By default, all players are placed on a Balanced Plan, meaning that the XP is distributed evenly to all Attributes. When setting a custom Development Plan for each position as Active, you can choose a set of player Attributes and features to get all XP growth. Rather than "wasting" XP on Attributes you're not interested in, the growth plans focus that XP towards:
– Major Attributes (Attributes that generate the OVR of the player for their current position)
– Skill Move/Weak Foot ratings (especially for attacking players)
– Attacking/Defensive Work Rate
– Attributes that fuel specialization (Attributes that may not contribute to the current position OVR)
Much like in real life football, the speed at which players develop depends on their age, abilities, potential, form, and playtime. Give a young player with great potential a few games and help him perform, and he will turn into a better player at an accelerated rate. Keeping him on the sidelines for too long can have the opposite effect, so it's up to you to make the decisions that work best for your team.
Match Sharpness and Active Training
Get more insight into your squad's performance levels with match sharpness, a new attribute that indicates how likely your players are to perform in the most crucial moments during the course of a game. Increase sharpness with a new Active Training System that gives you the ability to set up group training sessions to improve the likelihood of your strikers putting big chances away, or of defenders making the key tackles that make the difference between winning and losing.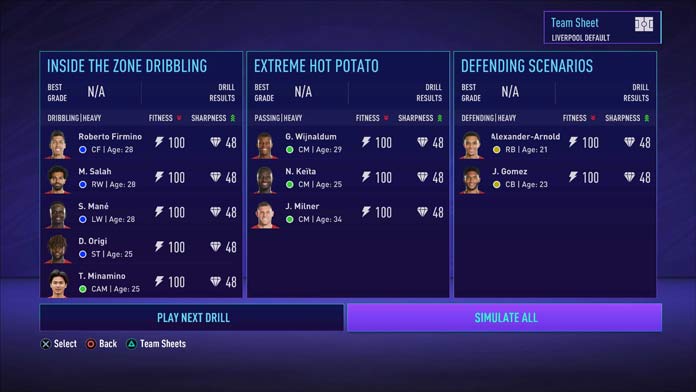 The Active Training system introduces the concept of a Training Day which can take place on any day of your calendar, with the exception of Match Days:
– Each Training Day will feature 3 distinct training session slots, each focusing on a specific training Drill and specific players.
– Multiple players can now participate in each Drill, depending on the Drill type, allowing you to involve up to 15 players in each Training Day.
– Every session consists of diverse Drills and various scenarios focused on improving a specific area of the game: Defense, Passing, Dribbling, Shooting or Set Pieces.
– Training Days will always be pre-populated with the appropriate Drills and players based on the active Team Sheet, but you can always take control and edit them should you wish to fine tune your Training Day outcome.
– Changing your active Team Sheet will also give you the ability to instantly update the Drill and Player selection for your Training Day, allowing you to train an entirely new set of players (for example: your reserves team sheet), assuming that you haven't consumed your training slots.
Let's get more specific on this topic:
– Depending on difficulty, Training Drills consume different levels of Fitness. The more difficult a Drill is, the bigger the Fitness cost, but the maximum Sharpness output will also be more substantial.
– Getting the highest Grade, either by playing or simulating a Drill, will maximize the Sharpness output. Fitness cost will be the same regardless of the Drill result.
– The more difficult Drills are obviously more challenging and will require more skill to obtain a high grade. This introduces an element of choice: do I want to play it safe and engage in an easy Drill that I can ace and get the maximum Sharpness from it? Or risk playing a more difficult Drill for an even bigger boost should I manage to get a high grade?
– The Sharpness output also depends on the number of players in the Drill. More players in the Drill means more players get some Sharpness for a successful Drill. But less players in the Drill means a greater Sharpness boost per player.
– The Drill rating is based on the number of points gathered during the training session.
– When simulating a Drill, the grade you get will always be the highest grade that you've obtained when playing it. By default, Drills that you haven't played yet will award a maximum grade of "D" when you choose to simulate them.
Sharpness is an all-new indicator that helps indicate how ready a player or a team is for a match. A sharp player will have their main Attributes boosted and will perform better on the pitch. Sharpness ranges from 0 to 100.
– Sharpness at 50 means the player is at average Sharpness. They will not receive a boost nor will they incur a penalty on Attributes. Think of 50 as the baseline.
– Sharpness between 50-100 means the player is sharper than average and their Attributes will be boosted. Max sharpness (100) sets a Max Attribute boost.
– Sharpness between 0-50 means the player is below average Sharpness and his Attributes will be reduced. Min Sharpness (0) will determine the Max Attribute reduced.
Schedule Planning
Plan your team's training schedule with a new activity management system. Decide when to train and when to rest during the week as you balance your players' sharpness with morale and fitness to keep your team firing on all cylinders.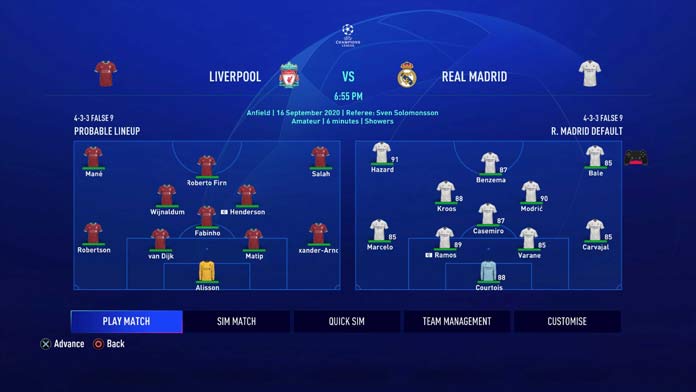 With Team Schedule Planning, you can now control what your players do every day of the season in order to be able to build their match Sharpness, but also to manage their Fitness levels and Morale. Balancing Fitness, Morale, and Sharpness is key to achieving any long-term success, and this process adds a new dimension to the man-management aspect of the Career Mode experience.
You can set 3 distinct types of activities daily, each with their own clearly defined role:
Training Day – as covered in the Active Training section, this is focused on improving match Sharpness at the cost of Fitness and Morale (if it's being overused). Fitness consumption is directly tied to Training Day activities, while Morale… well, no player enjoys not having any days off, and is affected if a player is trained excessively.
Recovery Day – this is focused on regaining the most amount of Fitness for your players, but it also decreases Sharpness the most.
Rest Day – regains less Fitness than Recovery Day, but has a smaller negative impact on Sharpness while also boosting Morale a little.
When going about the planning, you can either operate changes at a daily level, choosing what you want for that specific day, or use Schedule Rules to establish patterns for pre-match days, post-match days, and any other days in between matches for 2 weeks in advance.
If you're not much of a micro-manager, don't worry, the robust scheduling rules can be adjusted whenever you want during a season, allowing you to make high level changes without having to get involved with planning activities each day.
The Monthly Calendar will keep its existing functionalities (looking into the future months & sim to date) but will now also surface the activities set in the Weekly Schedule. From here you can also adjust Schedule Rules for your entire Season. If you want to go in depth, you will have to step into the Weekly Schedule view to plan out each day individually.
New Transfer Options
Enhanced transfer realism provides both human and AI-controlled teams with new ways to sign players. Make Loan to Buy offers with future transfer fees to secure new talent for your team, and respond to AI manager-initiated player swap proposals as you look to bolster your squad each transfer window.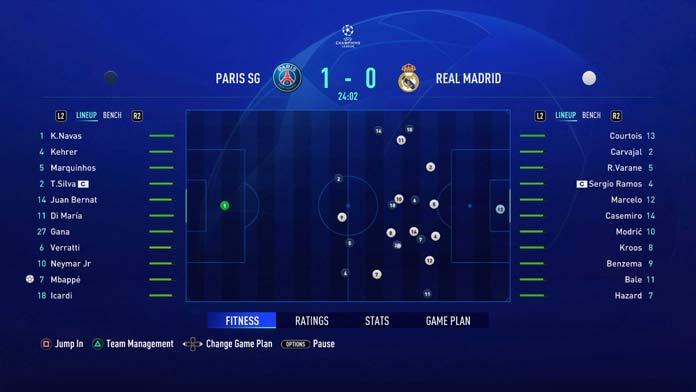 The modern day transfer market has been going through some changes in recent years and we wanted to better reflect that in our game. Here are 3 improvements we made in this area:
Loan to Buy – instead of making risky transfers, you can now loan the players you desire first, with the option to make the transfers permanent when or if they live up to your expectations.
AI Player Swap Proposals – while Player Swaps were introduced to Career mode a while back, you might have noticed that AI was still preferring old-fashioned, cash-only transfers. The AI will now make player swap proposals with players of their own. When you attempt to buy a player from another club, they can propose a swap as well, asking for one of your players in return.
Contract Renewal Improvements – We've given the AI-controlled clubs the ability to perform contract renewals based on the players' rank in the club, so you will usually not see the top players in a club become Free Agents. It can still happen in some cases, as top players might not always want to accept contract renewals.