FIFA 22 VOLTA Football is all about getting together with friends, and having a great time together. Let's see what's new this year.
FIFA 22 VOLTA Football Gameplay
For FIFA 22, EA prioritized playing with flair and rewarding players for taking each other on with Skill Moves, fancy passes, and wall passes. They wanted to make sure that playing with flair isn't just possible, but that it is the main way to play FIFA 22 VOLTA Football.
New Skill Meter
Building up the Skill Meter with your team can make your next goal worth more. The Skill Meter is broken down into 3 sections, and each section takes 1,000 Points to fill.
Signature Abilities
Signature Abilities are brand new, easy-to-use, game-changing abilities for you to trigger during a match. Whether you want to slam home thundering shots from anywhere on the pitch, blow past opponents with lightning pace, or rattle bones with crunching tackles, Signature Abilities are there to help. The three Signature Abilities are Power Strike, Pure Pace and Aggressive Tackle.
Flair and Playfulness
The simple Skill Moves mechanic, which allows players to perform context appropriate Skill Moves, by holding L1 or LB, has been improved to now evaluate all Skill Moves at the next ball touch to pick a Skill Move closest to the LS direction. This increases the variety of the Skill Moves available to the simple Skill Moves mechanic as well as increase its effectiveness at beating defenders.
Two Player Celebrations
Last year, players run towards each other to celebrate after they scored, but instead of doing something together they just awkwardly circled around each other until the celebration timer expired. Now after scoring you can celebrate with your teammates simply by running toward them, and depending on the angle, you'll trigger a bunch of two player celebrations including hugs, hi-fives, leap frogs, and more.
Avatar Stats
e of the first things you'll notice is that your avatar starts at 82 OVR and has 5* Skill Moves and 5* Weak Foot, so there's no ramp up time to feeling great on the pitch. You can still get your avatar to 96 OVR by using Skill Points you earn for every match you play.
Skill Tree
EA have re-tuned the Skill Tree itself to give you more meaningful choices about what role you want to play on the pitch. Additionally, they've cleaned it up, reduced redundancies, and made sure every single upgrade on the Skill Tree feels impactful. Gone are the insignificant Attribute gains and the confusing titles. Instead, every upgrade will give you a noticeable +5 to +12 Attribute boost.
FIFA 22 VOLTA Arcade
VOLTA ARCADE brings you a whole new way to play FIFA online with friends. It's a weekend-only, free-for-all, lighthearted bash where you and up to three other players can compete across a series of all-new "Party Games". There will be eight Party Games available at launch, with a bunch more to come post-launch. The initial eight are:
Dodgeball
Pair up in teams of two and dodge, duck, dip, dive, and dodge your way to victory! Earn points for drilling your friends and foes with footballs. The first team to score 15 points wins.
Foot Tennis
Volley, lob, and smash the ball back and forth with style in this 2v2 game mode. Test your accuracy and trick your opponents with fancy lobs, or set your teammate up for a surprise header. Just don't let the ball hit the ground twice or you'll lose the point. The first team to score 10 points wins this Party Game.
Disco Lava
Dribble over white tiles on the floor to claim them and score points. Every player starts in the middle of a square pitch. White tiles will appear on the pitch. Players have to race to step on them and claim them as their own. Once all tiles are claimed, a new set of white tiles will appear. Whoever has claimed the most tiles when time expires wins.
Quick Strike
Score as quickly as you can on the highlighted goals. Every player starts in the middle of a ring of goals. After a few moments, one to four goals will light up. Score in one of these goals as quickly as you can to earn as many points as possible. The player with the most points at the end of eight rounds wins.
Wall Ball Elimination
Remember playing wall ball on the school playground? Welcome to Wall Ball Elimination! On your turn,indicated by a circular turn-timer appearing under your feet, kick the ball off of the wall as quickly as you can to stave off elimination. If your underfoot turn-timer expires, you're out! Points are scored based on the order of elimination. The player with the most points after three rounds wins.
Team Keepaway
Keep possession, beat your opponents with Skill Moves, and collect trophies to gain points for your team and take over the pitch in a game of 2v2 keepaway. Take over the entire pitch or the majority of the pitch when time expires to win each round. The best of three rounds wins.
Target Gallery
Hit as many moving targets as you can to earn points. There are three types of targets with three different values: rings (fewest points), large player cutouts, and golden single-player cutouts (most points). Score as many points as you can before time expires to win.
Corner Scramble
Fight for loose balls and deposit them into your corner goal to score points. Each "round", one to four balls will spawn in the middle of the pitch. Race to collect those balls and score as many as you can in your assigned goal. The player who has collected the most balls when time expires wins.
VOLTA Squads
VOLTA SQUADS returns for FIFA 22 with a host of improvements and updates. You will experience a new streamlined way to connect and play online with up to three friends, or simply have other VOLTA FOOTBALL players drop in to your lobby for 4v4 play. We did this to keep the focus of playing VOLTA FOOTBALL online, with and against other people.
Online Focused 4v4
Play 4v4 small-sided football with up to 3 friends, or drop in and join other members of the VOLTA FOOTBALL community. The stadium is now randomly selected from a pool of stadiums that will update each season. Each stadium can have walls or no walls to create variety in gameplay.
New Lobby and Additional Squads Updates
The new lobby functions not just as a starting point for matchmaking, but also as a hangout spot for you and your friends. Invite your friends to your lobby, and watch them change their signature ability, or update their look in real-time as they browse the store for the latest outfits.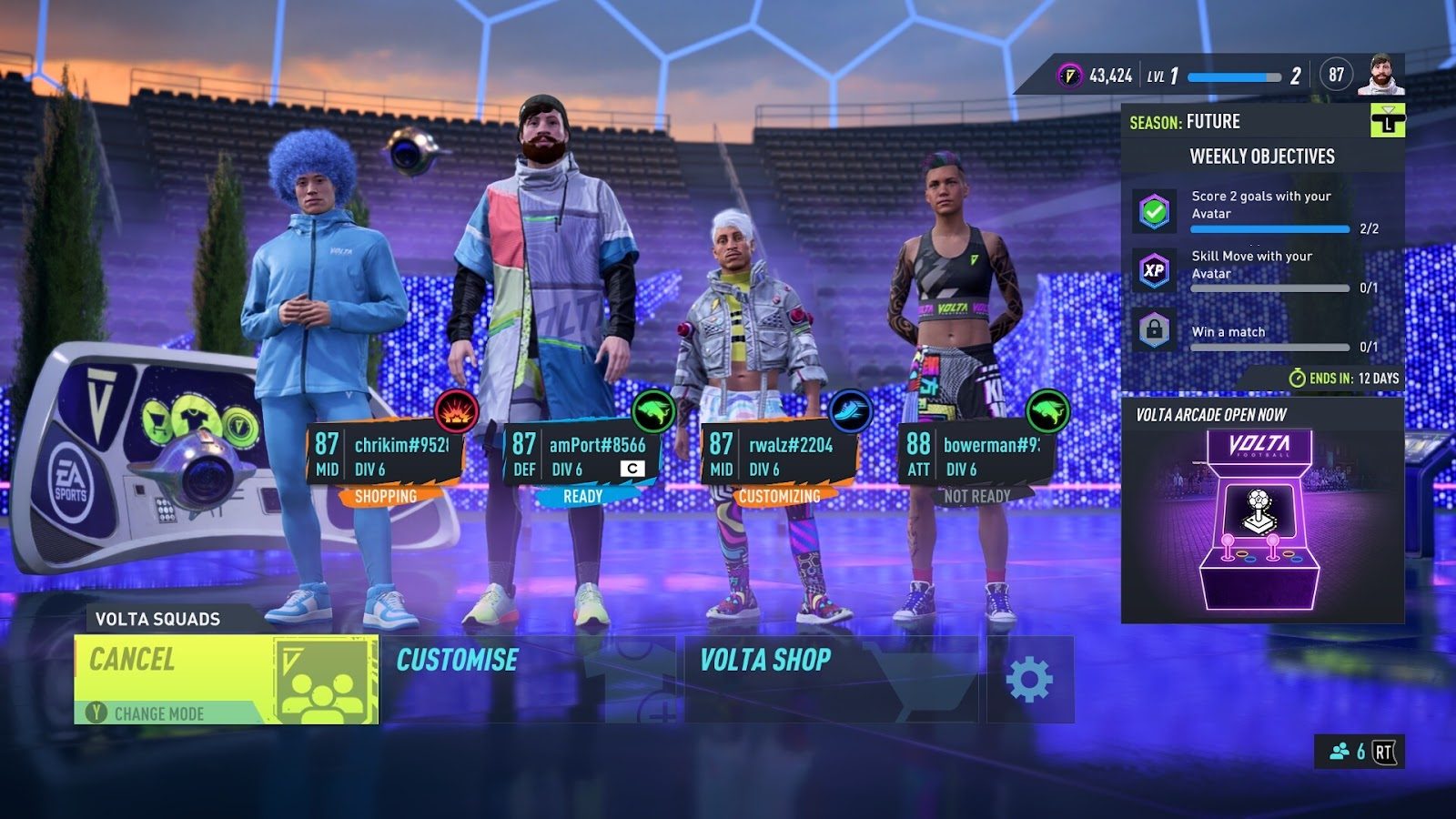 VOLTA Seasons
VOLTA SEASONS is a new approach to releasing content throughout VOLTA FOOTBALL 22. Seasons will update on an approximately 6 week cadence. Each season you will have the opportunity to unlock new content through regular play in VOLTA FOOTBALL. By playing matches and completing Weekly Objectives you will gain Seasonal XP that will allow you to level up in the season and unlock unique seasonal content that can only be earned through XP rewards. A huge chunk of the VOLTA COINS you earn will be through the Seasonal XP unlocks, so make sure you finish your Objectives!