There's a lot of history behind EA's flagship football game FIFA. The franchise, which had its earliest outing in Christmas 1993, has had around 30 iterations since that first title and now stands as the seventh highest-selling video game series in the world, between Grand Theft Auto and Minecraft. However, it's arguably that first game – FIFA International Soccer – that had the most impact. Despite featuring England's David Platt and Piotr Świerczewski of Poland on the cover, FIFA actually became famous for something else entirely – being able to avoid bookings from the ref by running away.
For all its longevity, FIFA has never really struggled with its identity the way other top-sellers like Resident Evil, Call of Duty, and Tomb Raider have. It is, after all, an incredibly simple game at its core. The only major change to its naming policy in the past three decades was the addition of the word 'Football' between 2002 and 2005. Of course, the game itself has gone through a number of engine changes and graphical upgrades over the years to place it atop the sports sim podium today. Now, though, there's a chance that EA might be interested in building a new brand for FIFA.
Breaking into eSports
Rumours suggest that EA Sports FC could be FIFA's new name going forward, presumably to get the enormous licensing fee the governing body requires for the use of its identity off their collective backs. What this will mean for the included teams and players is unknown but it follows something of a trend within the sports game genre. Pro Evolution Soccer, which has also been known as Goal Storm and ISS Pro, changed its name to eFootball in 2021, a move that hints at a newfound focus on eSports. It's also free-to-play and includes Juventus, a team it claimed ahead of EA.
eSports is one of the major emerging markets within the entertainment niche and it commands viewing figures in excess of those enjoyed by the NBA. In fact, research indicates that it will soon have more regular viewers than every American sports league other than the NFL. The opportunities for businesses within an industry this large are obvious, even for those companies that have nothing to do with video games, like existing sponsors Audi and Coca-Cola. This potential will expand as organisers attempt to make eSports more sport-like, at least in terms of how it's consumed and experienced by the audience.
Many sport-adjacent industries like betting, technology, and broadcasting have already begun setting up within the eSports space. Data analytics firms like Mobalytics, which provides information for League of Legends players, are a good example but several major sports wagering companies have tried to capitalise on the success of eSports too. Unibet and bet365 are two of the largest websites now offering eSports betting in Australia, creating markets for Fortnite, Overwatch, and CS: GO, along with many other competitive games.
However, there's more to FIFA's stronger eSports connections than a simple name change.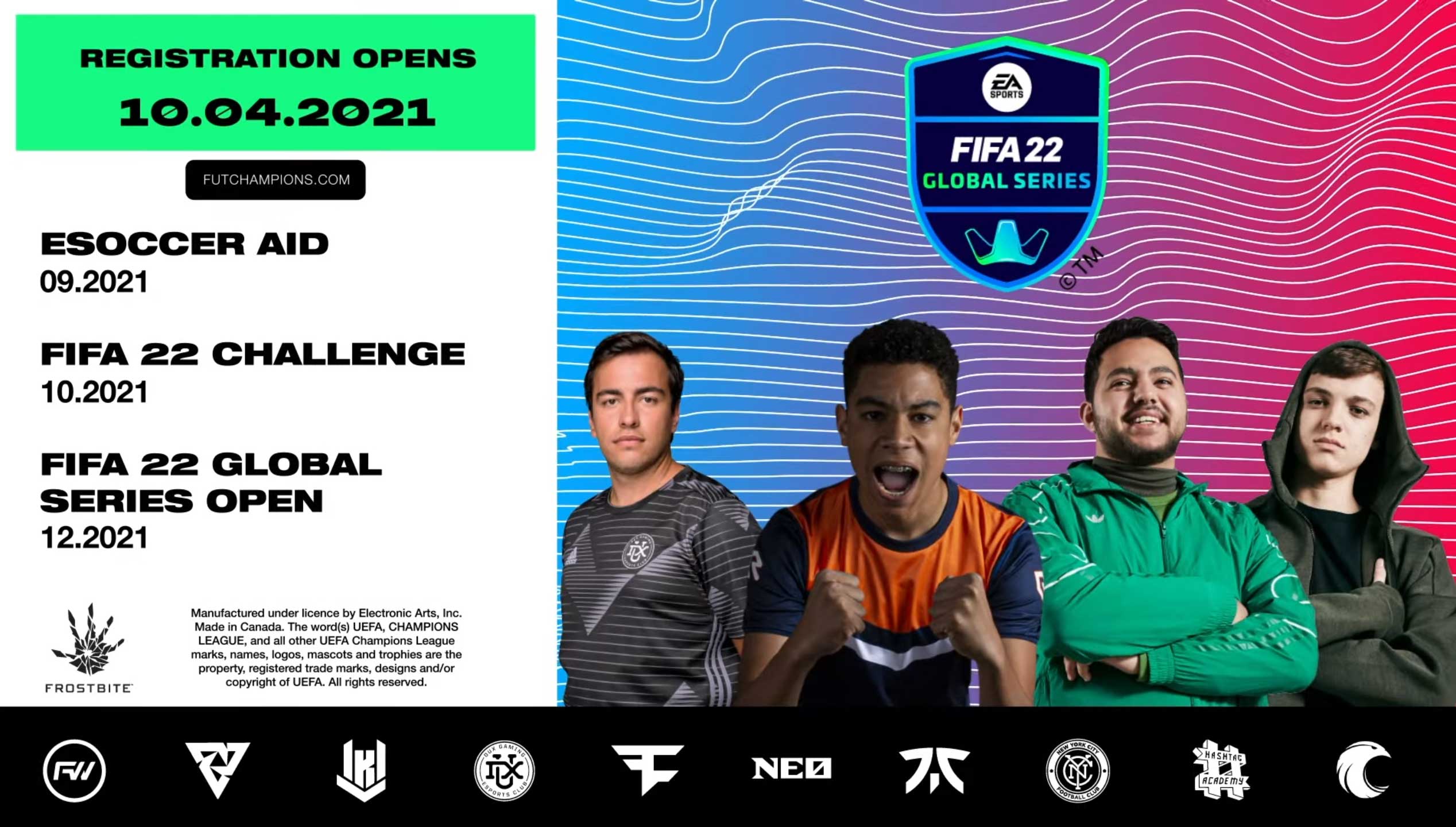 Expanding the FIFA 22 eSports Program
For the final year of the EA/FIFA licensing agreement (it ends naturally in 2022), the two media giants have expanded the EA Sports FIFA 22 eSports Program. This campaign includes three leagues that are now open to players from seventy different countries. These competitions are, in no particular order, the FIFAe Club Series 2022, the FIFAe Nations Series 2022, and the awkwardly named EA Sports FIFA 22 Global Series on The Road to the FIFAe World Cup 2022. The program should help democratise eSports as a hobby or profession, as it's open to anybody.
There's still quite a large barrier to entry in the shape of the critically understocked PS5, though, which EA and FIFA have chosen to host the FIFA 22 Global Series of games. Sony's newest platform is one of many pieces of technology that have been affected by a global shortage of semiconductor chips, which are required in everything from computers and washing machines to phones and dog-grooming tools. Unfortunately, it's unlikely that this shortage will be overcome before 2022. In any case, EA's eSports Program will consist of 1v1 and 2v2 matches for and against professional eSports teams, football teams, and even their own country.
While obviously an exciting time for fans of FIFA, there's nevertheless a feeling that the franchise is in a period of transition – and may even be trending downwards in terms of player satisfaction. FIFA 22 hasn't been reviewed too well so far, largely due to lighting problems on the PS5 and the neverending creep of loot boxes and other forms of monetisation in a full-priced video game. However, as EA Sports FC is only known through a trademark application, it's still unknown what changes – if any – the developer will make to the standard FIFA format.